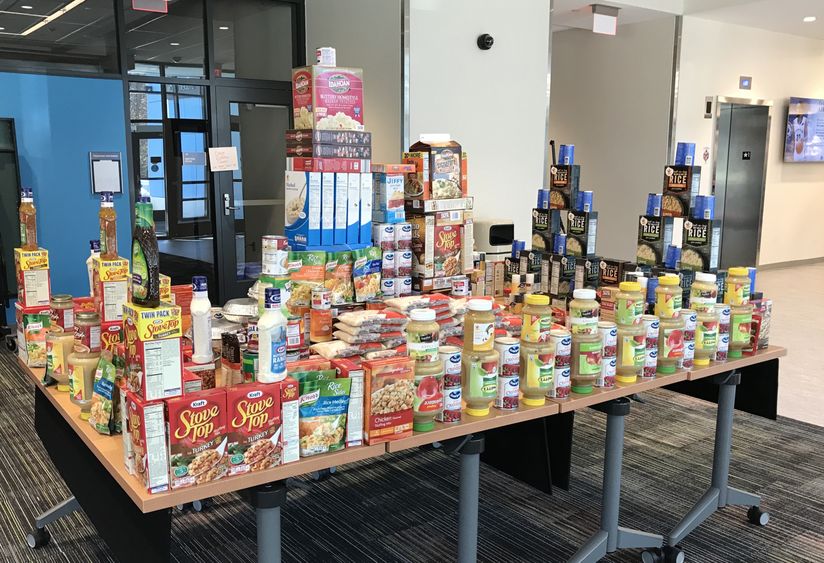 MEDIA, Pa. — In the spirit of gratitude and community service, student clubs at Penn State Brandywine rallied to participate in a campus-wide Thanksgiving food drive this November.
The food drive was lead by the Sustainovation and Marketing and Communications clubs.
"Student Affairs was excited by the prospect of getting all our student clubs and organizations involved in a service project, especially one that was spearheaded by two of our clubs," said Bridget O'Donnell, assistant director of student activities.
Each student organization on campus was assigned a certain food item to gather, such as rice, canned green beans and cake mix. The food items were chosen with the intent of helping local families who might be struggling to afford a full Thanksgiving dinner.
"Our goal was to make Thanksgiving care packages for about 60 to 80 local families," said Besty McCole, a second-year criminal justice major and member of Brandywine's Nittany Christian Fellowship, a student-run, faith-based group. "My club was assigned to collect rice."
In addition to generous donations from faculty and staff, the most prominently involved student clubs were the Brandywine Events and Activities Service Team, Blue and White Society, Lion Ambassadors, Marketing and Communications Club, Nittany Christian Fellowship, Phi Beta Lambda, Rainbow Alliance and Sustainovation Club.
The food drive was founded on goals for interacting both on and off campus. The first goal, providing holiday dinners for low-income families, was fulfilled when campus representatives delivered the food items to the Media Food Bank two weeks before Thanksgiving.
"We encourage student clubs to coordinate events that benefit not only the campus community, but also the greater surrounding area," O'Donnell said. "This was a perfect way to achieve that."
The outreach accomplished a second task as well — bringing the campus community closer together in the name of a good cause.
"One club could not have done this by itself," said McCole. "Involving the whole campus allows for a bigger pool of resources. Having all the clubs participate instills a great sense of pride in this campus — knowing that everyone can come together like this and work to benefit others."