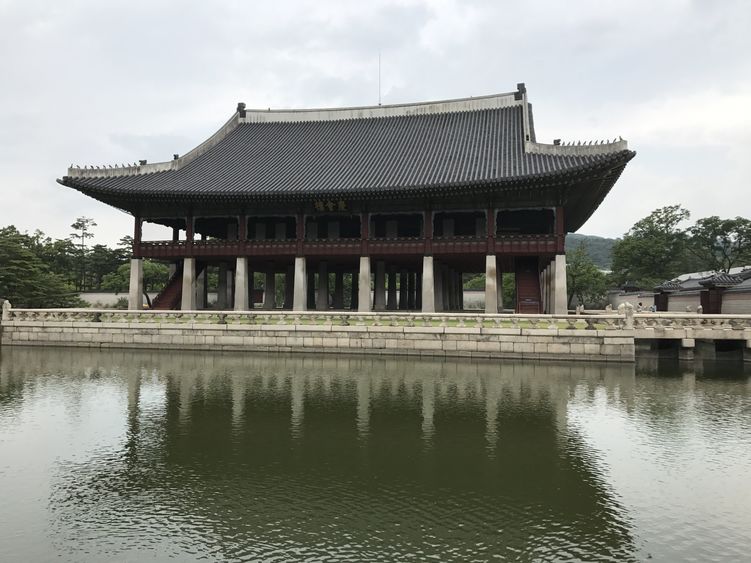 MEDIA, Pa. — Through a partnership between Penn State Brandywine's Office of Global Programs and the University's Education Abroad program, students at Penn State Brandywine had the opportunity to spend five weeks studying abroad in Seoul, South Korea, during summer 2017.
The unique program connected students with Sungkyunkwan University (SKKU) in Seoul for a summer-long study abroad experience. Students lived in the SKKU dormitories and participated in three college courses, including one taught by Brandywine Professor of Human Development and Family Studies (HDFS) Byeong-Chul Ben Park.
Park's course, "Cross Cultural Perspectives of Good Life and Good Death," focused on different cultural beliefs concerning the afterlife, funeral traditions and the definition of a good life.
For Park, who was born and raised in South Korea, the five weeks in Seoul were a chance to reconnect with his home culture.
"It was good for me to get in touch with my roots, so this was a return to my home country," he said. "Also, it was an opportunity to reconnect with other people for my stateside research."
Penn State was one of several universities represented at the program. Many of the other students hailed from Europe and Asia.
"Our cultural backgrounds meant the classroom was full of different points of view," said Ian Herm, a Brandywine student who participated in the course. "There were students from lots of other countries — Kazakhstan, Singapore, France, China, Spain. You learn a lot about each other."
"It's interesting — the cultural diversity actually makes students feel freer to share their views," said Park. "Perhaps because their views are so different. It was a good opportunity for our students to be exposed to many global and religious perspectives."
In their spare time, the students were encouraged to explore Seoul for themselves — both independently and through organized trips. One highlight was a five-day field trip to the South Korean countryside, including an overnight stay at a Buddhist temple.
Eric Suplee, who graduated in August 2017, completed his degree during the summer trip through an independent study project. He ran a comprehensive study of the prices of basic products like milk, eggs, taxi rides and fast food in Philadelphia and Seoul.
Suplee, who now holds a bachelor's degree in business, also earned an international studies minor by participating in several other Brandywine Global Programs trips, including excursions to France and Ireland.
"I joined the military before college because I wanted to travel — but I didn't see the parts of the world I hoped to see," he said. "Global Programs gave me a really affordable way to study in some of those places. More people really should go on at least one of these trips."