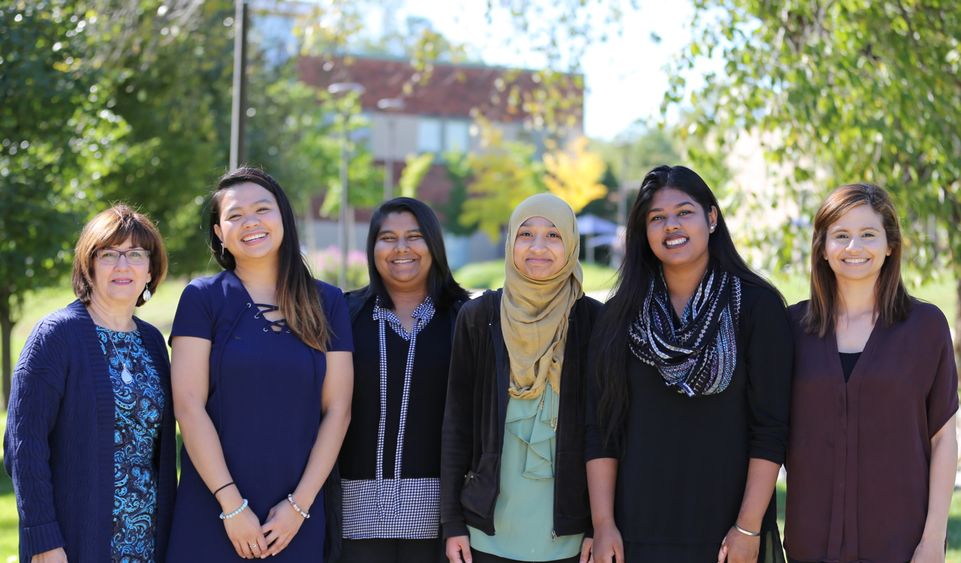 MEDIA, Pa. — When Shaimun Alam, Ifreet Rahman and Fawzia Salahuddin came to Penn State Brandywine, they were already used to working together and getting things done.
"We all went to the same high school and ended up together at Brandywine by accident," said Salahuddin. "Back in high school, Ifreet led the Red Cross Club. Shaimun and I were part of the engineering team."
Today, the three have something else in common — they all chose to major in information sciences and technology (IST), a field that falls under the umbrella of science, technology, engineering and mathematics (STEM).
While national statistics indicate that more female college students are choosing STEM majors, women are still a decided minority in science-oriented courses and careers — including Brandywine's IST program.
"Women are very underrepresented in STEM," said Brandywine's Assistant Professor of Engineering Laura Kraya. "They tend to drop out at various stages in their academic career — not because they are incapable, but because of the environment. It's easy to feel isolated."
"There are maybe seven or eight women in our entire IST class," said Rahman.
This semester, Kraya, joined by Lecturer in Computer Sciences Nannette D'Imperio, suggested an idea for a new club to their students — an organization that would support female STEM students on campus.
Alam, Rahman and Salahuddin — along with fellow student Terri Quiambao — volunteered as officers.
"We want to see women confident in the major that they've chosen," said Salahuddin.
Together, the faculty and students are now designing an inclusive campus organization that focuses on providing support and career-minded connections for female STEM students.
"The club's main purpose will be networking," Rahman said. "We are going to bring in alumnae with STEM backgrounds as speakers and we will help female students network for future careers and internships."
The club will also maintain an all-inclusive mentality, enlisting both male and female members.
"We recruited many interested students at the involvement fair, including lots of male students," said Salahuddin. "The idea is to support the female STEM students, not isolate them. There are a lot of very supportive men in the field."
The club officers are currently drafting a constitution for their organization and looking into affiliation with Women in STEM (WIS), a national non-profit. If they choose to affiliate, their club will become the first Penn State campus to formally associate with WIS.
On a more general level, the officers hope to introduce more female Penn Staters to STEM as a positive and obtainable field of study.
"To call STEM a guy's field is a stereotype," Rahman said. "It's open to everyone and we're here to help step by step. We hope there will be a lot more women saying, 'I can do this.'"