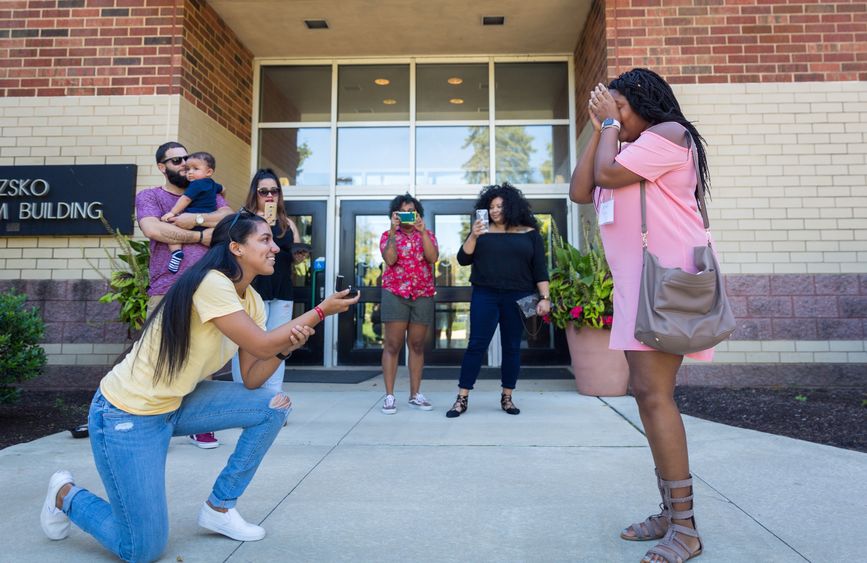 For two former Penn State Brandywine students, the campus' 50th anniversary celebration will forever hold a special memory as the time of their engagement.
On Sept. 23, during Brandywine's Blue and White Festival, Penn State alumna Myeisha Matos knelt on one knee and proposed to Dionna Aggie, her partner of four and a half years.  The proposal took place in front of the Tomezsko Classroom Building, where they first met in 2013 during English 202A, with the pair surrounded by surprised family members.
Having received some advance notice, Chancellor Kristin Woolever and the Nittany Lion were standing by to offer their congratulations once Aggie overcame her surprise and accepted.
Matos met Aggie as part of an ice breaker exercise during the first meeting of their writing class.
"From then on we became friends and the rest is history from there," she said.  "We had some kind of assignment where I needed her help, so we met outside of class and we'd walk to classes together."
Aggie said Matos frequently asked to borrow paper, a pencil or pen.
"I was always prepared and she wasn't," Aggie said.
Matos said she chose the proposal location because of the special meaning the campus has to her.
"Brandywine gave me a lot in my personal life," she said.  "It helped me grow in ways that I can't imagine happening anywhere else, and I met Dionna there. I felt it was the perfect place – to start our relationship there and have it move to another level there. I don't think there was a better place to do it."
"Brandywine was the start of my adulthood and it helped start a great relationship that I plan to have for the rest of my life," she said.
Aggie said she was caught off guard, even with about a dozen family members present who attended the festival under various pretenses.
"I was not expecting it at all, even with everyone there," she said. "It really was the perfect place to do it."
Also present was one of Matos' basketball teammates who remains a close friend. Bobbi Caprice, now Brandywine's assistant athletic director, had her own Penn State love story earlier this year when she married Vinny Gallo, Brandywine's head baseball coach. The two met when they were both student-athletes on campus.
"I was so glad I could be present when Myeisha proposed to Dionna during the 50th-anniversary celebration," Caprice said.  "As college teammates – and roommates on the road trips – I consider myself lucky to have formed such a great friendship with an awesome person like Myeisha. I have so much love and respect for her and her entire family. I wish her and Dionna many years of happiness together."
In 2015, Matos completed her corporate communications degree at Brandywine, where she was a member of the women's basketball team and worked for the athletic department. She now works for NBC Sports Philadelphia.
Aggie spent a year each at Penn State's Altoona and Brandywine campuses before completing her psychology degree at Temple University in 2015. She is a charter school administrator in Philadelphia.
Matos and Aggie, residents of Philadelphia, are in the process of buying a home together and planning for a fall 2019 wedding.