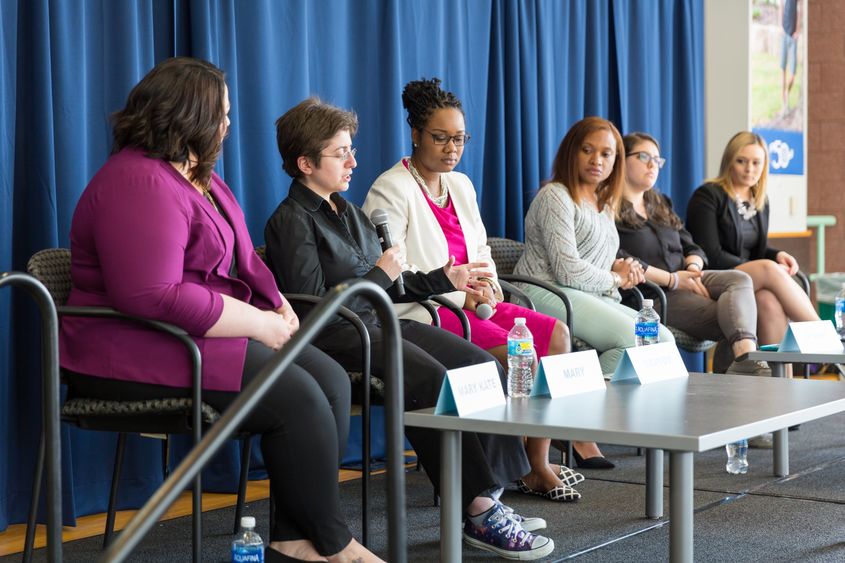 MEDIA, Pa. — Penn State Brandywine continued its series of 50th anniversary events with a panel discussion featuring six Penn State alumnae who attended the Brandywine campus between 2006 and 2017.
The luncheon was originally scheduled for March in honor of Women's History Month, but when a snowstorm closed campus, the event was moved to April.
The panelists — Mary Capaldi '12, Mary Kate Coghlan '08, Abbey Dufoe '13, Brandy Flowers '15, Samantha Overstreet '14 and Ryann Rouse '06 — earned degrees in English, communications, business and media studies, as Brandywine students. Today, they work in the fields of event planning, medicine, accounting, science, education and the arts.
"It was amazing to hear from these former students," said Pat Hillen, senior instructor in English at Brandywine, who helped coordinate the program. "They were informative, smart and funny. Collectively, they shared their pathways and illustrative stories of real-world experiences with our students."
Among other subjects, the panelists discussed mentorship in the workforce and their experiences as female working professionals. They also spoke about the female mentors who helped them through their college careers — a list that included several female faculty members at Brandywine.
"My industry, finance and accounting, is very male-dominant," said Flowers, who currently works at KPMG. "I had a few female mentors throughout my career who told me, 'You can do this.'"
Flowers named Chris Olear, instructor in accounting at Brandywine, as one mentor who impacted her deeply. "I don't know if Professor Olear knows this or not, but she was very instrumental in helping me switch my major to accounting," she said. "I wasn't sure if I could be a CPA, but she was very helpful in that process."
"These women truly represented a broad range of academics, places of employment and a wide variety of interests," said Hillen. "I am very proud of their success stories. These women are a real tribute to our campus."
As the panelists reflected on the help of professors during their studentships, they also encouraged current students to take advantage of opportunities for mentorship on campus.
"A theme on this stage is to see your professors as resources," said Flowers. "They have a lot of expertise that will help you get where you want to go — especially here at Brandywine, where the campus is personable and you have easy access to professors."