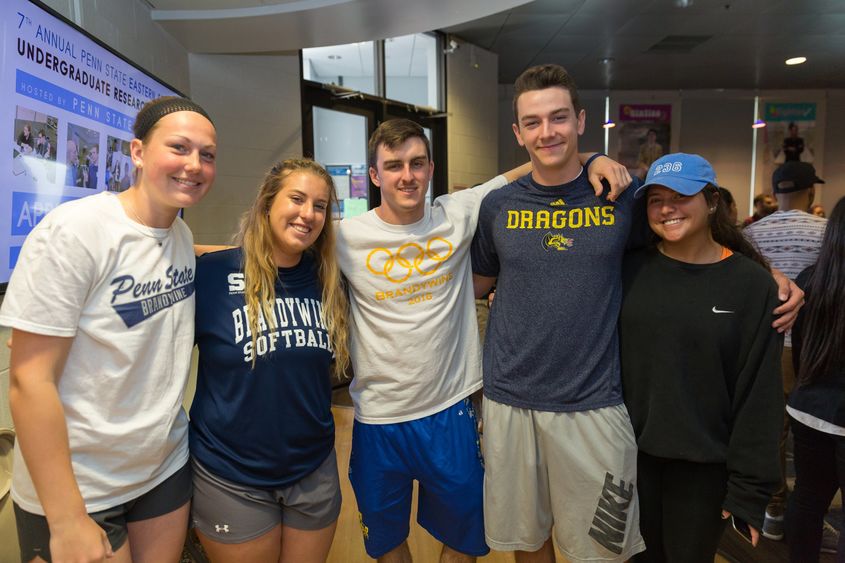 MEDIA, Pa. — In keeping with its mission to integrate civic engagement into campus life, Penn State Brandywine's Civic and Community Engagement Office sponsored its second annual Social Justice Fair this April.
The Social Justice Fair uses interactive activities, speakers and art exhibits to teach students about various social causes.
"A fair like this including multiple mediums, especially the arts, allows students to see how social justice impacts them and how to join the cause," said Lynn Hartle, professor of education and coordinator of the CIVCM Office.
This year's fair included presentations from students, faculty, the campus' Musicians Collaborative club and an educational entertainment group called "Theatre of the Oppressed." The fair also showcased the work of Aleisa Myles, a clinical psychologist, in her presentation "Understanding Childism and Creating a Better World for Youth."
While many Brandywine students learn about various social issues in their scheduled classes, the social justice fair provides an outlet for those discussions to occur across several mediums and with an emphasis on exploratory interaction.
"When we were planning this, students mentioned that they'd like to tackle media influence and impact as a social issue," said Hartle, "so 'Theatre of the Oppressed' led an interactive workshop demonstrating how secondhand stories, even just from one friend to the next, can become inaccurate. They used that exercise to remind students that the media is also fallible."
Since Brandywine is a Fair Trade campus, the Social Justice Fair also featured booths and giveaways that promoted Fair Trade goods and sustainability. Students had access to Fair Trade coffee and chocolate, and they could swap an old T-shirt for a new, Fair Trade one.
As part of a dialogue on environmental awareness, the fair also followed a "no plastic" initiative. Students were provided with reusable water bottles and encouraged to think twice about their garbage-handling habits.
In the future, Hartle hopes to see the Social Justice Fair feature more presenters with experience in the fields of science and technology.
"I'd like to help the STEM professions see themselves as part of social justice more obviously," she said. "Maybe that means discussions on bioethical issues or women in tech fields. We had a little something for everyone this year, but I'd like to see that become even wider in scope."