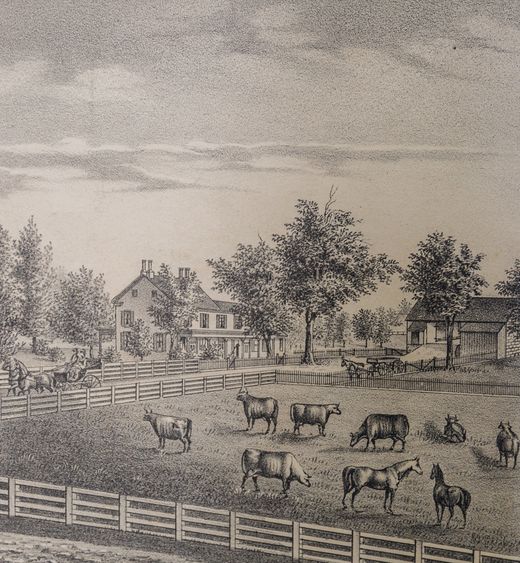 MEDIA, Pa. — Penn State Brandywine will present a program about the history of the campus property and the adjacent area as part of its 50th anniversary celebration. The event will be held 6-8 p.m. on Monday, May 1, in the historic lecture hall of the Delaware County Institute of Science in Media.
The program, titled "Journey to the Past: On and Around Penn State Brandywine," will focus on two prominent local families.
During the 1800s, Thomas Pratt and his family owned the property where Penn State Brandywine is now located. Pratt was a well-known dairy farmer who produced award-winning ice cream and butter. He also developed a new roofing material and owned an iron ore mine. Pratt served as a Delaware County commissioner and was an early member of the Institute of Science.
Pratt also founded the Cumberland Cemetery, which remains in operation on Middletown Road opposite Penn State Brandywine.
In 1784, James Emlen purchased a mill that later became known as Yearsley Mill, named after the future mill owner. The Emlens were leading Quakers who led the Orthodox group when it split from the Hicksite group, resulting in two Quaker meetinghouses near one another on Middletown Road.
Retired Penn State Brandywine Professor Phyllis Cole will moderate the program. Panelists will be Eileen Fresta, Kevin Pistiner and Larry Smythe, Penn State graduates who conducted research on the Pratts, Emlens and Cumberland Cemetery while they were students at Brandywine.
The Institute's museum will be open for tours at 6 p.m. with light refreshments provided. The program will begin at 6:45 p.m.
To attend the program, RSVP to Colleen Houseman at [email protected] or 610-892-1212. If you anticipate needing any type of accommodation or have questions about the physical access provided, please indicate that at least one week prior to the program.
The Delaware County Institute of Science is located at 11 Veterans Square in Media, one block in front of the Delaware County Courthouse. The historic building was constructed in 1867.