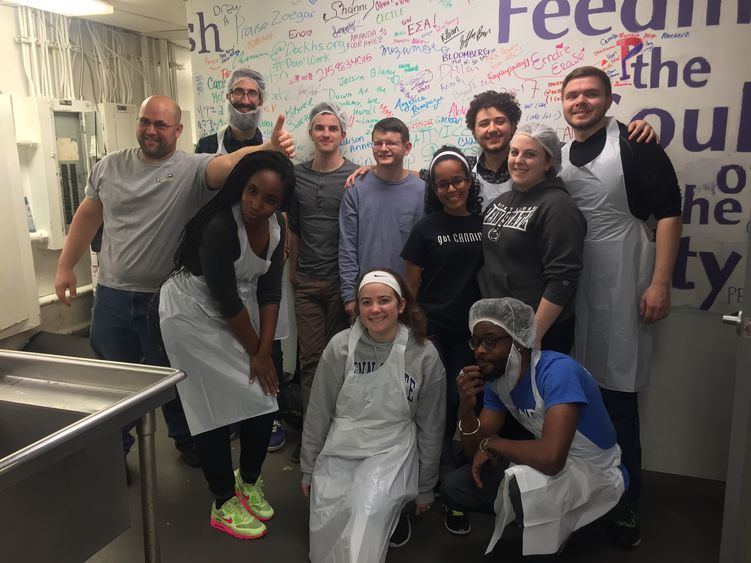 MEDIA, Pa. — Members of Nittany Christian Fellowship (NCF), a faith-based student organization at Penn State Brandywine, spent their spring break volunteering in Washington, D.C. — a decision preceded by two years of renewed commitment to local and campus-based outreach.
The trip was organized by Christian Student Fellowship, a student club at Penn State Berks, in partnership with City Student Missions (CSM), a Philadelphia-based outreach organization that introduces students to urban ministry opportunities around the country.
For many of the Brandywine and Berks students, working with CSM was an eye-opening experience.
"I went to Guatemala on a missions trip a few years ago," said Nathan Gemmell, current president of NCF, "so I had a good view of what poverty is like in another country. But there's something different about D.C. It wasn't just beaten down — there was also so much corruption."
"The main areas of D.C., like the museums, are nice, but you drive beyond that and it's like entering another world," said NCF member Christina Pentimall.
Every day, the club members broke into two teams and volunteered at local homeless shelters, soup kitchens and homes for at-risk children. They worked with more than a dozen different organizations by the end of the week.
"I really connected with the children at the center for at-risk youth," said Pentimall. "We helped them with their homework and played outside with them. You could see how much they just wanted love and attention."
For Gemmell, the trip's most defining moments were encounters with urban poverty. On their last day in D.C., the volunteers were split into groups. Each team was given $10 and instructed to feed themselves — and another person — for the next five hours.
"It made you think — do you go for quality or quantity of food? How many people can 10 bucks actually feed?" said Gemmell. "Those questions make you very sober-minded."
Gemmell's group ended up purchasing supplies for sandwiches and making meals for people in need. Pentimall's group bought food to share with a homeless person, using the opportunity to connect with someone in need — and when they had leftovers, they wrote Bible verses on a napkin, wrapped up the food and left it with another homeless person.
"That afternoon was tough, but amazing," said Pentimall. "It was a chance to practice what we talk about in NCF — helping people and sharing the gospel."
NCF has been part of Brandywine campus life since the early 1970s. In recent years, after a brief period of inactivity, its members have renewed their focus on local and campus-based outreach.
"I have been pleased to see how the club has grown and become more visible on campus," said STEM Lab Coordinator Janeen Madison, the club advisor since 2011. "They have sponsored events both on campus and in the community."
At Brandyine, NCF hosts open events such as Christmas parties and discussion tables, to encourage community and dialogue on campus. In 2014 and 2015, they collaborated with the Brandywine Freethinkers, an atheist/agnostic society on campus, to encourage conversations about science, spirituality and philosophy between religious and non-religious students.
The club also engages with Delaware County, its regional community. Last semester, NCF raked leaves in a local neighborhood, and in the past the club painted pumpkins with children at Easter Seals, a nearby medical facility.
This semester's trip to D.C., however, marked a turning point for the current NCF student body — an opportunity to learn about the needs of a community outside of Delaware County.
"The trip was a formative time for students to encounter both urban environments and systemic poverty," said Nick Garrety, associate pastor at Delaware Valley Christian Church, who serves as NCF's ministry partner. "I trust that it has given the students a new understanding of urban needs, the process of restoring displaced communities and diversity."
According to Gemmell and Garrety, the D.C. trip was both a learning experience and a natural extension of NCF's goals.
"Through acts of service, we become aware of our own needs and the needs of others," said Garrety. "This is especially important when those needs of others differ so greatly from our own."
"The mission of NCF is to share the gospel and enlighten people with what the Bible means," Gemmel added. "It was cool to share the hope I have in Christ by serving people in D.C."