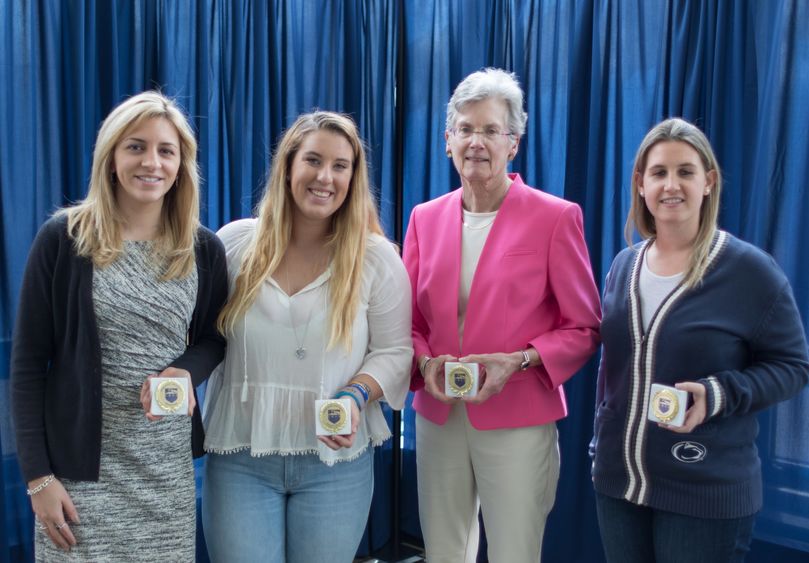 MEDIA, Pa. — Penn State Brandywine's Commission for Women presented four awards for outstanding contributions to the campus and community at the commission's annual Women's History Month luncheon on March 30.
Chancellor Kristin Woolever received the faculty Woman of the Year award. Since arriving at Brandywine in February 2014, Woolever has managed efforts to obtain approval for the campus' first residence hall and student union building, both of which are under construction and scheduled to open this summer. She also led the campus strategic planning process and is providing direction to the capital campaign. She also works closely with academic and student affairs to identify and pursue opportunities to expand and enhance curricular and co-curricular programs.
Penn State Brandywine alumna Bobbi Caprice, now the campus' assistant director of athletics, received the staff Woman of the Year award. Caprice manages eligibility for more than 150 student athletes, oversees the campus fitness center and team uniforms, coaches the women's basketball team, and participates on campus committees. Last fall she served as interim athletic director for three months, ensuring that the athletic department continued to provide a quality experience for students. She also works closely with prospective students and organizes an annual dinner for recruited athletes.
Sophomore Stephanie Harvey received the student Woman of the Year award. Harvey is a Lion Ambassador and served as a new student orientation leader last summer, earning recognition as orientation leader of the year. She is a fundraising captain for THON and was one of Brandywine's three dancers for THON 2017. Harvey plays on the women's softball team, which won the Penn State University Athletic Conference (PSUAC) championship last spring, and was named to the PSUAC All-Academic Team.
Cara Colantuono received the alumna Woman of the Year award, which was added this year in recognition of the campus' 50th anniversary celebration. She graduated from Penn State Brandywine in 2007 with a degree in human development and family studies. She was named the 2016 Social Worker of the Year by the Pennsylvania chapter of the National Association of Social Workers.
Colantuono, who is care coordination supervisor at Paoli Hospital, was also guest speaker at the luncheon. She discussed how Brandywine prepared her to be open to opportunities, one of which led her to form Support Homeless Veterans in 2011. The nonprofit organization works to raise awareness about the issue of chronically homeless veterans and to offer community-based solutions for housing and mental health.
Sandra Lawrence, instructor in Spanish, and Maureen Fielding, associate professor of English and women's studies, serve as co-chairs of Brandywine's Commission for Women. Commission members Susan Fredricks, associate professor of communication arts and sciences, and Lisa Krol, administrative support assistant in academic affairs, also serve on the luncheon committee.