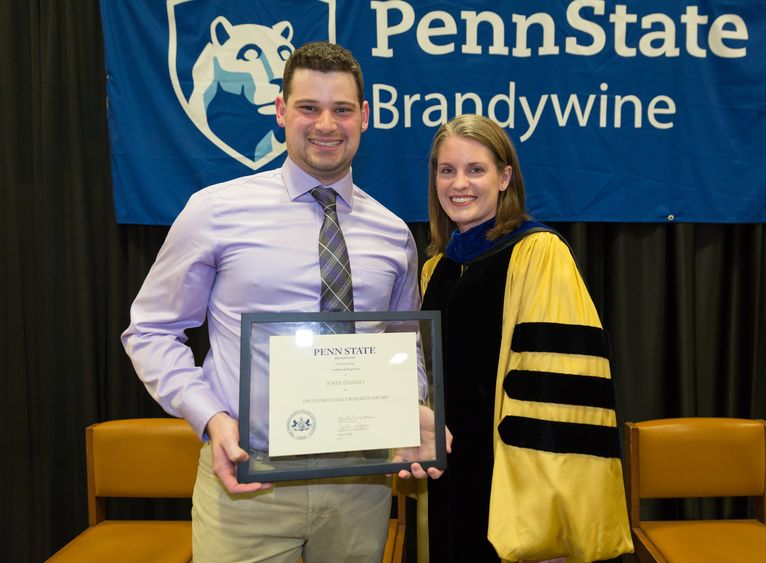 MEDIA, Pa. — Penn State Brandywine honored students and faculty for their achievements and excellence in academia at its annual Academic Recognition Ceremony on Tuesday, March 21.
More than 200 undergraduates earned the Academic Achievement Award, which recognizes students who have achieved a cumulative grade point average (GPA) of 3.5 or higher. Additional awards were bestowed upon students and faculty for their extraordinary teaching contributions to the campus, undergraduate research performance and elite academic accomplishments.
The D'Iorio Family Research Award, presented to a Brandywine student for their undergraduate research achievements, was given to biology major John DiMaio for his work on the structure and function of mitochondria alongside Megan Povelones, assistant professor of biology.
"John has shown extraordinary dedication as an undergraduate researcher," said Povelones. "He thinks critically about his experiments and is both competent and trustworthy. He has a great attitude and it is a pleasure to work with him in the lab."
Associate Professor of Human Development and Family Studies Jennifer Zosh was honored with the Distinguished Teacher Award, which recognizes a full-time faculty member for their exceptional teaching and contributions to the campus.
"Dr. Zosh puts so much time and energy into working with her students and dedicates her career to not only teaching them, but guiding them on the right path," said Professor of Mathematics Charles Helou, as he read students' nominations of Zosh to the audience. "She not only taught the material, but connected with students on a personal level to help each and every one understand the content thoroughly."
Daniel McGarity, instructor in chemistry and physics, received the Teaching Award for Part-Time Faculty, given to a part-time faculty member who makes an outstanding contribution to students and the academic community through exceptional teaching.
"Tonight's award recipient is respected by all of his students and has earned that respect by the way that he takes complex ideas and teaches them in a way that all of his students can understand," said Coordinator of Brandywine Learning Christine Brown as she introduced McGarity.
Named after Penn State's first president, the Evan Pugh Scholar Award is presented to juniors and seniors who are in the upper 0.5 percent of their respective classes and have completed at least 48 credits by the end of the fall semester. This year's recipient was junior Julie Foeldes.
Students Merryl Augustine, Anthony Porreca and Kevin Roche were presented the President Sparks Award, received by undergraduates who have earned a 4.00 cumulative GPA based on at least 36 credits completed by the end of the fall semester.
The President's Freshman Award was presented to Kelly Carreras, Marco DeAngelo, Robenus Ejigu, Abdalmajeed Iyoun, Christy Kane, Parnika Kapur, Waqar Khaliq, Kezi Li, Kaitlyn Otte and Adi Yom-Tov. This award is presented to freshmen who have earned a 4.00 cumulative GPA based on at least 12 credits completed by the end of the fall semester and have not exceeded 35 credits.