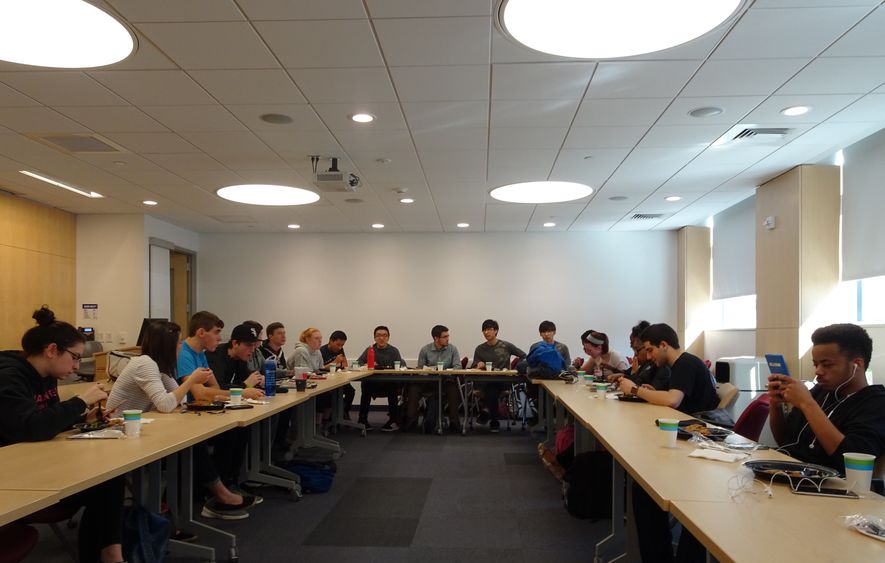 MEDIA, Pa. — Last summer, Penn State Brandywine instructors and librarians worked together to design a unique book discussion group for the Multilingual Student Course Cluster and Brandywine Learning.
The Multilingual Student Course Cluster supports students who are non-native speakers of English and need assistance developing English language skills, while Brandywine Learning enhances academic achievement through free, on-campus tutoring.
"University Libraries offers innovation microgrants each year," said Annie Jansen, assistant librarian at Brandywine. "Over the summer, we came up with this idea of using Kindle Fires so we could use a textbook and audio book simultaneously."
The audio-visual options offered by a Kindle allow students to interact with the assigned book in a variety of ways, aided by embedded features like dictionaries and reference sites.
"We wanted an experience of reading a full book alongside audio because everyone learns differently," said Deb Ousey, who coordinates Brandywine's Multilingual Student Course Cluster. "We also branched out and talked about ebooks and library resources in other contexts."
The students were allowed to pick from three books: "I am Malala" by Malala Yousafzai and Christina Lamb, "The Absolutely True Diary of a Part-Time Indian" by Sherman Alexie, and "We Were Liars" by E. Lockhart.
After interacting with the books on their Kindles, students in the Multilingual Student Course Cluster and Brandywine Learning met for a joint book discussion. The coordinators also raffled off three Kindle Fires to student participants.
"Using the Kindles helped us go beyond the typical book club discussion into questions about how we read and process information," said Christine Brown, coordinator of Brandywine Learning. "It was very relaxed and collaborative. I saw more students from my class speaking up about their books than I've ever seen before."
While the Brandywine Learning students used the Kindle discussion group as a springboard for reluctant readers, the multilingual students connected their readings to their course cluster topic of the semester — comparative international literature and film — which is led by Ousey.
"It gave us a place to ask ourselves, 'What is literature? Is it purely visual, or can it be audio, too?'" she said.
The book club format serves obvious educational purposes, such as encouraging intellectual discussion. It has also proven beneficial for social and nonacademic reasons.
"We've uncovered benefits that we didn't anticipate initially," said Jansen. "We got to see two classes mix and socialize over books. Because of that, we had an opportunity to encourage active reading as something fun, not just a classroom activity."
"The Kindles have also shown us a promising way to help some of our low-income students," added Brown. "Many of them don't have tech devices, which are becoming more and more important in class. If you don't have a laptop or tablet these days, homework is much more difficult. With the Kindles, we leveled the playing field."
Brown, Jansen and Ousey hope to continue exploring new possibilities with the Kindle-based book discussion, opening more students to a collaborative approach to reading.
"I'm looking at more ebooks to purchase with our remaining grant funds," Jansen said. "We'd love to get a more varied selection on the Kindles. This wasn't what we expected, but it's been a success."
"It generated an enthusiasm between students that you don't normally see in a book club — and in my class' case, with reluctant readers," added Brown. "I was struck by how even students who don't like to talk in group discussions were willing to take part and have fun."