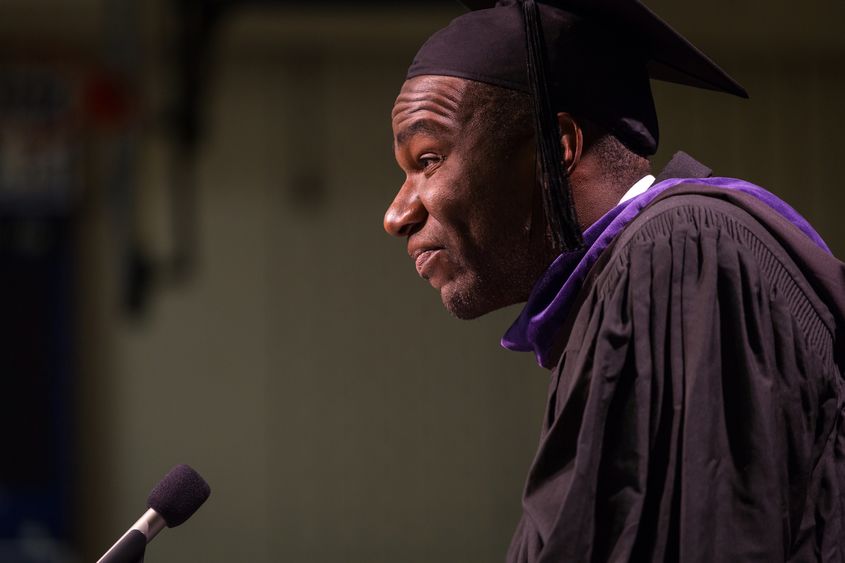 Penn State Brandywine awarded 67 diplomas at its fall commencement ceremony on Dec. 16. Chancellor Kristin Woolever welcomed the graduates, families and friends who gathered in the Commons/Athletic Center on campus.
"Graduates, you have intelligence, enthusiasm and a fresh vision to give to the world," Woolever said. "I am confident you will succeed. Find something you are passionate about and work hard, but remember to enjoy life's journey along the way."
Philadelphia City Solicitor Sozi Pedro Tulante delivered the commencement address. At the age of 8, he and his family fled from the Democratic Republic of Congo and arrived in North Philadelphia as political refugees. He learned English while attending public schools and went on to graduate from Harvard University and Harvard Law School.
Tulante encouraged the graduates to follow three pieces of advice: be engaged, be kind to others and stand up for what you believe in.
He emphasized the importance of voting, but noted that "engagement means more than voting. You should be prepared to challenge authority. Don't assume that something is right or true just because you heard it from someone older than you. Use critical thinking."
Sharing examples of how others helped him during his life, he asked the graduates to "think about ways you can help others, how you can give of yourself and your time."
In closing, Tulante stressed the importance of the graduates appreciating what makes each of them unique and recognizing their individuality.
"When you enter the 'real world,' you will be tempted to follow the herd, to heed the ceaseless call to conform and be like everyone else," he said. "Please resist those calls. Be comfortable in your own skin. If you don't stand up for what you believe in, you're going to regret it."
After the commencement address, Woolever and Director of Academic Affairs Cynthia Lightfoot conferred the degrees.
As students received their diplomas, Brandywine continued its long tradition of allowing each student a few moments to share thoughts about their college experience and acknowledge those who helped them along the way. Most thanked parents, spouses and children for their support and encouragement, while others expressed their appreciation to faculty and staff members.