Program open to all University students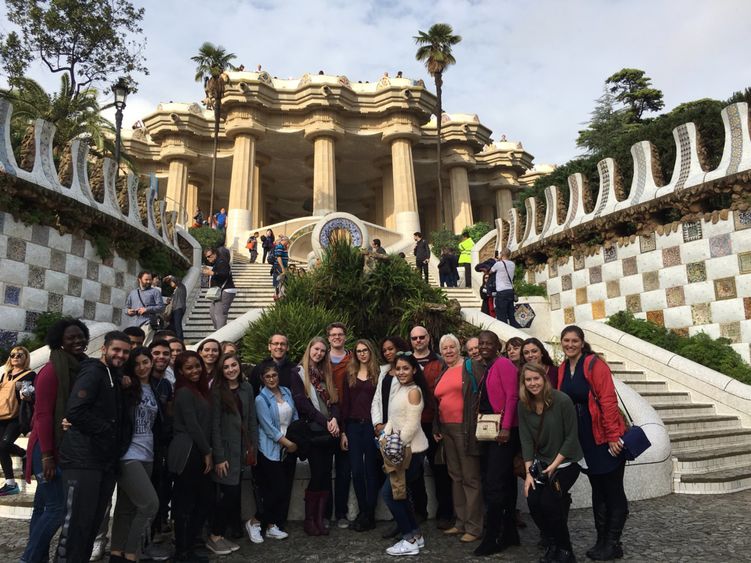 MEDIA, Pa. — Most Penn State students use Thanksgiving break as a chance to go home and prepare for their final weeks of class. Instead, 24 students and two instructors from Penn State Brandywine and University Park traveled to Barcelona, Spain, through Brandywine Global Programs.
Brandywine Global Programs, a distance-learning model founded by Penn State Brandywine in 1996, incorporates week-long overseas trips into general education classes, allowing students to see the world as part of their required coursework.
Although the program is overseen by Penn State Brandywine, students from any Penn State campus can enroll in a Global Programs course.
"We set up our programs so that students from any campus can take the course," said Paul Greene, associate professor of ethnomusicology and integrative arts at Penn State Brandywine. "Pre- and post-travel work is completed mainly through Canvas, which allows us to open this up to the whole University."
The recent Barcelona trip was incorporated into two Penn State courses: "The Arts," a general art course, and "Foundations: Civic and Community Engagement." Both classes required students to complete online coursework during the first half of the semester. Then, during Thanksgiving break, the students traveled to Barcelona, experiencing the culture firsthand.
After the trip, students completed follow-up assignments, applying their personal experiences overseas to their preexisting knowledge of the country.
"For the arts course, we designed inquiries," said Grace DeRosa, a Brandywine student who traveled to Barcelona. "We put together our own questions about visual arts, music and architecture in Barcelona that we wanted to answer during the trip."
DeRosa's architecture inquiry examined the roles of nature and environment in Barcelona's architectural style. Another student, Maria Gallelli, used her architecture inquiry to compare gothic and modernista architecture within the city.
"14th-century gothic art was much stricter," Gallelli said. "There was less freedom of expression. Modernista architecture came into play at a time of more national freedom."
Gallelli has traveled three times with Brandywine Global Programs. For DeRosa, Barcelona was her first experience outside of the United States. Both students, though, praise the program for enriching their experiences as Penn State students.
"My first trip with Brandywine Global Programs was to Greece," said Gallelli. "It was the best decision of my life. Traveling completely changed my perspective as a person. I want to earn my master's abroad after I graduate, and that's something I never would have considered before going on a Global Programs trip."
"I found myself connecting what I saw in Barcelona to my major," said DeRosa, who is studying education. "We took a two-hour train ride in Barcelona, and I sat across from a man and his granddaughter. They both spoke Catalan. As I interacted with that little girl, even through the language barrier, I was able to consider our interactions based on what I've learned at Brandywine about child development."
As a program coordinator, Greene has also seen firsthand the long-term benefits of travel for Penn State graduates.
"Traveling brings professional benefits to our students," said Greene. "Again and again, students tell us that global travel became a big factor in their interviews for grad school or work. We're often ambivalent about globalization, but the fact is that it's here and increasingly desirable in the job market."
Greene, an ethnomusicologist, has traveled to Nepal, Ghana, and other nations for his own research over the years, allowing him to speak personally about the effect of cultural immersion on a learner.
"Culture isn't just multisensory," he said. "It's something deep within us. Barcelona has a rhythm of speech, a smell in the air, a quality of communication that you can't ascribe to Paris or Berlin. Through cultural immersion, students have a chance to make connections beyond papers or tests, and it changes people."
Students who would like to enroll in a Brandywine Global Programs course can view upcoming trips and course offerings through the Penn State Brandywine website.