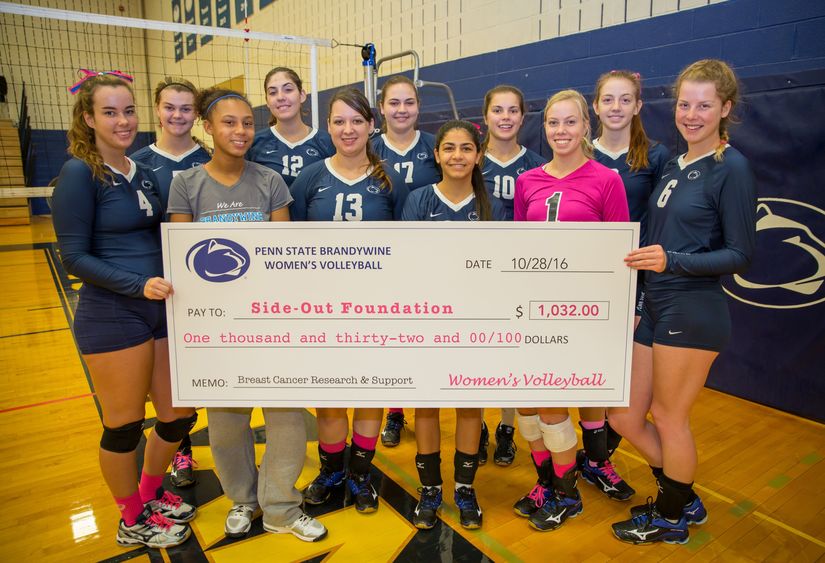 The Penn State Brandywine women's volleyball team partnered with the Side-Out Foundation by hosting its sixth annual Dig Pink weekend tournament Sept. 17-18. The event raised money and awareness for breast cancer research and support.
The team continued its fundraising efforts throughout the month of October by selling Dig Pink T-shirts at all Brandywine volleyball matches and collected a total of $1,032. All proceeds were donated to the Side-Out Foundation. This is the third consecutive year the team has raised more than $1,000 for the cause.
According to its website, the Side-Out Foundation raises money to fund clinical trials and support services for women with breast cancer and their families. The organization's Dig Pink program brings together volleyball players from across the nation for a unified cause, demonstrating the power of teamwork.
"Each day, I ask this team to define themselves as people that their families, peers and communities look up to," said Melissa Algeo, women's volleyball head coach. "The fact that they are willing to put in the time and energy and continue to dedicate themselves to raising awareness and funds to help those in need always amazes me."
The weekend was a success for the team both on and off the court, as the Lady Lions went undefeated in all four matches against competitors in the Penn State University Athletic Conference (PSUAC).
After finishing the regular season with a 12-2 conference mark and an 18-7 overall record, women's volleyball has secured the No. 2 seed in the PSUAC Tournament and will travel to University Park for a semifinal match at Rec Hall on Nov. 1. Brandywine won the PSUAC Tournament last year for the first time in program history.