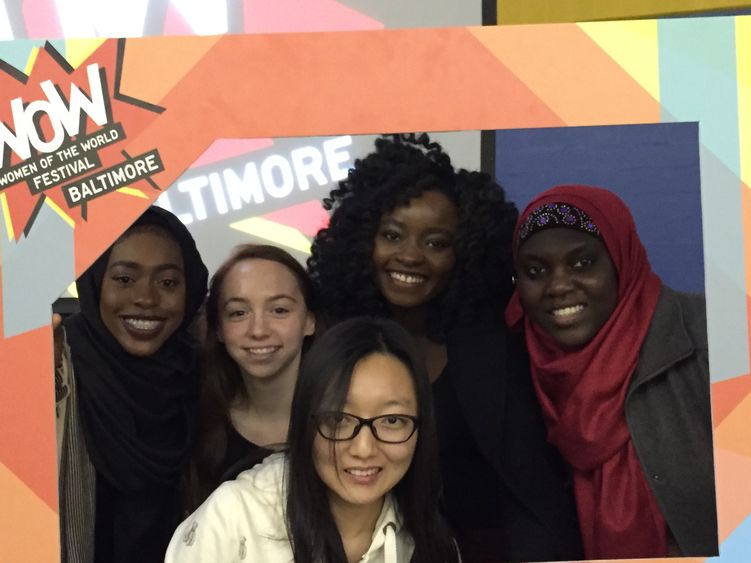 MEDIA, Pa. — Debbie Ousey, the coordinator of Penn State Brandywine's multilingual student programs, recently organized a trip to the 2016 Women of the World (WOW) Festival, which was hosted by Notre Dame of Maryland University in Baltimore.
According to the festival website, WOW is "a high-profile, global movement that celebrates women as a force for positive change and takes a frank look at remaining barriers to gender equality."
"WOW was a community of women mentoring each other," said Ousey. "There was a real sense of equality between the students and the speakers. That's so key for college students."
Ousey and the Brandywine students attended several presentations, including programs about human trafficking, men's roles in gender equality, black women's influence on popular culture and feminist Muslims in American society.
"WOW had very well-versed speakers with incredible training in their fields," said Brandywine student Peris Wambui Wamoni. "I learned a lot and actually had an amazing time. I didn't expect to enjoy the weekend as much as I did."
Ousey praised WOW for facilitating meaningful dialogue between attendees and the speakers.
"You didn't just sit in the audience and watch," Ousey said. "You could actually approach the presenters when the workshop was over. After one presentation about feminism and women of color, we got to speak with April Reign. She created #oscarssowhite, an online movement that went viral earlier this year."
The extensive roster of speakers included news anchors, authors, nonprofit leaders, performers, activists, company CEOs, religious leaders and university professors.
"The highlight for me was a speaker from the White House who came at the end of the festival," said Ousey. "She immigrated to the U.S. from Sri Lanka, and she worked with Michelle Obama on the 'Let Girls Learn' campaign. Two of the students in our group are immigrants themselves, so they got to talk with a senior policy advisor who has been in their shoes."
In addition to formal presentations, the attendees enjoyed breakout sessions, comedians and other forms of discussion. One Brandywine student, Bintu Kamara, attended a "speed mentoring" event where participants engaged in 15-minute intervals of one-on-one dialogue with prominent female leaders.
Some of the attendees, such as Brandywine student Fatoumatah Karamoko, even made plans to continue dialogue with the presenters after the WOW festival.
"I went to a session about feminist Muslims in American culture and loved it," Karamoko said. "I invited two of the speakers from the session to do their presentation at Brandywine though the Muslim Student Association. I'd like more of my peers to hear what they said."
The WOW Festival attendees hope to convert their experience in Baltimore into positive leadership on campus.
"When you actually understand issues like gender roles or human trafficking, it's hard not to care about them," said Karamoko. "I would love to hear more conversation about this in clubs and class discussions on campus. Both men and women need to be aware of what women face."
"Global women's issues are everyone's issues," added Ousey, "and for me, the takeaway from the festival was to see women's issues from a variety of perspectives. If we can look at people as individuals, we can better help, mentor and empower each other."