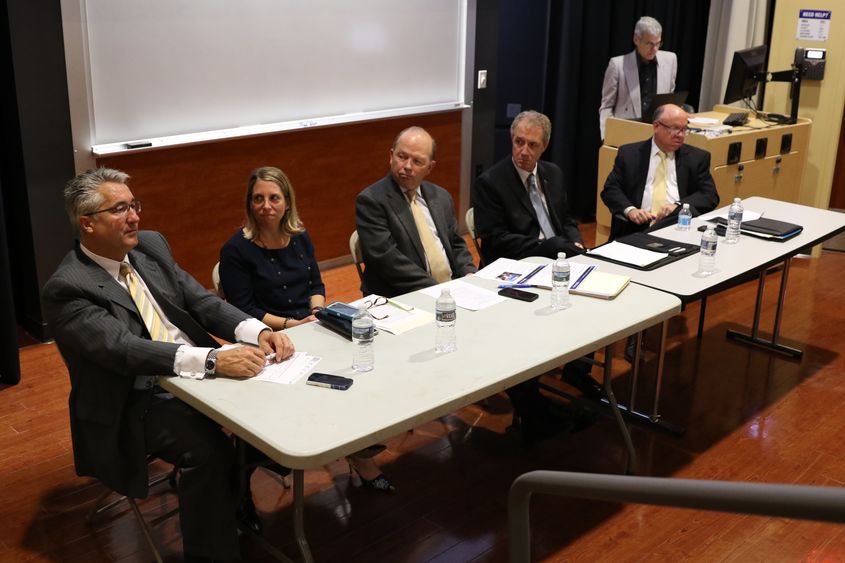 MEDIA, Pa. — Five members of the Penn State Brandywine Advisory Board conducted a panel discussion with campus faculty and staff at a faculty forum meeting on Oct. 4. The discussion covered a variety of topics, but focused especially on the subject of student internships.
"Students are wise to work on internships while in college," said Christine Allen, head of advising and career services at Penn State Brandywine. "Internships are small windows of opportunity that dramatically increase their chances of getting hired upon graduation. Our advisory board has done a remarkable job creating viable opportunities for our students to gain real world experience."
Mark Dambly, advisory board member and president of Pennrose Properties, spoke to the value of internships based on recent experience.
"Having two kids in college, I've seen my own family reap the benefits of great internships," Dambly said. "We on the board see internships as a great opportunity for full-time employment."
Jodi Dickinson, another board member and vice president of human resources at Nobel Learning Communities, related her experience with internships as a former Brandywine student.
"When I attended Brandywine, I had fantastic faculty who encouraged me to get experience early on," said Dickinson. "Internships allow you to explore a field before committing to a career. I actually discovered my passion for HR at Brandywine."
While the advisory board already has a committee dedicated to helping students find internships, it hopes to work more consciously with faculty to better the internship process.
"We should understand where you are as faculty and how we can support you," said Jonathan Savage, vice president of the advisory board and vice president of Pennoni Associates.
Savage also encouraged faculty to make room in their class schedules for résumé building and collaborating with potential employers.
"Employers are intent upon hiring students who know how to get the job done," Savage said. "We want to see students get the living they deserve from the education they've received here at Brandywine."
The meeting closed with a presentation by Christina Shoemaker, a senior business major at Brandywine who recently completed an internship at Communications Test Design Inc. (CTDI). The CEO and chairman of CTDI, Jerry Parsons, is a current advisory board member.
Shoemaker met Parsons at a Brandywine networking event hosted by the career services office. The next day, she met him again at a career fair. Shoemaker needed an internship to fulfill requirements for a business administration class, so she applied at CTDI and interned there from May to August 2016. Today, she works part time at CTDI while completing her degree at Brandywine.
"My experience in class connected well to my job at CTDI," said Shoemaker. "Penn State really prepared me for being in a real-world situation."
Other board members present at the faculty forum included Parsons and Philip Ryan, senior vice president and chief financial officer at Crozer-Keystone Health System.