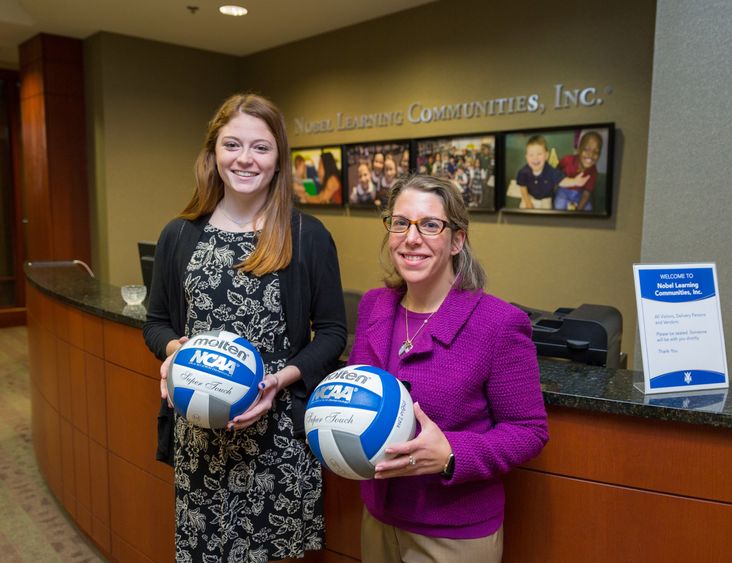 MEDIA, Pa. — Miranda Biondi, a 2016 Penn State graduate who attended the Brandywine campus, applied for a position at Nobel Learning Communities (NLC) after hearing about the job opportunity through the Student Career Connection, an email provided by Brandywine's career services office. She ended up accepting an unexpected role within the company and making an unexpected friend.
According to its website, NCL is a network of more than 180 private schools with a commitment to outstanding preschools and K-12 schools. NCL's education department provides curriculum support and training to these institutions.
"The position that I applied for was actually a different position than what I was offered," said Biondi. "I was offered the human resources coordinator role as a full-time employee."
It was in the coordinator position that Biondi met Jodi Dickinson, another Penn State alumna who attended the Brandywine campus. Dickinson, who is a member of the campus' advisory board, accepted a position as vice president of human resources at NLC in 2013.
The two immediately bonded over their shared undergraduate experience, including sports, since both were members of the women's volleyball team during their years at Brandywine.
"Miranda is a joy to work with," said Dickinson. "She is a quick learner who works hard. She asks great questions and has already made a positive contribution to the organization by assisting with special projects."
Biondi, who holds a bachelor of science in human development and family studies (HDFS), sees her role at NCL as proof of the valuable skills she gained during her undergraduate career at Brandywine.
"In HDFS we were required to complete a 480-hour internship, but before that, we had to take an internship course," she said. "Without that class I honestly would not have known where to begin with a cover letter or how to prepare for an interview. Completing an internship gave me working-world experience."
Both Biondi and Dickinson credit Penn State Brandywine with encouraging them to take initiative in preparing for their post-college careers.
"Many of my friends at other universities were not given the chance to do an internship," Biondi said. "At Brandywine, we were given the tools to succeed and had to maintain that relationship with our managers. When I graduated, I felt like I had more knowledge than most college graduates about where to start my job search."
"I find that Penn State students have an exceptional work ethic," said Dickinson. "There is a drive in us and a work ethic that helps us stand out. While I attended Penn State Brandywine, I worked several jobs to pay my tuition, was president of the Student Government Association and played on the volleyball team."
Today, Biondi and Dickinson continue to enjoy their roles at NLC. "NLC has an amazing culture and leadership," said Dickinson. "We do something that matters to the world: educating children. I will be at NLC three years this month with no intention of leaving."
They also appreciate their friendship as colleagues and fellow Penn State graduates.
"Jodi is an excellent mentor and supervisor," said Biondi. "Working with her has opened many doors for me. Human resources is all new to me, so I am grateful to be taken in by Jodi and the team."
"Miranda has been a great addition to my HR team," Dickinson said. "I am grateful to Penn State Brandywine for connecting us."