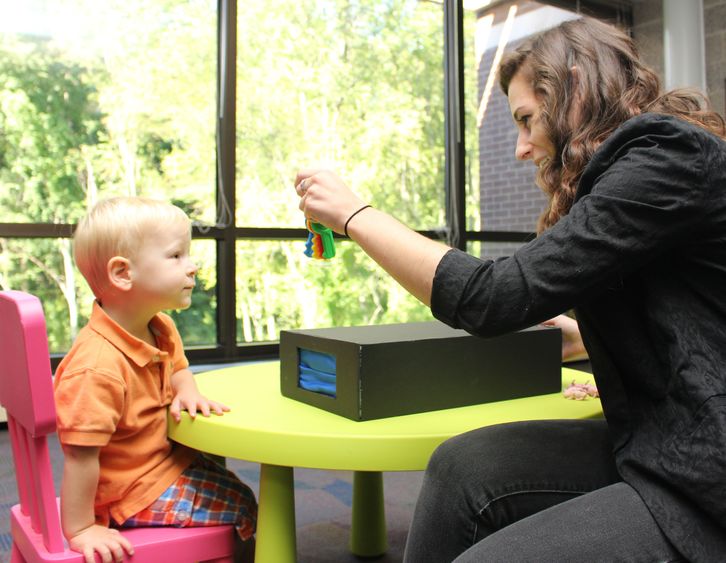 For undergraduate students passionate about learning, working side-by-side with a faculty mentor can be an invaluable experience. Just ask Penn State Brandywine psychology major Rebecca Slomowitz, a senior currently conducting research about the intricacies of infant memory in the Brandywine Child Development Lab alongside Jennifer Zosh, assistant professor of human development and family studies.
Specifically, Slomowitz is exploring how infants' working memory performs when remembering people versus objects. Working memory is a cognitive system that temporarily stores information in the mind.  
To date, research suggests that when infants are asked to store more than three items in working memory, they experience "catastrophic forgetting," meaning they lose all information stored in their working memory. In contrast, adults store up to, but not beyond, their memory limit. Slomowitz explained that her research question is: "While infants experience catastrophic forgetting when trying to remember similar objects, do they experience this same failure when remembering people?"
What prompted Slomowitz to start this unique research project?
Growing up in a family with four younger siblings, she found it unlikely that her infant brothers and sisters experienced catastrophic forgetting while interacting with several friends and family members. She found support for this idea when she learned about the "human first hypothesis" in her reading of the psychological literature that suggests that humans are processed differently than other objects.
"Infant memory poses a number of exciting, yet difficult questions," explained Zosh. "We can't simply ask an infant about his or her memory. We need to come up with creative and valid ways to tap into their minds so that we can find out what they know."
Penn State Brandywine has also formed a recent partnership with the Delaware Children's Museum, located in Wilmington, Delaware, to create a "Living Laboratory." This nationwide initiative brings researchers like Zosh, Slomowitz and other Brandywine students directly into the museum to conduct studies and do scientific outreach with the community.
Slomowitz is also working on an additional project this summer alongside Zosh's former undergraduate research mentor, Roberta Michnick Golinkoff, director of the Infant Language Project at the University of Delaware. Since 1974, under Golinkoff's direction, the Infant Language Project has worked to better understand the infant language learning process.
Slomowitz will present her work next spring at Penn State Brandywine's Exhibition of Undergraduate Research Enterprise and Creative Accomplishment (EURECA), an annual showcase granting Brandywine undergraduates the opportunity to share their research with the campus community and outside guests.
"I never thought I'd be able to work on this type of research as an undergraduate student, let alone have my very own research project," she said. "I'm not just reading about research anymore, I'm actually involved in it."