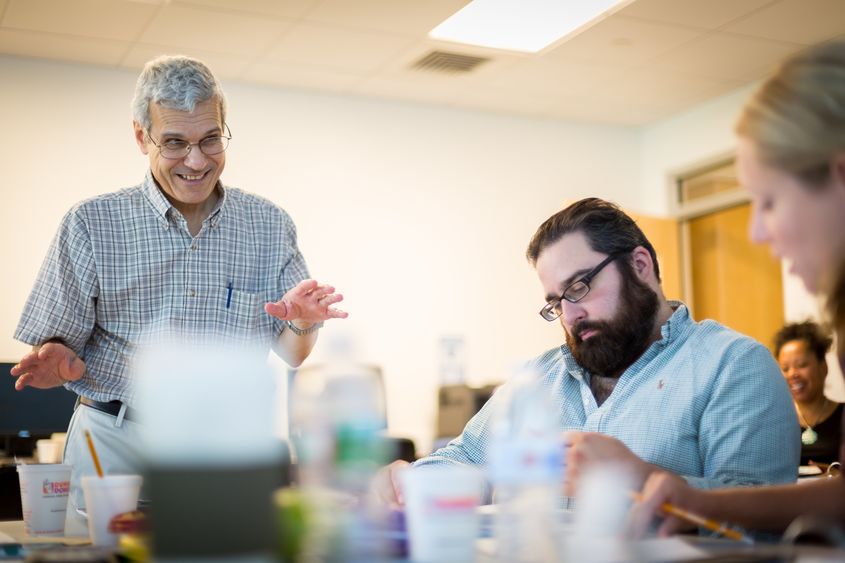 MEDIA, Pa. — Math teachers from around Pennsylvania participated in two Pennsylvania Mathematics Initiative (PMI) workshops hosted by Penn State Brandywine that explored new approaches in teaching. The two weeklong workshops, titled "Math as a Second Language" and "Functions and Algebra," took place in mid-July and were partially funded through a National Science Foundation grant.
Penn State's PMI was designed to improve mathematical education for all children in Pennsylvania schools by strengthening teachers' understanding and implementation of mathematics through intensive summer workshops. Ultimately, teacher-participants can become leaders who can act as resources to other teachers in their districts for the teaching and learning of mathematics.
"The workshops covered the many perspectives of how to present to students the basic concepts of addition, subtraction, multiplication, division, algebraic operations, relations and functions, linearity and graphs," said Professor of Mathematics Charles Helou, who organized and taught the workshops. "They emphasized understanding the concepts underlying the processes that are usually taught."
Kimberly Schultz and Marina Skyers, both instructors in mathematics at the Brandywine campus, also taught the workshops. 
"As Penn State University, it is important that we contribute to the cultural well-being of Pennsylvania," Helou said. "We can do this by promoting STEM and helping propagate understanding and appreciation for mathematics and science."
The PMI is based on a model perfected by the Vermont Mathematics Initiative, which was developed by Kenneth Gross, Azarias Williams Professor of Mathematics at the University of Vermont. George Andrews, Evan Pugh Professor of Mathematics, founded the PMI at Penn State with help from Andrew Baxter, lecturer in math and director of the PMI.
"There's a paradigm shift happening right now and the way we're teaching math is changing," said Andrew Guyon, who attended both workshops and teaches at de Burgos Middle School in Philadelphia. "Change is consistent, and in order to keep up with the new trends in education it's important to seek professional development opportunities like this one."
Susan Saroka, who also attended both workshops and recently accepted a position at West Chester Area School District after teaching at Methacton High School, said that one of her favorite aspects of the workshops was being able to meet other math teachers in different levels of K-12 education.
"Getting an opportunity to learn and share with other colleagues has been an invaluable experience," she said. "As teachers, we are lifelong learners and there's always room for improvement. Each teaching technique I learn can make a huge difference in my classroom."