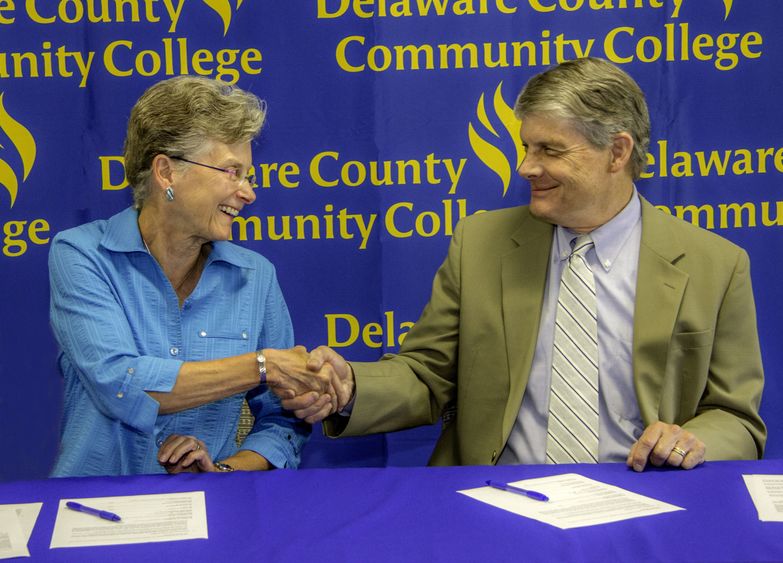 MEDIA, Pa. — Penn State Brandywine and Delaware County Community College officials have signed an agreement that will allow qualified graduates of the community college to seamlessly transfer to Penn State.
The agreement applies to the following majors within Penn State's University College: bachelor of science in biology, bachelor of science in business, and bachelor of arts or science in psychology. Each of those majors is offered at Brandywine, which is located near Delaware County Community College's primary campus in Marple Township. The agreement applies to Brandywine and the 13 other Penn State campuses in the University College.
"We're very pleased to build on the long and collaborative relationship we have with the community college," Penn State Brandywine Chancellor Kristin Woolever said. "This mutually beneficial agreement furthers our mission to provide accessible and affordable higher education opportunities for students in our region and continues our commitment to be invested in our community."
"This forward-thinking agreement provides an excellent opportunity for our graduates to pursue a four-year degree at a wonderful university," Delaware County Community College President Jerry Parker said. "Many of our students prefer to stay local, and this agreement enables them to further their education at Penn State's nearby Brandywine campus."
Delaware County Community College students who graduate with an associate in arts or associate in science degree and have a minimum grade-point average of 2.0 are eligible. Penn State's application fees are waived. Other requirements and restrictions may apply. Former Penn State undergraduate students in good academic standing who currently attend Delaware County Community College are also eligible.
In addition to biology, business and psychology, Penn State Brandywine offers nine other baccalaureate degrees. The campus is currently building its first residence hall, which is scheduled to open in August 2017.