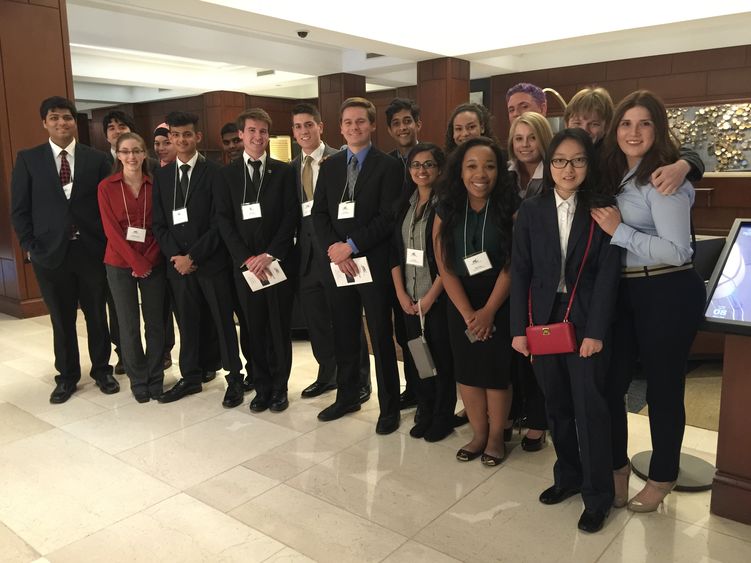 MEDIA, Pa. — Fifteen Penn State Brandywine students recently traveled to Harrisburg to compete in Pennsylvania Phi Beta Lambda's 45th annual State Leadership Conference. The group of undergraduates performed so well that several are now slated to compete at the organization's national conference in June, held in Atlanta.
According to its website, Phi Beta Lambda is a nonprofit educational association that brings together students who are preparing for careers in business through leadership and career development programs and activities.
At the statewide competition, the students were tasked with completing a comprehensive multiple-choice exam in their selected subject area, competing head-to-head against students from colleges and universities across the Commonwealth.
Computer sciences major Sushrut Shringarputale won first place in computer concepts; information science and technology major Athira Pillai took home first place in cyber security; communication arts and sciences major Amal Dahleh placed third in client services; business major Yiyuan Li won third place in microeconomics; and business major Coleman Hart took home third place in marketing concepts. Finance major David Spencer, mining engineering major Domenique Avella, Pillai, Dahleh and Shringarputale also competed in a team-based entrepreneurship workshop and won first place.
After placing third or better at the state contest, the students are now qualified to move on to Phi Beta Lambda's 2016 National Leadership Conference, where they can contend at the national level in their respective subject areas.
This will be Brandywine's second consecutive year being represented at the countrywide competition, as Hart and Spencer traveled to Chicago last year for Phi Beta Lambda's 2015 National Leadership Conference. The pair took home sixth place in management analysis and decision making.
"I'm so proud of the students who competed at states and who are going to Atlanta this summer," said Fran Green, instructor in business, who is also the adviser to Brandywine's Phi Beta Lambda student club. "Our club has grown significantly in numbers and that is all due to the efforts of the leadership team. These types of opportunities allow students to meet others who share the same interests while providing experiential opportunities in teamwork."
Hart and Spencer, who serve as president and vice president of the Phi Beta Lambda club, grew the organization from just two members to 20 in only a year's time. They were thrilled to have more Brandywine students represent the campus at the state competition and are eager to see what's in store for the group at nationals.
"This year is really exciting because we have students from several different majors competing in various categories," said Hart.
"As president and vice president, we tried to focus on helping our club members prepare for the state competition. Our group's hard work really paid off," added Spencer.