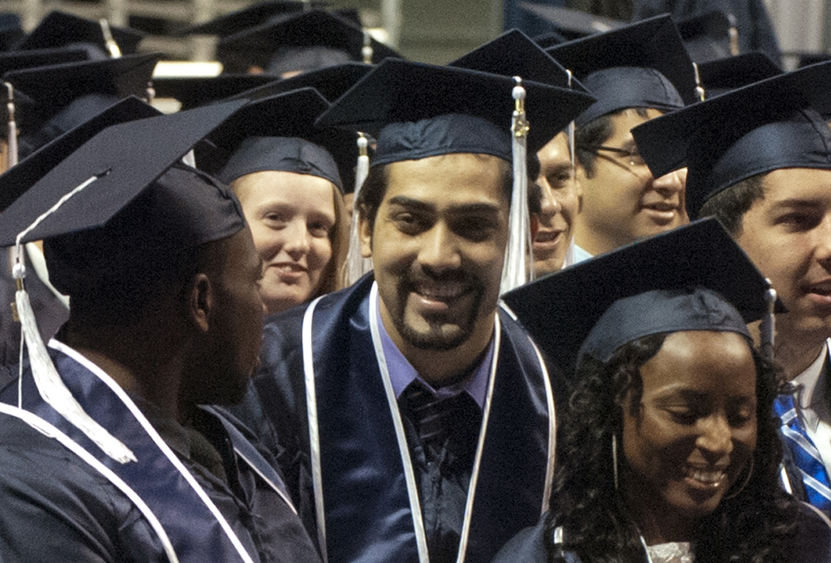 UNIVERSITY PARK, Pa. — This fall Penn State expects to award approximately 5,030 diplomas to students University-wide who are completing 244 associate, 3,650 baccalaureate, 885 master's, 19 law and 232 doctoral degrees, bringing the University's number of graduates to an estimated total of more than 734,852.
At University Park, five students are expected to receive associate degrees, while 2,602 will be awarded baccalaureate degrees. Approximately 667 master's degree students are expected to graduate, as are 232 doctoral degree candidates.
All figures listed are estimates as of Nov. 17.
Following is a compilation of commencement ceremonies and speaker information for Penn State's 24 locations. Additional information about University Park commencement is available online at http://commencement.psu.edu.
Penn State Abington
10 a.m. Friday, Dec. 19, Athletic Building
Speaker: Im Ja Choi
Ms. Choi is a second career entrepreneur. A onetime banker, she is the executive director and founder of Penn Asian Senior Services (PASSi), the largest home care agency in Pennsylvania specializing in the care of English-limited Asian seniors. She serves on the Pennsylvania State Advisory Committee of the U.S. Commission on Civil Rights. Choi and PASSi have each been recipients of the Abington Pride Award. The award recognizes those who serve as advocates or partners with Abington on projects of importance to the University, the College, the community or the region.
http://www.abington.psu.edu/commencement
Penn State Altoona
10 a.m. Saturday, Dec. 20, Jaffa Shrine, Altoona
Speaker: Susan Russell
Russell is an associate professor of theatre at University Park and the Penn State Laureate for the 2014-15 academic year. She has written two books designed to offer templates for school systems on how to use playwriting, media and public performance to explore issues that affect middle and high school students. As a professional playwright, she has penned several works, one of which was a semifinalist in the 2006 O'Neill Theatre Center Playwriting Competition.
http://www.altoona.psu.edu/commencement/
Penn State Beaver
7 p.m., Friday, Dec. 19, Student Union Building Auditorium
Speaker: Cynthia Hamlin
Last year, Hamlin founded a financial advising practice focused on women and women-owned businesses as a consultant with Investors Group Financial Services, Inc. in her hometown of Toronto, Canada. She attended Penn State Beaver and graduated from Penn State University Park with a bachelor's degree in accounting before spending 14 years in Washington, D.C. as an accountant, auditor and fraud examiner for non-profit and educational institutions. After earning an MBA in economic crime and fraud management from Utica College, she became a certified fraud examiner. She has also worked as an accounting consultant for some of Canada's largest firms.
http://beaver.psu.edu/Academics/27861.htm
Penn State Berks
7:30 p.m. Friday, Dec. 19, Beaver Community Center
Speaker: Amity Gaige
Gaige is the author of three novels: "O My Darling," "The Folded World," and "Schroder," a New York Times Notable Book. She has been awarded a Fulbright Fellowship, fellowships at the MacDowell and Yaddo colonies, a Baltic Writing Residency, and was recognized as one of the "5 Under 35" outstanding emerging writers by the National Book Foundation. Her short stories and essays have appeared in publications such as the Los Angeles Times and The New York Times. She is the daughter of the late Dr. Frederick Gaige, who served as the chief executive officer of Penn State Berks from 1984-2001. She is the current visiting writer at Amherst College.
http://www.bk.psu.edu/Academics/Commencement%20Home.htm
Penn State Brandywine
10 a.m. Friday, Dec. 19, Commons Building Gymnasium
Speaker: David M. Rosenberg
Rosenberg and his wife, Marjorie, are the founders of the Davie and Marjorie Rosenberg Foundation, a civic and social organization assisting a wide variet of non-profits with the primary focus in the areas of character development and children and youth. A Penn State alum, Rosenberg's in 2012 funded Penn State Brandywine's Laboratory for Civic and Community Engagement with a generous donation. The Rosenbergs also founded the David and Marjorie Rosenberg Trustee Scholarship and the Rosenberg Family Trustee Scholarship for students enrolled at Penn State Brandywine.
http://brandywine.psu.edu/35443.htm
Penn State DuBois
7:00 p.m. Thursday, Dec. 18, Hiller Auditorium.
Speaker: Emily Thomas, instructor in wildlife technology at Penn State DuBois.
Thomas has been an instructor in wildlife technology since August 2012. She oversees a student-run songbird banding station and runs a public MAPS (Monitoring Avian Productivity and Survivorship) bird banding station at the Jamestown Audubon Sanctuary in Jamestown, N.Y. She also monitors American Kestrel nest boxes in Warren County, Pa. and Chautauqua County, N.Y., and participates in the monitoring of the Northern Goshawk population in Pennsylvania. Professionally, she is the vice president of the Pennsylvania Chapter of The Wildlife Society and serves on the board of the Pennsylvania Society for Ornithology.
http://www.ds.psu.edu/Academics/DuBoisCommencement.htm
Penn State Erie, The Behrend College
6 p.m. Friday, Dec. 19, Junker Center
Speaker: Deborah L. Birx, M.D., Ambassador-at-Large, U.S. Department of State
Dr. Birx is the U.S. global AIDS coordinator for the U.S. Department of State. She oversees the President's Emergency Plan for AIDS Relief (PEPFAR) and U.S. engagement with the Global Fund to Fight AIDS, Tuberculosis and Malaria. She previously served as director of the U.S. Military HIV Research Program at the Walter Reed Army Institute of Research.
http://psbehrend.psu.edu/Academics/academic-services/college-registrar/commencement-details
Penn State Fayette
no fall commencement
Penn State Great Valley
no fall commencement
Penn State Greater Allegheny
7 p.m., Thursday, Dec. 18,
Speaker: Jeanna E. Cooper, D. Sc., manager of E-Services with Consol Energy, Inc.
Penn State Harrisburg
9:30 a.m., Saturday, Dec. 20, Giant Center, 550 Hersheypark Drive, Hershey, Pa.
Speaker: William M. Stout, CEO, Gannett Fleming, Inc.
Stout is a Harrisburg native and chairman of the board and CEO of Gannett Fleming, Inc., an international planning, design and construction management firm that employs 2000 professionals in more than 60 offices throughout the United States and four international offices. Stout is responsible for all operations of Gannett Fleming and its subsidiaries. He has been employed with Gannett Fleming for more than 44 years, having started as an intern while attending college. Stout has worked with a number of community organizations to improve education and healthcare in central Pennsylvania. He was a regular member of the Chancellor's Board of Advisers at Penn State Harrisburg from 2000 through 2013, serving as chair during his last two years. He is now a lifetime honorary member of the Board. He and his wife, Sherry, are residents of Hampden Township, Cumberland County, and have three adult children.
http://harrisburg.psu.edu/commencement/
Penn State Hazleton
no fall commencement
Penn State Hershey College of Medicine
no fall commencement
Penn State Lehigh Valley
no fall commencement
Penn State Mont Alto
no fall commencement
Penn State New Kensington
10 a.m., Saturday, Dec. 20, Forum Theatre
Speaker: Nicole Ziccarelli
Ms. Ziccarelli is the sole proprietor of Nicole W. Ziccarelli, Esq., a law practice that specializes in child custody, divorce, general family law, and real estate. She earned a bachelor's degree in communications at Penn State and a juris doctorate at Penn State Dickinson School of Law. She became a member of the Penn State New Kensington advisory board in 2013 and serves on the Constitution and By-Laws committee. Prior to coming to the New Kensington board, she served two years on the advisory board of Penn State Greater Allegheny and three years as a student trustee on the Penn State Board of Trustees.
http://www.nk.psu.edu/Academics/graduation.htm
Penn State Schuylkill
no fall commencement
Penn State Shenango
7:30 p.m. Friday, Dec. 19, Auditorium
Speaker: Dr. Michael J. Jurenovich
Penn State University Park:
-- Schreyer Honors College Medals Ceremony
5 p.m., Friday, Dec. 19, The Penn Stater Hotel Conference Center
-- Undergraduate students (baccalaureate and associate degrees)
Saturday, Dec. 20, Bryce Jordan Center
Remarks by: Eric Barron, Penn State president
9 a.m.: College of Agricultural Sciences, Smeal College of Business, College of Earth and Mineral Sciences, College of Engineering, College of Information Sciences and Technology
12:30 p.m.: College of Arts and Architecture, College of Communications, College of Education, College of Health and Human Development, College of Liberal Arts, College of Nursing, Eberly College of Science
-- The Graduate School
4:30 p.m., Saturday, Dec. 20, Bryce Jordan Center
Speaker: Mary Beth Rosson, interim dean of Information Sciences and Technology
Rosson is a professor and interim dean of the College of Information Sciences and Technology (IST) at The Pennsylvania State University where she also co-directs the Computer-Supported Collaboration and Learning Lab. Prior to joining Penn State in 2003, she was a professor of computer science at Virginia Tech for 10 years, and a research staff member at IBM T. J. Watson Research Center for 11 years. She received her doctoral degree in cognitive psychology from the University of Texas – Austin in 1982. Rosson is internationally known for research and education in human-computer interaction, participatory and scenario-based evaluation and design methods, computer-supported collaborative learning and end-user development. In recognition of her research accomplishments, Rosson was elected Distinguished Scientist of the Association for Computing Machinery and is a member of the SIGCHI Academy.
http://commencement.psu.edu/future.html
Penn State Wilkes-Barre
no fall commencement
Penn State Worthington Scranton
no fall commencement
Penn State York
6 p.m., Friday, Dec. 18, Pullo Family Performing Arts Center
Speaker: Jonathan Spanos '83, '01, Ph.D.
Spanos is an accomplished homeland security public safety information technology director with more than 20 years of extensive organizational change and development involvement supporting enterprise LAN, WAN, MPLS, wireless networks and all-hazard preparedness on both the domestic and international levels. He is an active member of the Penn State York Advisory Board and recently announced the establishment of the J. Spanos Family Trustee Scholarship which will provide support for the best and brightest students to attend Penn State York and participate in the honors program. Spanos is also proudly following in his parents' footsteps as the owner of The Paddock on Market, a restaurant in York.
Pennsylvania College of Technology
11 a.m., Saturday, Dec. 20, Community Arts Center, Williamsport
Student speaker: Nicole M. Reyes-Molina
Reyes-Molina will graduate with an associate degree in building construction technology: masonry emphasis. She will also be presented with the Board of Directors' Award.
http://www.pct.edu/commencement/
The Dickinson Schools of Law of the Pennsylvania State University:
-- Dickinson Law
no fall commencement
-- Penn State Law
no fall commencement