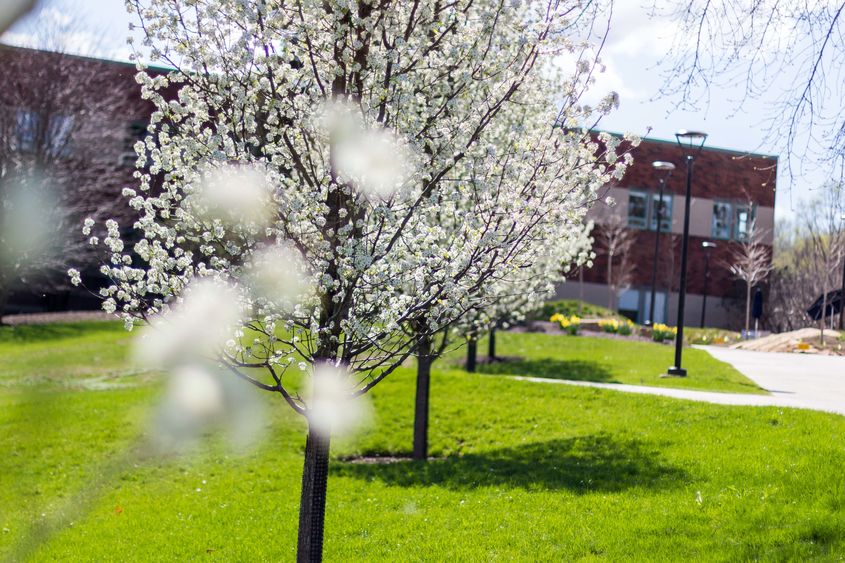 At the end of April, Penn State Brandywine celebrated Earth Day, an international event occurring annually since 1970 devoted to understanding and appreciating local, national and global environments as well as recognizing the value of natural resources. 
Students, faculty and staff members attended and enjoyed outdoor activities organized by the Brandywine Sustainability Committee.
At the event, Jack McMichael, a member of the Chester County Beekeeper's Association, displayed and spoke about bees, honey and local beehives.
Joy Fritsche, associate professor of geography and planning at West Chester University, gave an engaging talk, "Change Climate Change: How School Gardens Reduce Food Waste and Greenhouse Gas Emissions," in the campus gazebo.
Barbara Rostick, instructor in kinesiology, led a guided walk into the campus' wooded area behind the Vairo Library. A sustainable garden tour was also offered.
Students also played music and engaged in a drum and tambourine circle in the gazebo.
Information was provided at the event about Penn State's Green Paws Initiative, plans for a campus greenhouse, local water usage and other issues related to sustainability and the environment.
Penn State Brandywine's 2016 Spring Speaker Series and Common Read Committees also hosted an Earth Day lecture on April 12, "Earth Day 2016: Trees (not Trash) for the Earth" as part of the 2016 Spring Speaker Series. The lecture was presented by Laura Guertin, professor of earth science.