Students represent regional partnership among three Penn State campuses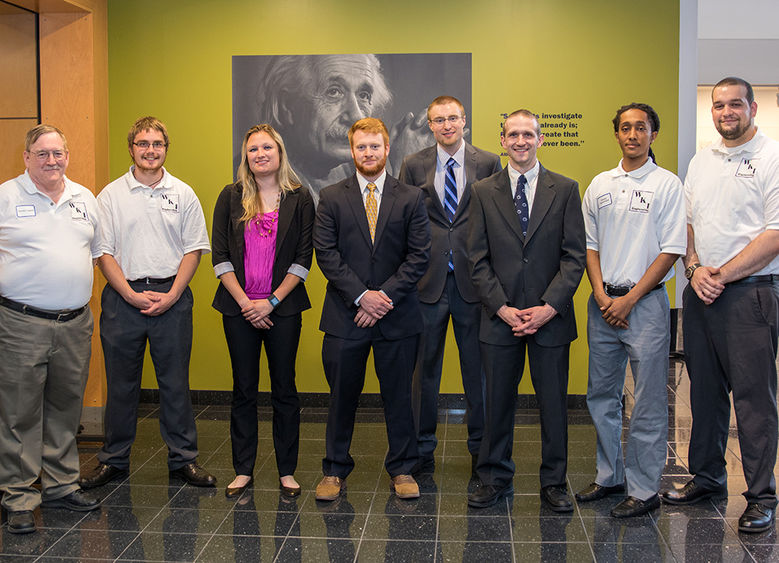 MALVERN, Pa. — Eight undergraduate Penn State engineering students presented their senior capstone projects to a crowd of 50 guests at the inaugural Design Expo on the Penn State Great Valley campus in Malvern on Wednesday evening. This is the first class of students to graduate from Penn State with a bachelor's degree in engineering with a multidisciplinary engineering design specialization, thanks to a partnership among the Abington, Brandywine and Great Valley campuses.
The partnership gives students the opportunity to pursue an ABET accredited Penn State College of Engineering degree in the Philadelphia region utilizing the world-class engineering labs at Penn State Great Valley.
Penn State Great Valley Chancellor James Nemes and engineering professors Kathryn Jablokow and Douglas Schumer provided opening remarks and an overview of the unique degree program. Two student presentations followed. Both teams were tasked to create a new product with the support of local industry sponsors. The WKI team, sponsored by Omega Design Inc. of Exton, created a product to accurately provide a specified force ranging from 0.5 to 300 pounds, while the SEG team created a tool for a skier to open and close a ski boot buckle without having to take off his or her mittens — a concept inspired by their sponsor, Bird with Fry LLC. After the presentations, guests enjoyed robotics and software displays from the junior and senior classes, including a custom-made inspection robot built for Horsham Township to identify storm drain blockages from hundreds of feet away.
"As the first graduates of this new regional Penn State program, these students are true pioneers. They can be very proud of their accomplishments — just as we are very proud of them," said Jablokow, who also serves at the coordinator for the regional engineering program.
Both the public and judging panels of industry experts and local Penn State faculty voted on their favorite project. In the end, the SEG team walked away with the Peoples' Choice, Best Engineering, and Best Project awards, while the Outstanding Project designation was awarded to the WKI team.