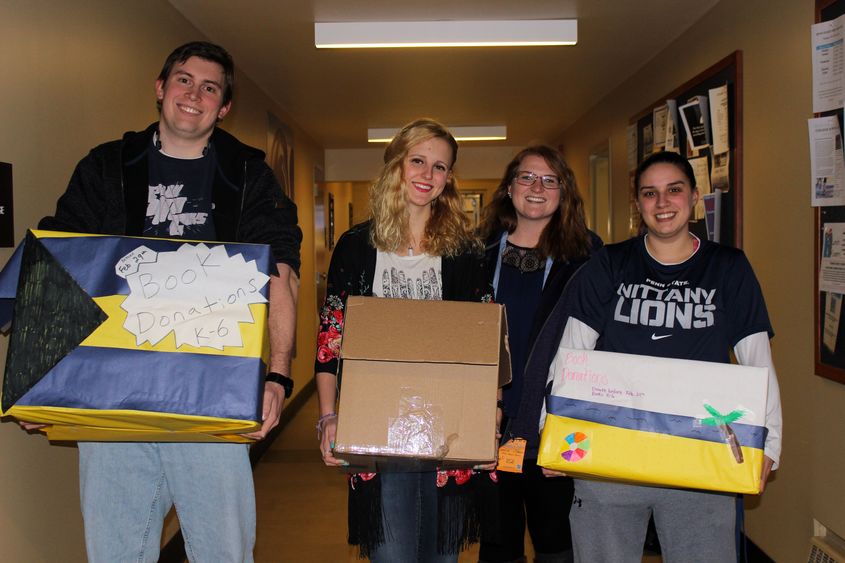 YORK, Pa. — Spring break is a time when most college students relax, whether it's traveling to somewhere warm for a vacation or just hanging out at home to catch up on work. Eleven students at Penn State York are participating in an alternative spring break March 5-12 in the Bahamas, where they will read to elementary school students, meet with officials from higher education, government, the private sector and community organizations to develop a greater understanding of the culture.
For Magdalen Matthews, of Red Lion, taking part in the trip was an easy decision.
"I am an elementary education major so any opportunity I am given to work with kids I'll take," she said "Going to the Bahamas and reading to children will give me a better understanding of working with children from a different culture and the knowledge I gain will travel with me as I become a teacher. This experience will help me gain skills and knowledge I will carry with me the rest of my life."
The trip was coordinated by Patrick Tanner, director of student engagement at Penn State York, who will also travel with the group. Students completed an application in the fall and were selected based on what each student would bring to the trip, as well as what they wanted to learn. The campus has offered other alternative spring breaks, but this is the first international one, according to Tanner. The York campus contingent will be traveling along with students and a coordinator from Penn State Brandywine, near Philadelphia.
"I'm tremendously excited in anticipation of the individual learning experiences that our students will have," said Tanner. "This will be the first time traveling on an airplane for some of them and the first time out of the country for others. Each one will be learning about themselves and the Bahamas, and they'll be incorporating this learning as they continue their journey as Nittany Lions."
Kaite Kline, also from Red Lion, was intrigued by the opportunity to learn about a new culture.
"Traveling fascinates me and meeting new people from the Penn State Brandywine campus and people from the Bahamas will be exciting," she said. "Working with kids is always fun, so I am really looking forward to that opportunity."
York students did a book drive and collected reading material for elementary school-age children. Half of the books collected will stay in York and the other half will go with them to the Nassau. Martin Library in York has also partnered with the group and supplied books.
Throughout the year, students going on the trip have been meeting as a group to discuss articles and reflect on how their individual experiences and backgrounds will impact the discovery process in Nassau. Building on those conversations, the trip leaders created an ambitious agenda that includes opportunities to be facilitated both at home and abroad. Each participant has had the opportunity to job shadow in Pennsylvania, and each will have a professional immersion experience in the Bahamas. There will also be small group presentations done by students before they depart the Bahamas.

"I chose to go on the trip because I love to help people, specifically children," said Samantha Glancey, of Camp Hill. This is also a unique opportunity to become fully immersed in another country."
Jacob Lauer, from York, also thought it would be interesting to learn about another county, the personal views of the people who live there, and more about their economy.
"I also want to be able to help people," said Lauer.
Other Penn State York students participating in the trip are Carson Berkheimer, of Dover; Emily Chen, of Fremont, California; Mari Darbaidze, of Tbilisi, Georgia; Adam Hatcher, of Lexington, Virginia; Kirsten McWilliams, of York; Giovanni Senno, of York; and Branson Small, of York.