Penn State Brandywine THON ranked in the top 10 among Penn State Commonwealth campuses by raising nearly $20,000 in the fight against pediatric cancer.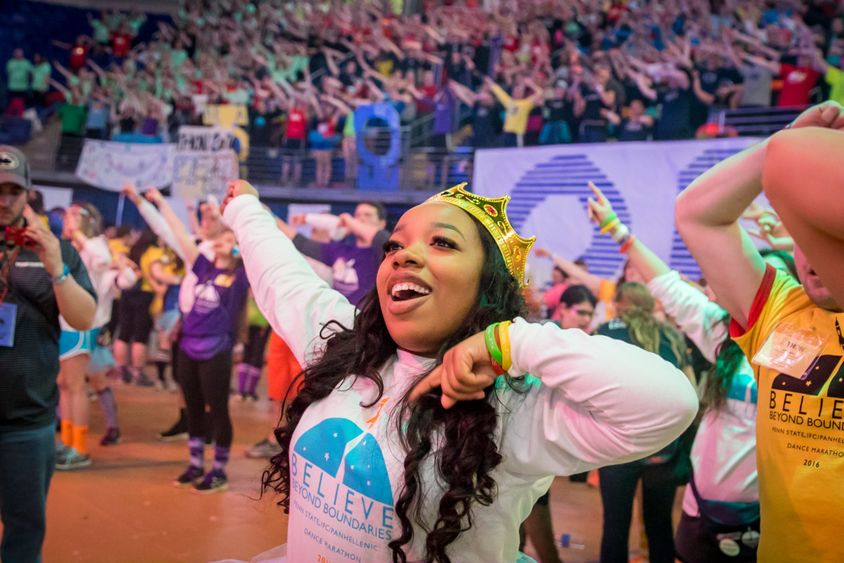 MEDIA, Pa. — For Penn State students across the Commonwealth, one year of hard work and dedication to support families in their fight against pediatric cancer culminated Feb. 19-21 in a 46-hour no-sleeping, no-sitting dance marathon at University Park.
The Penn State IFC/Panhellenic Dance Marathon, known as THON, raised a staggering $9,770,332.32. Penn State Brandywine THON contributed an impressive $19,906.66, ranking No. 10 among all Penn State Commonwealth campuses.
The largest student-run philanthropy in the world, THON is an annual fundraising effort that benefits children and their families affected by pediatric cancer. All money raised goes to the Four Diamonds Fund, which supports children treated at Penn State Hershey Children's Hospital.
Penn State Brandywine students Derek Osborn, Alexis Proctor and Abby Wilt had the once-in a-lifetime chance to represent the campus as dancers during THON weekend, which included no sleeping, no sitting and a whole lot of dancing for 46 hours straight until the whopping $9.7 million reveal.
"I danced in honor of my grandmother, who passed away from cancer," explained Wilt, who is a senior studying human development and family studies. "I think raising nearly $20,000 is an extraordinary accomplishment. I'm really proud of myself and our entire group. This is my last THON, and being able to dance made the experience even more special."
A sophomore majoring in business, Proctor explained that her most memorable moment of THON weekend occurred during the early morning hours of Sunday. Exhausted and not feeling well, Proctor was re-energized when a Penn State Hershey Children's Hospital patient handed her a note that encouraged her to fight on.
"I never imagined that I'd have the opportunity to dance in THON," she said. "I was thrilled to have the chance to represent Brandywine and help all of the families."
"We really came together not just as a team, but as a family," added Osborn, who is a sophomore information sciences and technology major. "We worked as hard as we could to raise as much as possible. It takes a lot of patience, dedication and a positive attitude. No matter what happens, you need to keep pushing forward and remember that you're trying to help save someone's life."
Assistant Director of Enrollment Management Jeremy Branch, who is also the adviser to Brandywine THON, credits Brandywine students for leading the charge and explained his experience as "humbling."
"They worked together to find new and creative ways to fundraise, and I feel like the challenge helped them to grow as people," said Branch. "The amount of time, effort and energy that they put toward their efforts to end pediatric cancer is extensive, and it all comes from the heart."