Fall 2015 graduates contributed to academic, civic and leadership initiatives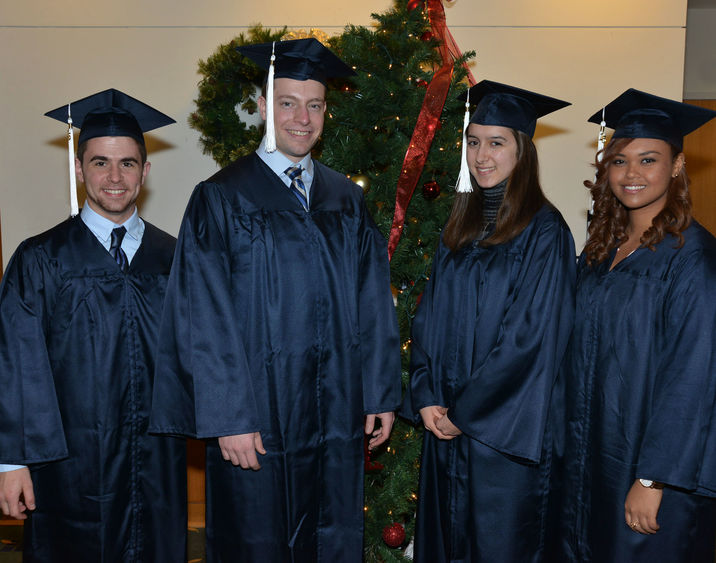 UNIVERSITY PARK, Pa. — Fifty-one Schreyer Honors College Scholars graduated from Penn State and received their medallions in a ceremony Friday afternoon, Dec. 18. The medals, worn at commencement, signify their achievements as the University's symbol of intellectual excellence. The fall 2015 class of graduating scholars achieved a grade point average of 3.85 with 15 Scholars earning two degrees and seven obtaining an integrated undergraduate/graduate degree.
Schreyer Scholar Jocelin Linares, of Kissimmee, Florida, was selected to address the Scholars and family and friends in attendance in the President's Hall at The Penn Stater Conference Center. A Paterno Fellow who will leave Penn State with both her undergraduate degree in labor and employment relations and a graduate degree in human resources and employment relations, she commented that "being Schreyer Honors students, we are instilled with the notion that our opportunities are only limited by creativity and imagination."
"I chose Penn State and I chose Schreyer for the challenging work and for the privilege of knowing I would be graduating among the best and brightest students," Linares said. "Now I realize Penn State and Schreyer chose all of us for the excellence they knew we were capable of."
Linares closed her remarks by saying, "We truly are Penn State. And we are Schreyer."
Three Scholars were selected as the student marshals for their respective colleges, all three earning two degrees this fall. Ian Button, from Bellefonte, served as the student marshal for the Smeal College of Business. The College of Communications was represented by student marshal Nia Sherony, of Mechanicsburg, and TJ Sullivan, of Harleysville, was named the student marshal for the College of the Liberal Arts.
The class of Scholars that graduated this weekend earned numerous honors, scholarships and fellowships, and not only participated in a wide spectrum of activities, but served in leadership roles for many organizations. Scholars dedicated their time to mentoring students in their colleges and majors, founded organizations to provide global assistance in various disciplines, represented numerous club and intramural sports, as well as varsity men's soccer at University Park and women's volleyball at Penn State Erie, The Behrend College.
Other notable accomplishments included the graduation of 19-year-old Ronald Cassese, from Lemont, who will turn 20 in April 2016, and who received his degree in electrical engineering with honors. Yixin Sun, from Beijing, China, an industrial engineering graduate, was a project intern with the Jane Goodall Institute and participated in Humanitarian Engineering and Social Entrepreneurship (HESE) to develop a rainwater harvesting system. One Schreyer Scholar, Samantha Devries, of Collegeville, earned both her bachelor's and master's degree in architectural engineering. A member of the Penn State Philharmonic Orchestra and club cross-country team, she was also the co-founder and president of Global Architecture Brigades. She spent three of her summers with the Appalachia Service project.
Lauren Lomas, who graduated from Penn State Brandywine, was one of only eight Penn State students from across the Commonwealth to present her research at the undergraduate research event at the Pennsylvania Capitol. Several Scholars published research articles and engaged in academic and volunteer activities while others have started social enterprises and launched products.
The Schreyer Honors College promotes academic excellence with integrity, the building of a global perspective, and creation of opportunities for leadership and civic engagement. Schreyer Honors Scholars, including Gateway Scholars admitted after their first or second year of enrollment, total more than 1,900 students at University Park and 20 Commonwealth campuses. They represent the top 2 percent of students at Penn State who perform well academically and lead on campus.
Click here for a PDF of the Schreyer Honors College fall 2015 medals ceremony program.