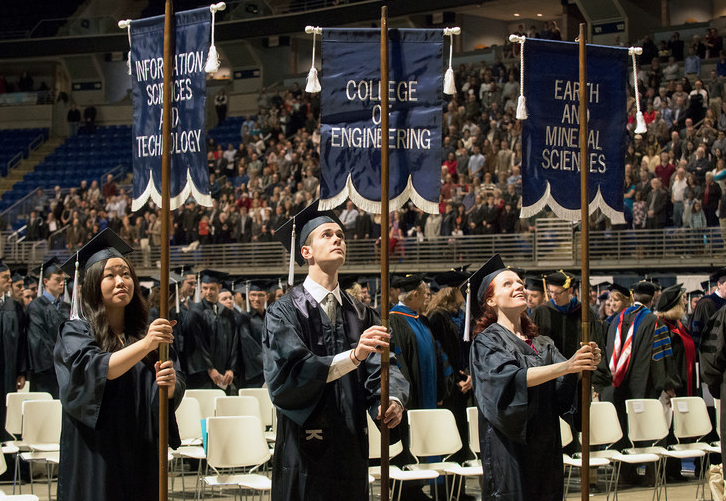 UNIVERSITY PARK, Pa. — This fall approximately 5,200 Penn State students will receive their diplomas. University-wide there will be 275 associate, 3,800 baccalaureate, 895 master's, 35 law and 225 doctoral degrees awarded.
Following is a compilation of commencement ceremonies and speaker information for Penn State's 24 locations. Additional information about University Park commencement is available online at http://commencement.psu.edu.
Penn State Abington
10 a.m. Friday, Dec. 18, Athletic Building
Speaker: Steven N. Kline, Abington Township Commissioner and architect
Kline is a community leader and a successful small business owner in eastern Montgomery County. He founded Regan Kline Cross Architects LLC and is a partner in Regan Construction Co. Inc.
Kline was appointed to the Abington Township Planning Commission and later elected township commissioner. As a commissioner and vice president of its board, he chaired the Zoning Ordinance and the Finance Committee. Kline was named to the Montgomery County Planning Commission and elected chairman earlier this year.
http://www.abington.psu.edu/commencement
Penn State Altoona
11 a.m. Saturday, Dec. 19, Jaffa Shrine, Altoona

Speaker: Steven Wagman

Wagman is a 1982 Penn State graduate with a degree in health planning and administration. Wagman retired as vice president for Enterprise Solutions Implementation at Siemens Medical Solutions, USA after 33 years of service in June 2015. Over the course of his career, Wagman led organizations in health care information technology implementation and strategic consulting; medical imaging site planning, design, and construction services; and program management for Siemens One strategic relationships in health care.
http://www.altoona.psu.edu/commencement/
Penn State Beaver

7 p.m. Friday, Dec. 18, Student Union Building Auditorium

Speaker: Betty Sue Schaughency

Schaughency has enjoyed a long relationship with Penn State Beaver. She was a member of the inaugural faculty in 1965 and spent 17 years on the Penn State Beaver Advisory Board. Schaughency earned her bachelor's degree from Geneva College and her master's in science and doctorate in counselor education from the University of Pittsburgh. She is best known for the 48 years she spent as a teacher, counselor and superintendent in the Beaver Area School District. In addition to her work with the district, Schaughency served in a number of consulting and advisory roles with the Pennsylvania Department of Education, the Educator Training Center in Los Angeles, and the Educational Leadership Initiative at the University of Pittsburgh.

http://br.psu.edu/38054.htm
Penn State Behrend
6 p.m. Friday, Dec. 18, Junker Center
Speaker: Daniel S. Mead
Mead, the former president and CEO of Verizon Wireless, has remained with the company, overseeing the transfer of Verizon's consumer and mass business operations in California, Florida and Texas to Frontier Communications, which purchased the assets for approximately $10.54 billion earlier this year. His current title is executive vice president and president of strategic initiatives. Mead, a Penn State trustee, holds an MBA and a bachelor's degree in quantitative business analysis and finance from Penn State. He was named an Alumni Fellow in 2008 and received the Penn State Distinguished Alumni Award, the highest honor given to a graduate by the University, in 2010. The title of his address is "Be Ready for Change."
https://psbehrend.psu.edu/Academics/academic-services/college-registrar/commencement
Penn State Berks
7:30 p.m. Friday, Dec. 18, Beaver Community Center

Speaker: Jack D. Gulati

For 48 years, Gulati has been a "serial entrepreneur." Born in India, he immigrated to the United States in 1958 when he was 15 years old. He acquired his first business at the age of 26, and in the ensuing years, he bought, sold or created 42 businesses worldwide. His companies in the United States and Europe have included Fidelity Technologies Corporation, TeleAlarm Group, Fidelity Investment Corporation, SafetyCare Technologies, and Stokesay Castle. Most recently, he acquired the Reading Royals, the East Coast Hockey League (ECHL) affiliate of the Philadelphia Flyers of the National Hockey League. Gulati has received many honors over the years: President George H.W. Bush appointed him to the Small Business Advisory Committee of Federal Communications Commission, and Presidents Ronald Reagan and Bill Clinton appointed him as a delegate to the 1986 and 1995 White House Conferences on Small Business.

http://www.berks.psu.edu/Academics/CommencementSpeaker.htm
Penn State Brandywine

10 a.m. Friday, Dec. 18, Commons Building Gymnasium

Speaker: Mike Arata
Arata, director of engineering at United Airlines, graduated from Penn State at University Park with a bachelor of science degree in aerospace engineering after attending the Brandywine campus during his first two years at Penn State.
Over the course of his 24-year career, Arata has held various positions at United Airlines. Currently, his engineering team is responsible for the regulatory compliance, configuration control, modifications, reliability and technical program requirements for the United Airlines fleet, which is one of the largest in the world. Beyond United Airlines, Arata chairs the Airlines for America (A4A) Engineering Maintenance and Material Council (EMMC) and serves on the advisory board for Penn State Brandywine.
http://brandywine.psu.edu/story/2872/2015/11/19/united-airlines-leader-speak-penn-state-brandywine-commencement
Penn State DuBois
7 p.m. Thursday, Dec. 17, DuBois Country Club
Speaker: Nancy Micks
Micks most recently served as director for the Greater DuBois Area Chamber Of Commerce. She retired in June after 17 years with the chamber. Micks also served as a member of the DuBois City Council and became state certified for planning and economic growth in Pennsylvania.
Born in Brookville, Micks moved to DuBois as a child when her family relocated to the area in 1950. It was at this time that her parents, Paul and Dorothy Reitz, moved their business, Riverside Markets, to DuBois and established the company's new headquarters. Other than seven years spent in the Altoona area, Nancy has lived and worked in DuBois since her family first settled there.
http://www.ds.psu.edu/Academics/DuBoisCommencement.htm
Penn State Fayette
no fall commencement
Penn State Great Valley
no fall commencement
Penn State Greater Allegheny
7 p.m. Thursday, Dec. 17, Wunderley Gymnasium
Speaker: Jeanna E. Cooper
Cooper is the manager of e-services in the materials and supply chain management department at CONSOL Energy Inc., a Fortune 500 company, where she has oversight of e-procurement processes, supply chain management back-office processes, and the master data management group. With an education in information systems and communications and years of experience in managing specialized technologies in supplier management and other areas, Cooper leverages various business and procurement technologies to drive automation, efficiencies and best practices across the supply chain to deliver cost savings and ROI. She previously was a faculty member at Penn State Greater Allegheny where she taught classes in business and information science and technology.
http://www.ga.psu.edu/Academics/graduation.htm
Penn State Harrisburg
9:30 a.m. Saturday, Dec. 19, Giant Center
Speaker: Eva J. Pell
Pell, recently retired under secretary for science at the Smithsonian Institution and former Penn State senior vice president for research and dean of the Graduate School, is a biologist, plant pathologist, and science administrator who spent nearly four decades at Penn State before becoming the under secretary of science for the Smithsonian Institution in 2010. Pell was responsible for the Penn State Research and Technology Transfer Organization, which connects Penn State researchers with industries in order to stimulate economic development.
http://harrisburg.psu.edu/commencement/.
Penn State Hazleton
no fall commencement
Penn State Hershey College of Medicine
no fall commencement
Penn State Lehigh Valley
no fall commencement
Penn State Mont Alto
no fall commencement
Penn State New Kensington
10 a.m. Saturday, Dec. 19, Athletics Center

Speaker: Amy Cyprych
Cyprych is director of risk revenue at Highmark. The campus alumna earned a bachelor's degree in information sciences and technology in 2002. A frequent guest speaker in IST classes at the campus, Cyprych enjoys interacting with the students and sharing her experiences in the corporate world. In addition, she has sponsored projects for the senior capstone course, which focuses on real-life problems faced by an organization, and she has participated as an employer partner of the GREAT (Growing Regional Excellence through Experience, Academics, and Training) program for promising students in engineering and technology fields.

http://www.nk.psu.edu/46370.htm
Penn State Schuylkill
no fall commencement
Penn State Shenango
7:30 p.m. Friday, Dec. 18, Auditorium

Speaker: Tom Roberts

Roberts is the executive director of the Hope Center for Arts & Technology (HopeCAT). He is a Penn State alumnus holding a bachelor of arts in industrial and labor relations. He earned his MBA from Temple University. Outside of work and community service, Roberts sings with the Shenango Valley Chorale, performs in multiple community theater productions, and enjoys landscaping projects with his wife, Ryen. He is also a proud member of the Penn State Blue Band, performing annually at Beaver Stadium for Homecoming.
Penn State University Park
Schreyer Honors College Medals Ceremony
5 p.m. Friday, Dec. 18, The Penn Stater Hotel Conference Center
Undergraduate students (baccalaureate and associate degrees)
Saturday, Dec. 19, Bryce Jordan Center
Remarks by: Eric Barron, Penn State president
9 a.m.
College of Agricultural Sciences
Smeal College of Business
College of Earth and Mineral Sciences
College of Engineering
College of Information Sciences and Technology
12:30 p.m.
College of Arts and Architecture
College of Communications
College of Education
College of Health and Human Development
College of the Liberal Arts
College of Nursing
Eberly College of Science
The Graduate School
4:30 p.m. Saturday, Dec. 19, Bryce Jordan Center
Speaker: Douglas R. Cavener, Verne M. Willaman Dean of the Eberly College of Science
Cavener is internationally recognized for his research in molecular biology, genetics and evolutionary biology. His recent work has focused on the etiology of human diseases, including diabetes and neurodegenerative disorders. He came to Penn State in 2000 and has served as the department head of biology over the past 15 years. In 2012, he was also appointed adjunct professor of life sciences at the Nelson Mandela African Institute of Science and Technology in Tanzania. Cavener was appointed the dean of the Eberly College of Science on July 18, 2015.
http://commencement.psu.edu/gradinst.html
Penn State Wilkes-Barre
no fall commencement
Penn State Worthington-Scranton
no fall commencement
Penn State York
6 p.m. Friday, Dec. 18, Pullo Family Performing Arts Center
Speaker: Elizabeth (Liz) J. Dellinger
Dellinger has 24 years of banking experience and is the director of treasury management for York Traditions Bank in York, Pennsylvania. Although she is not a graduate of Penn State, that hasn't stopped her from devoting a tremendous amount of time working to help Penn State York grow and become a vital part of the York community. She has served on the Penn State York Advisory Board since 2003 and was the board chair from 2011-12. She continues to serve on the board alongside her father, Donald, a Penn State graduate and her blue and white influence, who has been a board member since 1988.
http://www.yk.psu.edu/Academics/graduation.htm
Pennsylvania College of Technology

11 a.m. Saturday, Dec. 19, Community Arts Center

Student speaker: Jay Michael Rhoads Jr.

Rhoads will graduate with an associate degree in automotive restoration technology. He will also be presented with the President's Award for leadership and service.
http://www.pct.edu/commencement/
Dickinson Law
no fall commencement
Penn State Law
no fall commencement