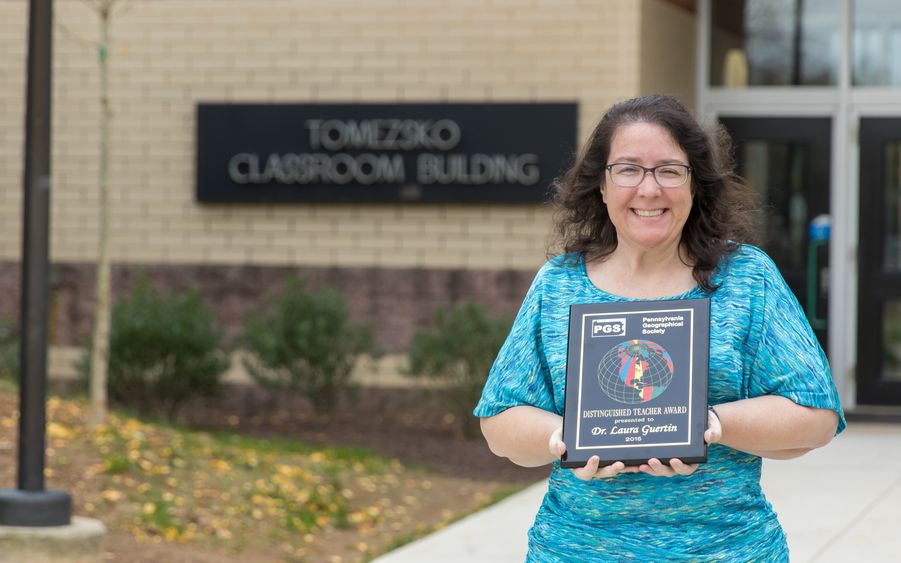 MEDIA, Pa. -- Laura Guertin, Penn State Brandywine Earth science professor, was named a Geological Society of America (GSA) fellow and received the 2015 Distinguished Teacher Award given by the Pennsylvania Geographical Society (PGS), earlier this month.
A member of the Brandywine campus since 2001, Guertin's influence is extensive. She works closely with undergraduate students on independent research projects, often sparking students' passion for science by looking for fresh and fun ways to teach — including technological approaches. In fact, incorporating technology into the classroom is a teaching approach that the PGS committee found impressive when evaluating nominees for the 2015 distinguished teacher award.
According to the PGS website, the distinguished teacher award is given to someone with documented evidence of excellence in teaching as well as innovative and effective classroom methods in geography, Earth science, environmental science or any other course with a consistent and substantive geographic base.
"I never viewed my teaching approach as innovative," Guertin said. "I've always focused on establishing my overarching course goals and student learning outcomes, then thinking about how technology and hands-on inquiry-based experiences in my courses can help me achieve my goals. There are so many excellent educators in Pennsylvania teaching geography, geoscience, Earth and environmental science, to be named 'distinguished' among my colleagues across the state is a true honor."
Guertin also was honored at the 2015 GSA annual meeting and exposition in Baltimore, Maryland. where 7,000 geoscientists presented 4,700 abstracts. At the conference, Guertin gave two talks during the Intentional Integration of Research Into the Curriculum: Undergraduate Research as a Teaching Practice session.
Her first talk, Bringing the Google 80/20 model to an introductory-level environmental course: a student opportunity for creativity, innovation, and investigation, discussed the way Guertin applied the Google 80/20 principle to an introductory-level general education course for non-science majors. Students were told that 80 percent of the course was structured and planned by Guertin, but 20 percent of the class time was to be spent exploring different topics still related to the course. That also meant that 20 percent of a student's grade was based on his/her creation, innovation and pursuit relating to course topics. All students used a Google Doc as their journal to document their project.   
Her second talk, Laying the foundation for information literacy in introductory-level earth science courses, was based on a semester-long literacy project she designed with Nina Clements, former Penn State Brandywine reference and instruction librarian, to develop the scientific literacy of students and their ability to read, interpret and evaluate sources of scientific news. Each week, students were required to locate one Earth or ocean science article published in the past five years, evaluate the article with the CRAP test (currency, reliability, authority, purpose or point of view) and write an annotated bibliography. Overall, the project assisted students in developing a foundational skill necessary for undergraduate research in any discipline, something Guertin encourages all of her students to participate in and also present at conferences.
"It is important to me to give my time back to an organization that has given me such a foundation for my career."
--Laura Guertin
"I want my students to attend and present at conferences, because they are doing authentic scientific research under my mentorship," Guertin said. "The skill sets students learn when doing research and then sharing their research are transferable skills. No matter what major or career a student ends up in, they are ready to do investigative projects and disseminate their results."
Guertin still considers herself to be like a student.
"There are so many scientific advances and discoveries in my field taking place nonstop, that I need to keep learning," Guertin said. "And how professionals learn is by reading peer-reviewed journal articles, and by meeting other professionals at conferences and listening to them present their work in talks and through poster presentations. Another favorite part of attending conferences is being able to connect what I've been teaching my students directly to content I heard at the conference. Connecting what I've been covering in class to what is being discussed currently in the discipline is so rewarding and a great opportunity for students to see and hear the currency and relevance of what they are learning."
The GSA meeting also featured the Presidential Address and Awards Ceremony where Guertin and 72 other GSA members were inducted into the society's fellowship.
According to the GSA website, GSA members are nominated for the fellowship by existing GSA Fellows in recognition of their distinguished contributions to the geosciences through publications, applied research, teaching, administration of geological programs, contributing to the public awareness of geology, leadership of professional organizations, and taking on editorial, bibliographic and library responsibilities.
Timothy Bralower, professor in Penn State's College of Earth and Mineral Sciences, was Guertin's lead nominator for the fellowship. In the short citation published by GSA, Bralower said that he nominated Guertin "for her complete devotion to undergraduate education on the local and national stage, for her dedication to training the next set of geoscience teachers, for her cutting edge research involving technology in geoscience education, and for her leadership in the geoscience educational community."
Guertin said in her blog, Journeys of Dr. G, "I was honored to be one of 73 GSA members that were elected to the society's fellowship. I have attended GSA since my second year of graduate school and have valued every moment of increasing my geoscience content knowledge on the 'latest and greatest' research findings and engaging in additional professional development activities. This organization has been so critical in my development as a faculty mentor to undergraduate student researchers. It is important to me to give my time back to an organization that has given me such a foundation for my career."