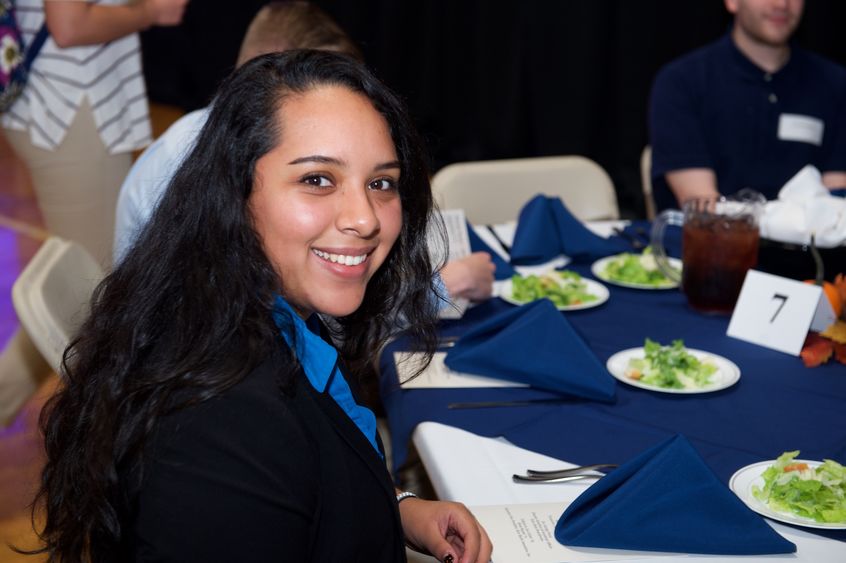 MEDIA, Pa. — Penn State Brandywine recently hosted the annual scholarship luncheon, which honors student scholarship recipients and recognizes the alumni and friends of Brandywine who have established scholarships for the campus. The event gives each the opportunity to meet and students the chance to thank the donors for their generous contributions to their college experience.  
At the luncheon, Chancellor Kristin Woolever welcomed guests, and George Franz, director emeritus of academic affairs; his wife, Kammy Franz; and Jacqueline Brown, senior psychology major and the recipient of the Franz-Kahmar Scholarship, made remarks.
Brown, also a Penn State Brandywine Lion Ambassador, expressed the importance of what her scholarship meant to her and the other recipients as well.
"Scholarships help students with the biggest burden of college — the cost," Brown said. "Receiving a scholarship means someone has faith and believes in the student. It also reassures the student that someone recognizes, supports and appreciates their hard work."
In addition to recognizing donors and honoring scholarship recipients, the event also honored a longtime supporter of the campus, Joe Linker. Linker, a 1975 Penn State graduate and Penn State Brandywine Advisory Board member, passed away this year. He was a remarkable volunteer, patron and leader at Brandywine. He proudly served on the advisory board for 15 years and worked tirelessly on two Penn State fundraising campaign committees:  A Grand Destiny and For the Future: The Campaign for Penn State Students. Linker knew the importance of scholarships and wanted to ensure deserving students were given the opportunity to be a part of the Penn State Brandywine campus. He and his wife, Mary Jane, established two scholarships, the Joseph and Mary Jane Linker Endowed Scholarship at Penn State Delaware County (now known as Penn State Brandywine) and the Linker Family Trustee Scholarship.
Ernie Repice, a 1971 Penn State graduate, former Penn State Brandywine Advisory Board president, and the executive vice president of Karr Barth Associates Inc., was unable to attend the scholarship luncheon and instead sent a video message congratulating scholarship recipients and also remembering his "friend and teammate, Joe Linker."
"He understood the Penn State Brandywine experience," Repice said in the video. "With Joe, success was our only option. He was truly an exemplary benefactor and Brandywine alumnus. He led by example and we shall miss him."
Penn State Brandywine offers numerous scholarships and awards. During the 2015-16 academic year, 58 scholarships were awarded to 123 students. Scholarships differ in a variety of ways. Some scholarships are interest specific while other scholarships may favor a nontraditional student. All scholarships, however, reward academic excellence and most require a GPA of 3.0 or better.
For more information about scholarships at Brandywine, including giving opportunities, visit the Penn State Brandywine Office of Development website or call 610-892-1249.