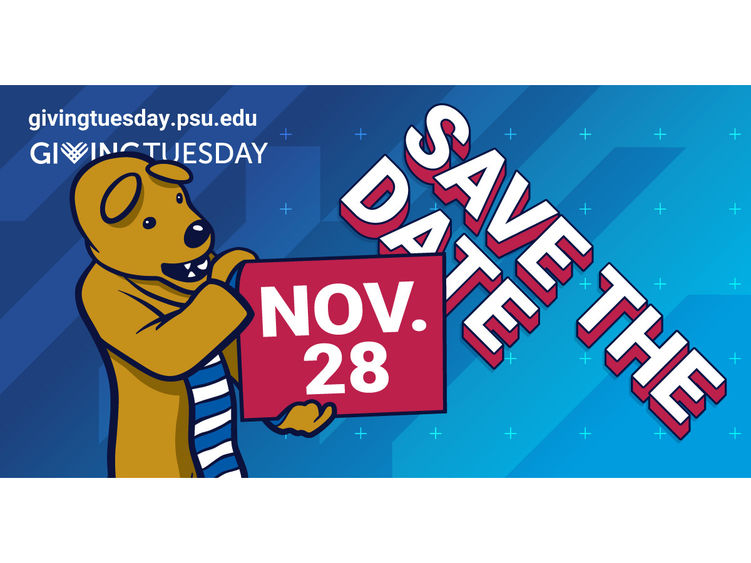 MEDIA, Pa. — Penn State will celebrate its ninth GivingTuesday on Nov. 28, and Penn State Brandywine invites alumni, students, faculty, staff and friends to participate by showing support for the Penn State Brandywine Emergency Scholarship Fund and Penn State Brandywine Athletic Enhancement Fund.
Although GivingTuesday takes place on Nov. 28, Penn State will be kicking off the celebration early on Monday, Nov. 27, at 18:55 — 6:55 p.m. EST — to commemorate the year the University was founded. Brandywine's campaign is included in this year's early fundraising window, which runs from Nov. 13 through the official start of the event. Those who wish to establish a personal fundraising page as a campaign champion can find simple instructions in the right column of each campaign page under "Become a Champion!"
The two funds are part of a campus-wide network and culture of support for Brandywine students.
"GivingTuesday is a powerful day for Penn State Brandywine. It's a day where we show that 'something special' about Brandywine that you can just feel whether you've been on campus for one day or for decades," said Chancellor Marilyn J. Wells. "We care deeply for our students and give generously to make their educational dreams possible."
Gifts made on GivingTuesday advance the University's historic land-grant mission to serve and lead. Through philanthropy, alumni and friends are helping students to join the Penn State family and prepare for lifelong success; driving research, outreach and economic development that grow our shared strength and readiness for the future; and increasing the University's impact for families, patients and communities across the commonwealth and around the world. Learn more by visiting raise.psu.edu.