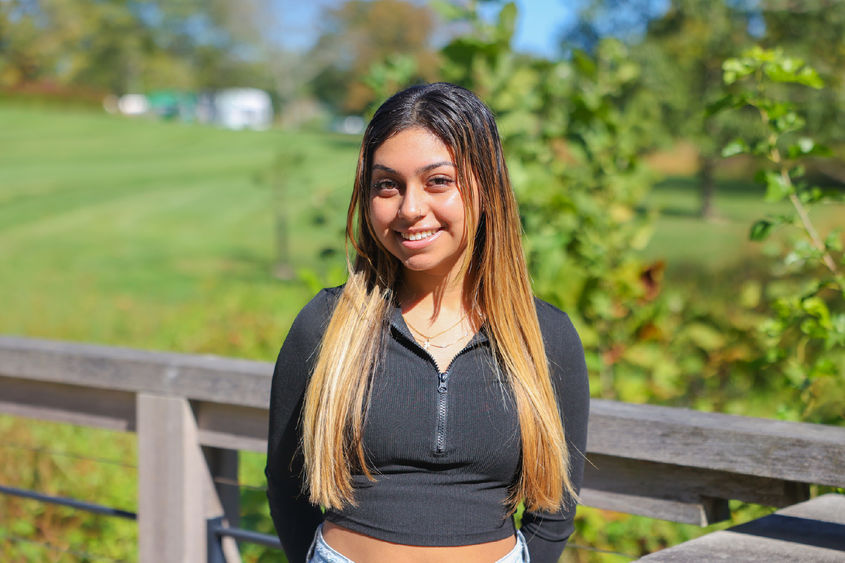 Year: Third
Major: Business
Option: Business Analytics
Involvement: Fundraising chair, National Society for Leadership and Success; member, Student Government Association; resident assistant (RA); student-athlete for the Brandywine cross-country team
Brandywine: What was your deciding factor in attending Penn State Brandywine?
Thawani: Penn State Brandywine is the closest campus to my house in New Jersey. I was supposed to go to University Park after high school, but I decided to stay home for the first year and go to a college near me. After my first year, I knew I wanted to go to Penn State but also wanted to be close to home, and Brandywine was the closest. I also like the feeling of a small campus because you can get more involved and get to know everyone.
Brandywine: How did you choose your major?
Thawani: I chose my major thanks to my mom. She is a financial advisor at Morgan Stanley, an investment banking company, so she would bring me to her office growing up. I would talk to the advisors and get to know the business aspects of the company. I actually interned there the past two summers, and I became more interested in business and finance. Thanks to my mom, I am where I am.
Brandywine: What challenges have you faced at Brandywine, if any?
Thawani: Even though I'm a pretty outgoing person, I did become very shy when I came here last year. So, getting out of my shell and getting to know everyone were some of my biggest challenges. Getting out there and getting to know people was my first step last year. Now look at me go – I'm involved in everything!
Brandywine: Who at Brandywine has supported you, and how?
Thawani: I would say, especially since I became an RA, my boss, Don Brennan (assistant director of residence life) has been my greatest supporter. He's been there for me every step of the way. No matter how serious or how personal things get, I'm able to talk with him. All RAs have one-on-one meetings with him every week, so he checks up on us and sees how we're doing. He's been getting to know a lot about me. I feel like that's how I've been coping because it's been stressful. I'm an RA, I'm very involved and I have family stuff at home. Talking to him really helps. He's been my big support system here.
Brandywine: What's been your greatest accomplishment at Brandywine so far?
Thawani: Becoming an RA has definitely been my greatest accomplishment at Brandywine so far. The process of becoming an RA was tough last year because it was so competitive. There were about 15 students who were interested and only four of us got picked to be RAs. Finally getting to that finish line and making it here has been a great journey.
Brandywine: What made you interested in becoming an RA? What do you enjoy most about it?
Thawani: I wanted to be an RA because I'm very outgoing and I like being there for everyone. I would say I enjoy the arts and crafts part of being an RA; we make vision boards and I get to decorate the hallway, which is fun. Also, I'm like the mom of my friend group. Now, I feel like I'm the floor mom. I feel like my outgoing personality fits perfectly with being an RA because I'm able to be there for everyone. I also know my boundaries, because sometimes situations can become overwhelming.
Brandywine: With your involvement at Brandywine, how has your time on campus been impacted?
Thawani: Especially this year, since I have so much going on, I try to do things a week in advance at least. Over the weekend, I'll plan out my week. I'll try to get everything done by Thursday at the latest. If I'm on duty in the residence hall (we have duty nights two or three times every week), I force myself to do homework for those four to five hours when it's not busy. Also, during common hour, I go to the clubroom and try to do work. I use those few hours a day to try to get my work done.
Brandywine: What's one piece of advice you have for students who are looking to get involved?
Thawani: Just put yourself out there and go to events. Don't even think about who you're going to see and don't worry about not knowing anyone. It's a small campus. You're going to get to know everyone whether you like it or not. Get a buddy and go with them to events. I feel like that was me. Last year, my roommate and I got involved together because we would go to events together. I feel like if you have a buddy with you, it's so much easier.
"If you want to do something, just go for it. Opportunities come and go, but in college, you need to jump and take your chance."

—Esha Thawani , third-year business major, Penn State Brandywine
Brandywine: What's the best memory you've made at Brandywine?
Thawani: Prom last year was my favorite memory. I helped organize it with other members of the Student Government Association. Also, my best friend from New Jersey came, which was fun. I think it was probably one of the best nights I've had here. It was great to just let everything go and have fun.
Brandywine: What's the most valuable lesson you've learned at Brandywine?
Thawani: If you want to do something, just go for it. Opportunities come and go, but in college, you need to jump and take your chance. Just go for it because it can impact your future.