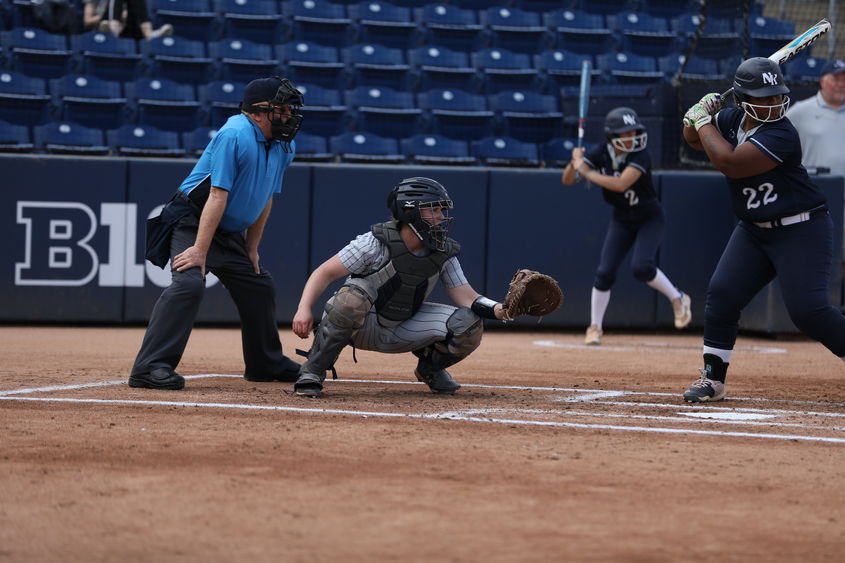 Year: Third
Major: Business
Option: Accounting
Involvement: Student-athlete for Brandywine softball team; president, Student-Athlete Advisory Council; peer mentor, Lion Guidez; teacher's assistant (TA), First-Year Seminar
Brandywine: What was your deciding factor in coming to Penn State Brandywine?
Rees: Softball brought me to this campus specifically, but I was looking at Penn State anyway. I think knowing that you can get a Penn State degree at a smaller campus was definitely enticing because there are a lot more resources available and smaller class sizes. It was not too far from home, but far enough to get my own place, and I could get some independence while not going too far away.
Brandywine: How did you choose your major?
Rees: I was always interested in business and it's a big part of the world. There's always going to be a need for people in business, so that's where I went first. Accounting was more interesting to me than finance or anything like that. My siblings are accountants and introduced me to the topic.
Brandywine: What challenges have you faced at Brandywine, if any?
Rees: One of the big challenges in my first year was living with somebody who didn't go here. I lived with a high school friend off-campus, so I wasn't involved on campus. I started to notice that I wasn't involved as everybody was starting to get to know each other, and I felt alone because I didn't know anyone. Coming to school just for class and practice was not enough. If I could go back, I would try to involve myself in the beginning and as everybody else is, because it's a lot easier than trying to build up afterward.
Brandywine: Who at Brandywine has supported you, and how?
Rees: Bobbi Caprice, director of athletics, has been so supportive. She's someone I can go to talk to about anything. She always tells us athletes she has an open-door policy, so if she's in the office, she's here for us to talk about anything. Myeisha Matos (recruiting, retention and alumni coordinator) invited me to be her TA last year, which was a good opportunity. That allowed me to see my potential a little more. Now, I'm Bill Tyson's (director of strategic communications) TA. It's nice to be a teacher's assistant for these people because they get to know me on a more professional level in addition to me being a student.
Brandywine: What has been your greatest accomplishment at Brandywine so far?
Rees: I've been able to keep a cumulative GPA of 3.99, so that is probably one of my biggest accomplishments. I've always been very concerned with my grades, so being able to keep up with that is important to me. As I get more major-specific, obviously I'm not stressing it as much, but it's nice when I can keep up with the standards that I set for myself. Winning the Small College World Series was also such a great feeling.
Brandywine: What made you interested in joining the softball team? What do you enjoy most about it?
Rees: Mark Caserta (head softball coach) is a great recruiter. He came to all my games and was very persistent. Then, I saw the winning potential in the tight-knit team. I thought Coach was similar to coaches I've had in the past, so that was intriguing to me. I've made a lot of friends on the team, and I wanted to be involved in athletics for as long as I could. I had originally planned on doing the 2+2 program, but I decided to stay here all four years. Brandywine softball has made an impact on me.
Brandywine: What made you interested in becoming a TA? What do you enjoy most about it?
Rees: I've always been interested in sharing what I've learned and the things that I've gone through with people who are going through it now. I know it's hard to get involved at first. Also, I have good strategies for time management, and I never miss a deadline. I think that I am a good role model in that sense. Being able to share tips and advice with the first-year students is very valuable.
"Being involved and knowing all these people makes me want to spend more time on campus, and it's made me appreciate the campus for what it has."

—Karly Rees , third-year business major, Penn State Brandywine
Brandywine: With your involvement at Brandywine, how has your time on campus been impacted?
Rees: Being involved definitely made me want to be on campus more. Before I was involved, I didn't really see a point in being here except to go to class. Being involved and knowing all these people makes me want to spend more time on campus, and it's made me appreciate the campus for what it has. Now, I'm more aware of everything that we offer, and it's starting to feel more like a home than it did the first couple of years.
Brandywine: What's one piece of advice you have for students looking to get involved?
Rees: Talk to people. If you know people who are involved in clubs, don't be afraid to talk to them. I always tell the first-year students, "I'm just another student at Brandywine. I know I'm the TA, but I'm only a third-year student. I'm only two years above you. Don't be scared to talk to me because I would be more than happy to help." Don't be afraid to talk to people and ask questions. Don't ignore all the bulletins with the events going on around campus because they get sent out for a reason. They're out there for you so that you do know and you're aware.
Brandywine: What's the best memory you made at Brandywine and why?
Rees: Winning nationals was just the best feeling I've ever had because it was such a relief knowing we made it that far. We put up a fight to get there. Sharing the experience with the people I've built connections with at Brandywine, and sharing such a special moment in not only our lives but in Brandywine's history was incredible. That was probably my favorite.
Brandywine: What has been the most valuable lesson you've learned at Brandywine?
Rees: I learned to take advantage of networking on such a small campus. Part of the reason why I came here is because I knew that I would have the opportunity to get one-on-one help or be involved on campus. It's harder when you go to a bigger school. Being that we are a small campus, I take advantage of that, and I've made somewhat of a place for myself on campus.