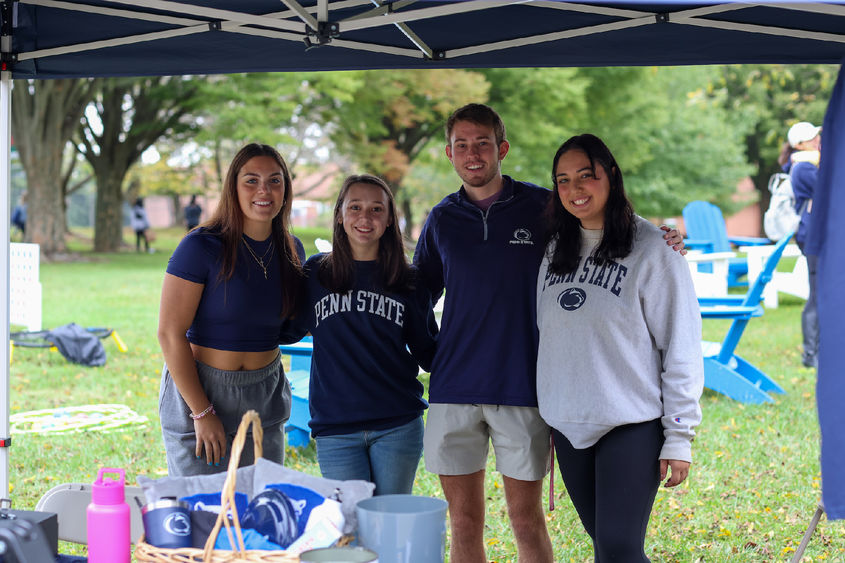 MEDIA, Pa. — Penn State Brandywine celebrated its annual Homecoming & Family Weekend on Sept. 30. With 250 people in attendance, Homecoming & Family Weekend was packed with alumni, students, families and friends participating in various activities.
The day started with a light breakfast, along with carnival games, caricature artists and a photo booth in the Student Union. Meanwhile, outside, attendees were able to play lawn games and had the chance to donate to THON, the National Society for Leadership and Success, and Brandywine's Socktober campaign.
After a barbecue lunch, the day continued with athletic alumni games, circus performers, reptile petting, canvas painting and various alumni receptions. To close out the day, attendees enjoyed ice cream from the Berkey Creamery.  
Dana Hallahan, assistant director of alumni relations, commented on her first major event as an employee at Brandywine. As a recent Penn State alumna who attended Brandywine, she enjoyed getting to reconnect with alumni and meet other people in the community.
"Homecoming was an amazing experience to reconnect with alumni and meet current students' families," said Hallahan. "Throughout the day, there were many events that everyone enjoyed. My favorite events were our Brandywine Volunteer Summit, reptile petting, caricature artists and ice cream social. I really enjoyed seeing the joy on everyone's faces as the day panned out."
Patton Vo, director of development, reflected on how special Homecoming & Family weekend was for all who attended, especially in terms of Brandywine alumni.
"For the first time ever, Homecoming acknowledged our alumni volunteers through our inaugural Volunteer Summit, where we officially launched and introduced the Alumni of Color, Pride Alumni Alliance, Retired Alumni Network and Parents Council to our community," he said.
"The collective power of community was demonstrated by the 250 registrants who descended on our campus to relive their college days, enhance their networks and showcase their Nittany Lion pride. This weekend was the embodiment of the 'we are' spirit."