Kimberly Schultz awarded for her work with open and affordable education resources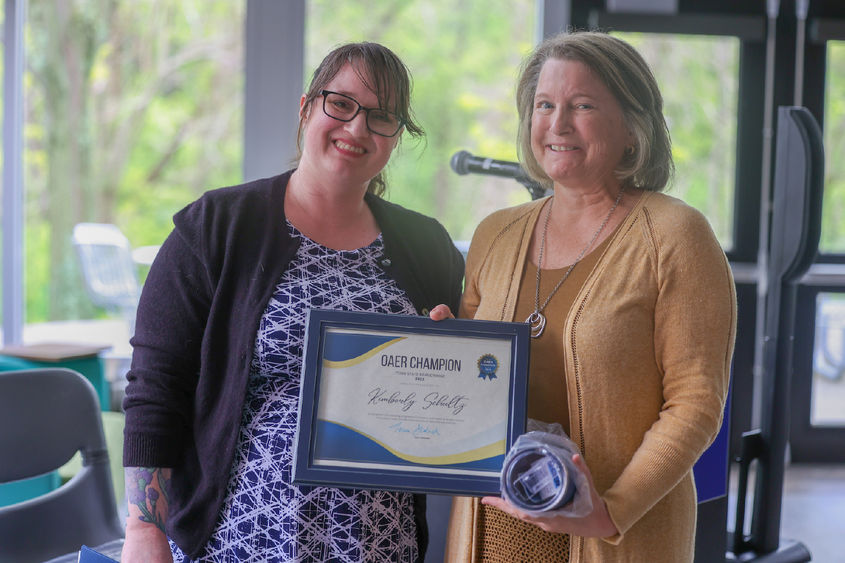 MEDIA, Pa. – Kimberly Schultz, lecturer in mathematics at Penn State Brandywine, was honored with Penn State's Open and Affordable Education Resources (OAER) Champions Award at the end of the spring 2023 semester. A collaboration between Penn State University Libraries and the University-wide OAER Working Group, the OAER Champion Award began as a pilot initiative in 2022 and seeks to recognize excellence, innovation and impact in open educational practices at Penn State campuses.
In the fall 2020 semester, while professors were trying to figure out how to navigate teaching online during the COVID-19 pandemic, Schultz was trying to find an affordable platform for students to use to do their homework and exams. During a virtual meeting with other Penn State faculty members, she learned about MyOpenMath, a no-cost homework and classwork platform where professors can create and edit questions for all students to use. She adapted the platform into the curriculum of all her math courses the following semester.
After hearing about Schultz's math courses being fully on MyOpenMath, Samantha Pezzimenti, assistant teaching professor in mathematics, nominated her for the OAER Champions Award. Schultz said she enjoys using the platform because all professors who utilize it can collaborate and share questions with one another.
"Professors wrote the exam, homework and classwork questions. There are some really great questions on there, and you can change them a little bit if you know how to code," Schultz said. "Everybody's trying to help each other, and I love that. I love being able to have different versions of questions. I also enjoy videos that other professors upload to the website for all students to watch if they want something explained to them differently."
Currently, three mathematics professors at Brandywine use MyOpenMath in their classes. Schultz said the work improves as more professors join, and she's able to assist new professors in developing their courses through it.
"I'm able to share this platform with adjunct professors as well when they come to Brandywine," Schultz said. "As someone who was once an adjunct professor, I know it's difficult to step into a new teaching environment and create an entire course. If we're willing to share our resources with each other, it makes it easier for everyone."
Schultz noted that she was very surprised and pleased she won the OAER Champion Award.