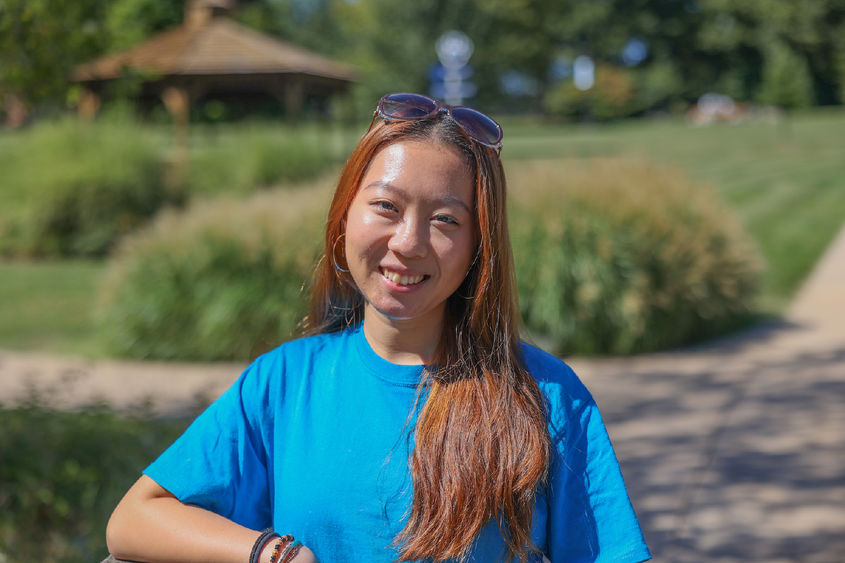 Year: Third
Major: Biology
Involvement: Lion Ambassador; society events chair, National Society of Leadership and Success (NSLS); media chair, Asian American and Pacific Islander Club
Brandywine: What was your deciding factor in coming to Penn State Brandywine?
Agape: I liked that the campus was close to home, so the transition from high school to college wouldn't be too overwhelming since I had my family nearby. I also went to a really small high school, so I thought being at a small campus like Brandywine would help me adjust naturally to college.
Brandywine: How did you choose your major?
Agape: I always knew that my strengths lay in STEM subjects; I enjoyed my science classes in high school and would do really well. I chose biology specifically because learning about life, how we function, how we're made and how we survive is really fascinating. It never fails to surprise me.
Brandywine: What challenges have you faced at Brandywine, if any?
Agape: When I came to Brandywine as a first-year student, I felt out of place and alone; I didn't really know how to fix that. I would try to go to events and meet new people, but I never made friends that stuck with me. Eventually, I found my group of friends and found my purpose here at Brandywine, and I'm really glad I did.
Brandywine: Who at Brandywine has supported you, and how?
Agape: The staff I've worked for have been really supportive, like Tina Brackett-Wood (student activities and recreation coordinator), Christine Brown (interim Rosenberg director of the Center for Social Impact) and Kari Berton (assistant director of admissions). They've all been understanding and supportive. They always work around our schedule and understand that we, as college students, always have so much on our plate, and they never fail to be kind and lend a helping hand when we need it. Also, my friends have played a huge role in my success and in making my time here worthwhile.
Brandywine: What's one of your greatest accomplishments at Brandywine so far?
Agape: I would say one of my greatest accomplishments so far would be being on the executive board for multiple organizations. It's really important for me to get involved, so I'm looking forward to learning more about leadership. Also, none of my experiences would've happened if I hadn't become an orientation leader in 2022. I'm proud of myself for taking a risk and trying something new because it gave me new friends and connections all over Penn State, and it's given me so many great opportunities. I'm grateful I got to experience that. 
Brandywine: What made you interested in joining NSLS and joining its executive board? What do you enjoy most about it?
Agape: I was initially interested in NSLS because I'm always looking for more ways to get involved on campus, and I joined the executive board because I thought taking on a leadership position would help me give back to not only Brandywine but the whole community. I also wanted to be a part of something brand new on our campus and see how far it could go. I enjoy the people I get to work with, and I'm excited about the events we have planned for this semester.
Brandywine: With your involvement at Brandywine, how has your time on campus been impacted?
Agape: I'm on campus every single day, always with something to do and someplace to be, but it's helped me branch out and allowed me to meet new people and experience new things. It's a great environment to be in.
Brandywine: What advice do you have for students who want to get involved?
Agape: I would say don't be scared and just go for it. Join the clubs you want to join. Go to the events that you want to go to, and don't let other people make you feel bad for doing what you want to do. At the end of the day, this is your college experience, and you have to make it what you want it to be, not what other people think it should be.
"At the end of the day, this is your college experience, and you have to make it what you want it to be, not what other people think it should be."

—Natasha Agape , third-year biology major, Penn State Brandywine
Brandywine: What's the best memory you've made at Brandywine?
Agape: The best memory I've made was studying abroad in Ireland during spring break last academic year. I got to experience a new culture, travel with my friends and learn so much about Ireland. I also met so many new people on the trip, many of whom went to Brandywine whom I never met before. Overall, it was an incredible trip and one of my fondest thus far.
Brandywine: What's the most valuable lesson you've learned at Brandywine?
Agape: The most valuable lesson I've learned here is to just be yourself. I know that's pretty basic, but you're probably not going to go far by being someone you're not. I think everyone worries so much about fitting in that they lose sight of who they really are, so don't be afraid to try things that fit your interests or bring up conversations you're passionate about. You never know who you're going to meet or the opportunities that will come up if you do.