Local Penn State alumni group will be present at the popular Media event during September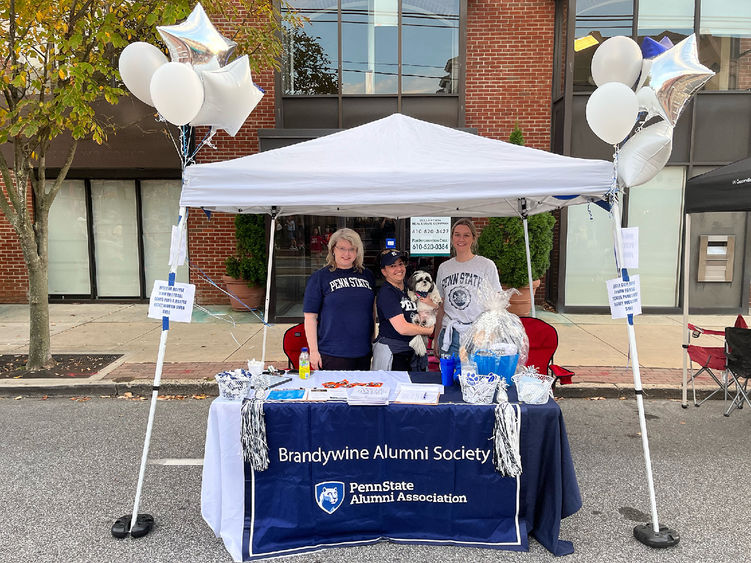 MEDIA, Pa. — The Penn State Brandywine Alumni Society will be a sponsor for "Dining Under the Stars" — a weekly outdoor dining event held Wednesday evenings on State Street in Media — throughout the month of September. As part of the Media community, the Brandywine Alumni Society is an event sponsor for the second year in a row.
"Our goal from the very beginning has been to engage with the local community and continue to spread the word about our amazing Penn State Brandywine campus," said Meaghan Daly, president of the Brandywine Alumni Society. "Just last September alone, we connected with local Media businesses and interacted with hundreds of people, including many local Penn State alumni."
As his first "Dining Under the Stars" experience with the University, Patton Vo, director of campus development, said he is excited to increase Brandywine's visibility to the Media community.
"As part of Brandywine's Strategic Plan 2020-2025: New Opportunities, New Stories, our Alumni Society is eager to enhance our visibility, increase alumni and community engagement, and provide meaningful connections and partnerships like this one with the Media Business Authority to advance student outcomes and expand their world-wide view," Vo said. "I'm looking forward to seeing our students, alumni, faculty and staff enjoy al fresco dining in downtown Media throughout September."
The Alumni Society is looking forward to getting back on State Street in September, as this is one of Media's larger events throughout the year.
"We are so excited to return this September as a sponsor for 'Dining Under the Stars,'" said Kristi Dick, a member of the Brandywine Alumni Society. "There will be special appearances made by our beloved Nittany Lion as well as live music and freebies, so be sure to stop by and say hi!"
The Brandywine Alumni Society table at "Dining Under the Stars" will be stationed near 24-26 W. State Street throughout the month of September.