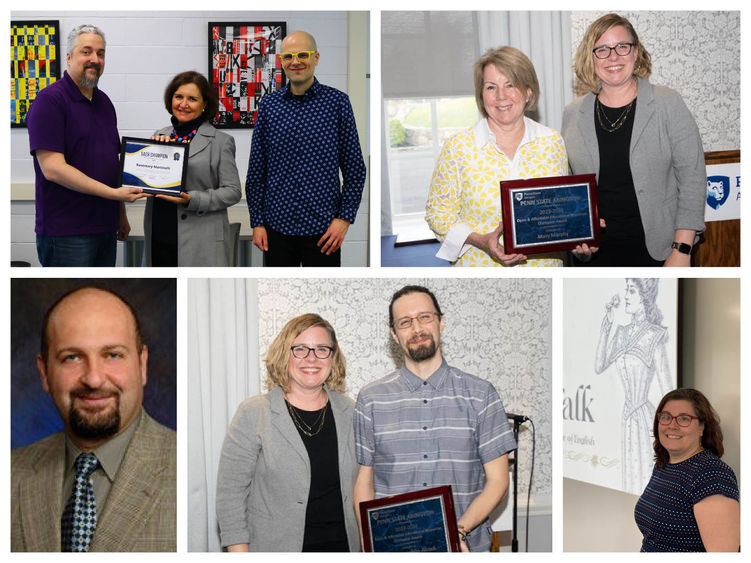 UNIVERSITY PARK, Pa. — At the end of the spring 2023 semester, six Penn State Commonwealth Campuses named faculty members as Open Champions, recognizing their work with open education in the second year of Penn State's Open and Affordable Educational Resources (OAER) Champion Awards. A collaboration between Penn State University Libraries and the University-wide OAER Working Group, the OAER Champion Award began as a pilot initiative in 2022 and seeks to recognize excellence, innovation and impact in open educational practices at Penn State campuses.
The following faculty members were recognized for their work with open education at their campuses:
Penn State Abington
Zack McLaughlin-Alcock, lecturer in mathematics, for his adoption of OER in MATH 004, 021, 022, 200 and 026. McLaughlin-Alcock uses OER in all of his classes for his course materials and homework system. He also served on a faculty panel to discuss his success using OER in math courses. One student said McLaughlin-Alcock transformed their experience in the math classroom through different learning techniques and OER. His commitment to OER advocacy and the continued integration of these resources into his future classes make him a valued educator and a champion for affordable education.
Mary Murphy, assistant teaching professor of biology and science, for her adoption of OER in BIOL 11, BIOL 110 lab, and SC 120N. She has consistently demonstrated her commitment to enriching student experiences through creative activities, emphasizing the importance of equitable access to materials. She's also shared her experience using OER with her department, advocating for her colleagues to use OER. By sharing her experience and success, Murphy has inspired others to learn more about OER and adjust their own course materials.
Penn State Berks
Abdullah Konak, distinguished professor of information sciences and technology, for creating original materials for his courses, including five interactive e-books with labs: A Problem-Based Approach to Databases; Hands-on Data Sciences with Python; Databases for Big Data; Web and E-commerce Security; and Hands-on Network Security. Two of these books were funded by Berks Teaching and Learning with Technology grants and include significant open-source content developed over a decade of work. All of the books can be accessed by any Penn State student, faculty or staff member. These e-books enhance student learning through rich and interactive content, including graphical demonstrations, animations, screencasts, video tutorials, case studies and interactive quizzes. In 2010, Konak established Collaborative Virtual Computer Laboratory (CVCLAB) to provide students with active learning experiences that involve collaborative, hands-on experimentation remotely at no additional cost.
Penn State Brandywine
Kimberly Schultz, lecturer in mathematics, for transitioning all of her math classes to OERs. Schultz creates no-cost homework and classwork assignments using MyOpenMath. Students are engaged with the material and removing the cost barrier has increased equity and access to the course content. Schultz has been an exceptional advocate for other math faculty at Brandywine to adopt open materials in their courses.
Penn State Greater Allegheny
Rosemary Martinelli, lecturer in communications and business at Greater Allegheny, for transitioning all of her courses to open and affordable materials. In doing so, she met a goal she set in 2018, when she was charged by the campus' Faculty Senate with establishing a Textbook Affordability Committee, which continues to advocate for and facilitate the use of OAER materials across all disciplines. In the past five years, Martinelli has authored or adapted several Open Access textbooks on topics where few viable OA options were previously available, including a public relations text that has been adopted at multiple colleges and universities. A champion for Open Access and affordability for all students, Martinelli collaborates with other Penn State faculty to help promote and distribute their own OA materials.
Penn State Lehigh Valley
Michelle Kaschak, associate teaching professor of English, was recognized as an Open Champion at Penn State Lehigh Valley's second annual Open and Affordable Showcase event for her work with OER and open pedagogy in her ENGL 202A and ENGL 202C courses. She has worked to make her classes more accessible and equitable through the use of OER, starting a few years ago when the technical writing textbook she used rose in price to over $100, but mainly included information that could be found online for free. She uses OER whenever possible because it means all students can access the material needed to support their learning. Additionally, she has developed open pedagogy projects for her courses to help students understand that their writing goes beyond just a grade. Using both a Wikipedia project in English 202A and a technical writing project with iFixit in English 202C, her students were able to write for a general audience and learn the ins and outs of communicating well in a real-world context.
Penn State Mont Alto
For more information on open education at Penn State, visit oer.psu.edu. If you have questions about open education or are a faculty member interested in adopting OER or creating open pedagogy assignments for your courses, contact the OER team to request a consultation for services.