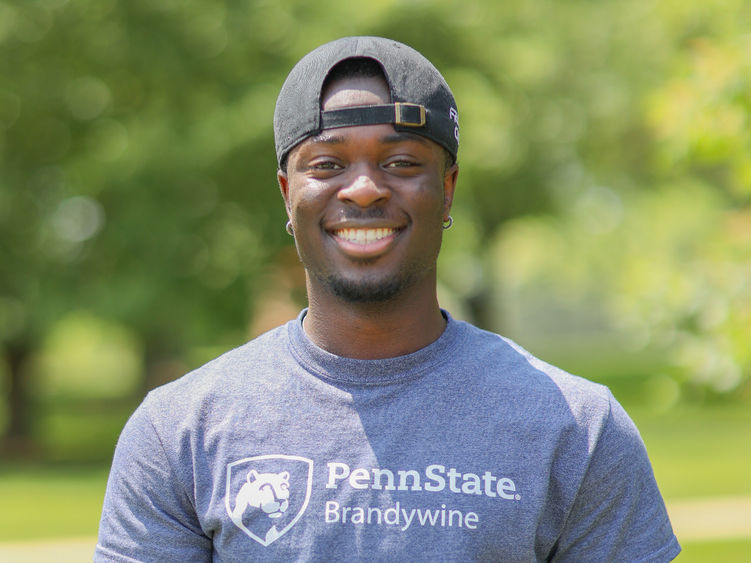 Year: Fourth
Major: Cybersecurity Analytics and Operations
Involvement: Vice president of Black Student Union, orientation leader, member of Brandywine Music Association (BMA)
Brandywine: Why did you choose to attend Penn State Brandywine?
Bockarie: My brother went here. And I've always been an introverted type of person, so the idea of going to a bigger campus was a little nerve-wracking. At first, I wanted to go to University Park because I thought it would allow me to get out of my shell. But then, I realized just how good a community Brandywine itself is and I started to get involved with the different clubs and met so many people on campus. I figured I could stay here and still have my introverted personality, but at the same time, the people on campus and my friends that I've made help me get out of my shell.
Brandywine: How did you choose your major?
Bockarie: I started off as a mechanical engineering major, and then I realized it really wasn't for me, but I still wanted to major in something related to STEM. I switched my major to information sciences and technology (IST) at first. Then eventually I had a professor, Dr. (Andy) Landmesser (assistant teaching professor of IST), who influenced me into cybersecurity. He showed me how interesting cybersecurity is as a field. I ended up switching my major again to cybersecurity analytics and operations because it really intrigued me. I have fun with it. It's difficult, but it's not like it's something that I'm going to ever get sick of, so I just stuck with it.
Brandywine: What challenges have you faced at Brandywine?
Bockarie: Adapting to school after the pandemic was the hardest part of college for me. Academically speaking, when the pandemic hit, it threw me off because I was so used to my old routine and schedule, and everything changed so fast. Out of nowhere, we all had to learn in our homes for almost two years straight, and my communications skills pretty much plummeted. Coming back to campus was difficult because I had to learn how to communicate with my peers again. I hadn't had to talk to anyone outside of my family face-to-face in almost two years, and I had to immediately learn how to communicate and network. Those two years were difficult because I lost some of my interpersonal skills and my social skills. Coming back to school in person made me have to build that up again from scratch.
Brandywine: Who has supported you here at Brandywine and how?
Bockarie: A lot of the support I get comes from my friends. Also, a lot of my professors have been supportive of me, like Dr. Landmesser, Assistant Professor of IST Alison Murphy, Associate Professor of IST Martin Yeh. Mainly the IST and cybersecurity departments are my biggest supporters academically. But my main support comes from my friends and family, specifically.
Brandywine: What made you interested in becoming an orientation leader? What do you enjoy most about it?
Bockarie: I don't have such an in-depth memory of what happened with my orientation, so I figured that I get to experience orientation from a different point of view than before. I wanted to be that person first-year students could talk to when they first came to Brandywine and provide them with advice. I really enjoy that although they're first-year students, we're so close in age, so I can give someone a few years younger than me the same advice I wish I had gotten at their age.
I also really enjoy that I get to meet so many people, and some of the students I come across have an introverted personality like me. In that sense, I have the opportunity to allow students to break out of their shells early on to prevent them from facing any hurdles. It's like giving someone that foundation ahead of time in a way that I wish someone had done for me. 
"I have the opportunity to allow students to break out of their shells early on to prevent them from facing any hurdles. It's like giving someone that foundation ahead of time in a way that I wish someone had done for me."

—Francis Bockarie , fourth-year cybersecurity analytics and operations student, Penn State Brandywine
Brandywine: What made you interested in joining the BMA? What do you enjoy most about it?
Bockarie: I've always had an interest in music. I started singing in church choir when I was around seven or eight, and I did it all the way through high school. I did choir for all four years of high school as well. When I first came to Brandywine, there wasn't a music program or club here. When I found out that BMA had recently been re-established last year, I jumped right into it because it was an opportunity for me to sing, play instruments and meet new people.
Brandywine: What made you interested in joining the Black Student Union? What do you get of it, and what do you enjoy most about it?
Bockarie: Before choosing a college to attend, I was originally leaning toward attending a Historically Black College or University, but then I ended up choosing Brandywine because of its environment and strong sense of community. Since I'm an introverted person by nature, I came to Brandywine thinking, "I'm going to a predominantly white institution (PWI). How do I find people who are similar to me here?" I wanted to find people who were the same as me culturally and understand my background. I found that within the Black Student Union.
One of our biggest events that we have during the semester is the Black Table Talk. We sit down with people from all different backgrounds and have difficult conversations about ethnic and racial differences. Sometimes though, we don't talk about the negative stuff. We get to talk about what makes us happy too. The last conversation we had at our Black Table Talk, we talked about Black success and what makes Black success and Black businesses thrive. We also had a conversation on what drives Black people to chase their dreams.
Being in the Black Student Union, that's the type of impact that I want to have. I don't want to just talk about all the bad things that are happening, but also all the good things that could happen. I think Brandywine really gave us that space and that room where we get to collectively come together not with just only Black people, but the other people on the campus and create this strong community that's able to have these tough conversations and be comfortable with it.
Brandywine: With your involvement at Brandywine, how has your time on campus been impacted?
Bockarie: It's really well spent. I enjoy how busy I am – I hate being bored. I can't stay still, so I really enjoy having so much to do and being involved on campus so often. That's the fun part of college. That's what I came to college for – not just the education, because I could get that anywhere, but to create relationships and bonds with different people. I usually spend my time around different people doing schoolwork, whether we're just working on a project or studying. It all comes down to just being around people and getting involved.
Brandywine: What has been the most valuable lesson you've learned at Brandywine?
Bockarie: I learned that if I had gone to a bigger school or a bigger campus, I don't think I would've been able to get the same experience I've had at Brandywine. I think Brandywine gave me this sense of greater community. I've always been a people person, but I'm also introverted. I think it doesn't really matter if you go to a big campus or a small campus. At the end of the day, it comes down to having community and a group of people who you can relate to.
Brandywine really allowed me to create relationships with people from different backgrounds in such a small space. That really gave me a better sense of community and a better sense of what relationships should look like in an academic sense.
"Brandywine really allowed me to create relationships with people from different backgrounds in such a small space. That really gave me a better sense of community."

—Francis Bockarie , fourth-year cybersecurity analytics and operations student, Penn State Brandywine