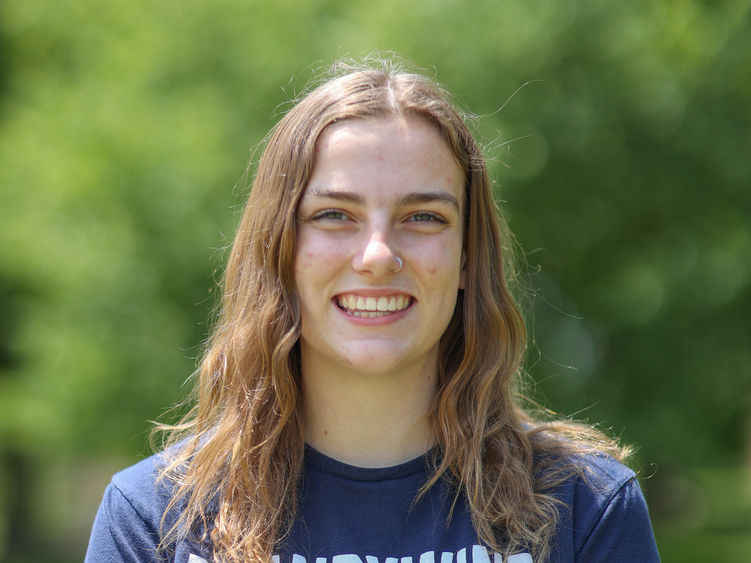 Major: Psychology
Year: Third
Involvement: Student-athlete on Brandywine's volleyball team, orientation leader, member of the Student-Athlete Advisory Council, game-day worker for Brandywine Athletics, peer mentor, honors student in the Coopers Honors Program
Brandywine: Why did you choose to attend Penn State Brandywine?
Berry: I chose to attend Brandywine partially because of the location. Even though I came here from South Korea, I do have family who only live 15 minutes down the road. Also, when I saw Penn State, I really liked the community aspect of it and how I could start at Brandywine but end up graduating from a different campus. I had a lot of options as far as my major and minor as well. I also knew networking-wise, it would be a really good option for me because Penn State's alumni network is huge. Now that I'm playing volleyball here, too, I'll be staying here all four years.
Brandywine: How did you choose your major?
Berry: I chose it based on life experiences and also knowing that I wanted to help people. I'm currently deciding if I want to work in the FBI, counseling or sports psychology after graduation. Majoring in psychology provides me with so many different pathways I could take career-wise after college.
Brandywine: What challenges have you faced at Brandywine?
Berry: I think the biggest challenge wasn't necessarily Brandywine-specific, but it was just college in general. I was on my own for the first time while learning time management and balancing all my responsibilities like grades and finances. That was definitely one challenge at first, but I had a really good support system here. A lot of my challenges just came from transitioning from high school to college.
Brandywine: Who has supported you here at Brandywine and how?
Berry: Because I'm a student-athlete, the athletics department has been a big support system for me. My coaches and the staff are always checking in on me and making sure I'm OK and getting my work done. They're always there for me if I need it, especially since my family is so far away. Also, my professors and other Brandywine staff members have been supportive of me. I work for Tina Brackett-Wood (student activities and recreation coordinator), and she's really good at checking in on me. My professors have been really understanding, too, especially during volleyball season. If a professor becomes aware that I'm having an issue, they're good at making sure I understand the material.
Brandywine: What interested you in becoming an orientation leader? What's your favorite part about it?
Berry: I like to think I'm pretty outgoing. Also, from growing up on different military bases, I know going to new places is scary, and having that person you're comfortable with is really important. When I found out orientation leaders meet all the new students and welcome them to Brandywine, I wanted to do that because I love meeting new people and wanted to be that person people can talk to if they need it. I wanted to do something to hopefully make a difference for those new students. Because I'm a psychology major, I love gauging different personalities and seeing everyone's different interests. It's really diverse here, so I get to meet so many different people.
I wanted to do something to hopefully make a difference for those new students.

—Lexie Berry , third-year psychology major, Penn State Brandywine
Brandywine: What interested you in becoming a student-athlete in college and joining the volleyball team? What do you enjoy most about it?
Berry: I've been playing sports since I was young, so I love being involved in athletics and being part of a team. I actually wasn't recruited onto the volleyball team because I wasn't sure how to go through that process while I was in South Korea. I reached out to the coach when I got here, and I actually walked on and tried out for the team. Also, I liked the idea of continuing to play volleyball in college — it's one of my favorite sports to play. The team is also really great — we're all like one big family. When I first came to Brandywine, they were the first friends I made. We're always there for each other when we need it, and we provide support to one another. We're a tight-knit group.
Brandywine: With your involvement at Brandywine, how has your time been impacted?
Berry: My first year here, I was mostly just involved with volleyball and the athletics department. Since then, I became an orientation leader and joined more clubs, and I feel like it made my college experience more enjoyable. I don't just go to classes and go home afterward; I get to spend time with friends after classes instead. It's opened me up to a lot of opportunities.
Brandywine: What has been the most valuable lesson you've learned at Brandywine?
Berry: I would say one of the most valuable lessons I've learned is to be confident in who I am as a person, and also if you fall behind a little or start to fail, don't think it's the end of the world. You can come back from that and communicate with professors. They're there to help you. As far as staying true to myself, I think it's important because then you find people you really connect with as your true authentic self. Be who you are always and be confident in who you are.
Be who you are always and be confident in who you are.

—Lexie Berry , third-year psychology major, Penn State Brandywine