Collection visibly represents Penn State University Libraries' commitment to inclusive environment for those exploring their LGBTQIA+ identities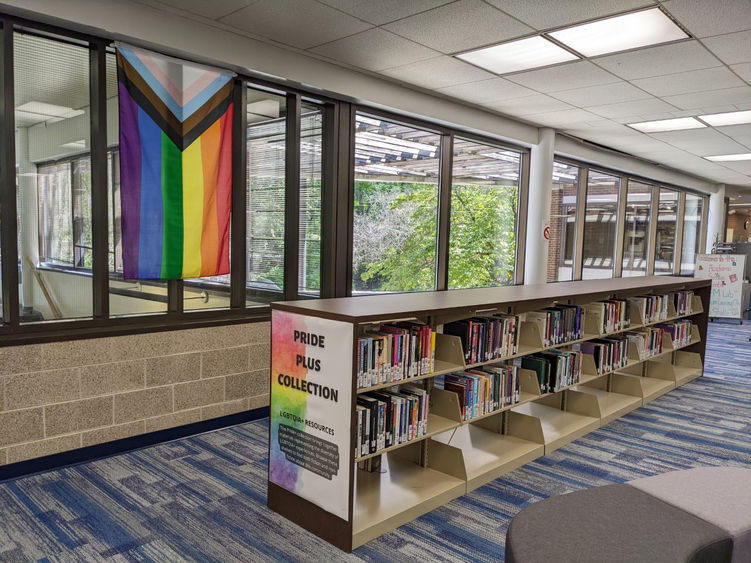 MEDIA, Pa. — Anyone looking for a comprehensive all-in-one collection of resources representing the diversity of LGBTQIA+ experiences need look no further than Penn State University Libraries' Pride Plus Collection, located on the upper level of Vairo Library on the Penn State Brandywine campus.
Introduced in summer 2022, the Pride Plus Collection brings together materials related to the LGBTQIA+ (lesbian, gay, bisexual, transgender, queer or questioning, intersex, asexual) community in a single location, making them easy for patrons to browse and identify, said Teresa Slobuski, head librarian at Penn State Brandywine.
"In the traditional classification system for libraries, materials about these identities are scattered throughout the entire collection," Slobuski said. "Some titles can be found in history, others in sociology, still others in nursing. Additionally, information about individuals who identify as LGBTQIA+ are generally located with materials on the topic for which they are best known: political activism, music, art, literature, etc.
"Vairo Library's prominently displayed Pride Plus shelves let users find both fiction and nonfiction books about the LGBTQIA+ community in an inviting and centralized location," said Slobuski. "This collection also represents in a visible way our commitment to helping the library be an inclusive environment and safe space for people identifying or exploring their LGBTQIA+ identities."
More information about this collection and other materials about the LGBTQIA+ population is available in Vairo Library's LGBTQIA+ Resources Guide or by directly browsing the collection in the catalog. While the collection lives at Brandywine, patrons at other Penn State University Libraries locations may also request the materials.