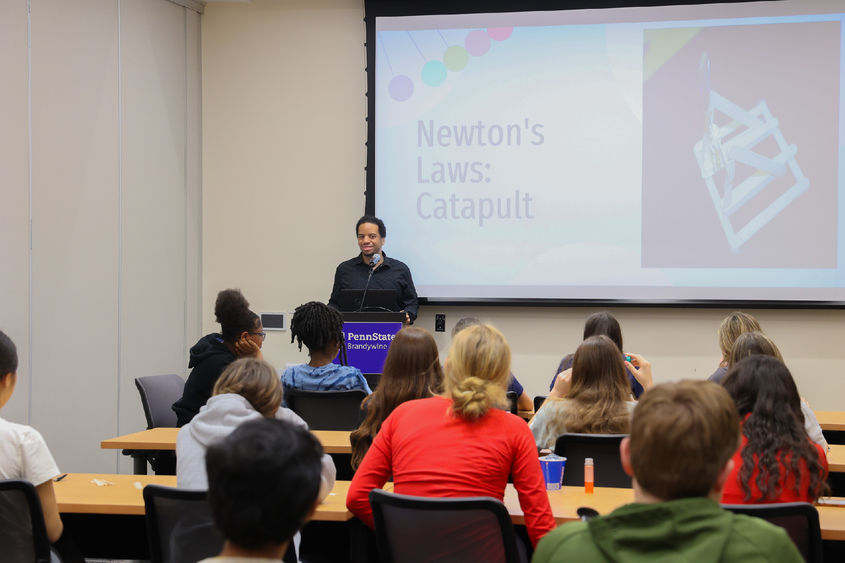 MEDIA, Pa. — Penn State Brandywine's Office of Innovation and Entrepreneurship held its annual Youth Science, Technology, Engineering, Arts and Math (STEAM) and Startup Day on Thursday, May 11. More than 100 seventh-grade students from four local middle schools (Northley Middle School in Aston, Paxon Hollow Middle School in Broomall, Haverford Middle School in Havertown, and Upper Merion Middle School in King of Prussia) attended the event to learn more about physics, entrepreneurship, robotics and more.
"When planning the event, I envisioned a fun day where middle-school students would learn about STEAM education, entrepreneurship education and the intersection of both," said Roger Lee, director of innovation and entrepreneurship at Brandywine and coordinator of the event. "Youth STEAM and Startup Day was inspired by the former STEM Pathways Program that Penn State Brandywine ran for years. It's exciting to see how this new event is reaching today's youth."
Brandywine partnered with STEM ConnectEd, an organization headquartered in Lansdowne that provides STEM education to students in grades K-12, to hold workshops with the students.