For Stephen Cimbala, student engagement and research propel notable academic career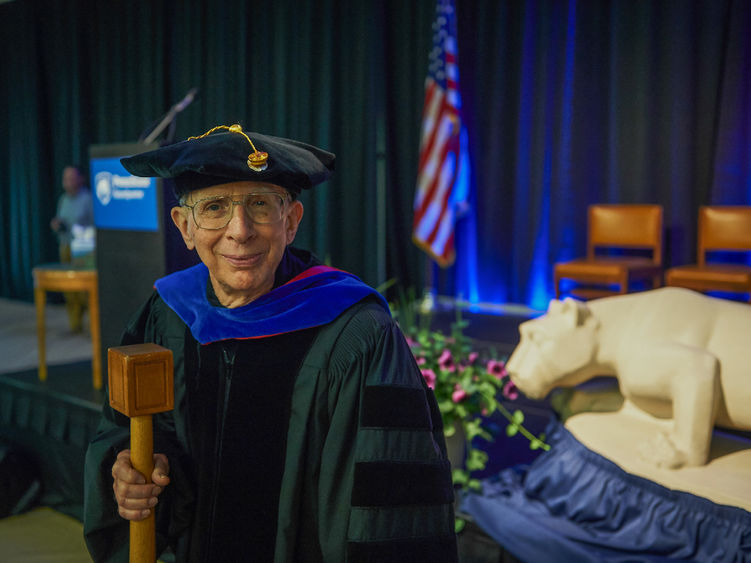 MEDIA, Pa. — In an era of increasingly frequent job changes — when even 10-15 years at the same employer stands out for its longevity — Distinguished Professor of Political Science Stephen Cimbala's 50 years at Penn State Brandywine reflect a remarkable achievement.
Cimbala — a Penn State alumnus — had been teaching at the State University of New York–Stony Brook for four years when he saw an announcement for a chief academic officer at Penn State Delaware County, the original name of the campus that had been founded in 1967. After a successful application and interview process, he joined the campus in 1973.
"When I arrived, Richard Nixon was in the White House and gas was less than a dollar a gallon," he recalled. "The campus was one building and we didn't have any baccalaureate programs yet."
"I'm a people person and you remember the people that you worked with over the years. … There's something unique about Penn State, and I think you feel it when you're here as long as I have been."

—Stephen Cimbala , distinguished professor of political science
John Vairo, the founding campus executive who hired Cimbala, was focused on quality, he said.
"He made it clear to me that that's how he wanted me to operate the academic programs," Cimbala said. "Yes, it was important to manage efficiently. But fundamentally, we were an academic institution, not a retail business.
Cimbala's path to an academic career centered on political science was a bit happenstance. He was a Penn State journalism major, planning to be a sportswriter, when he took an elective course in political science during his senior year.
"I'll never forget this," he recounted. "The professor was Australian, and in those days you could smoke in the classroom. This guy came in at 8 o'clock in the morning and he lit up this cigarette, and he paced back and forth writing on the blackboard and talking for an hour. And it was the greatest stuff I had ever heard.
"I said, 'Wow, I have to hear more of this.' I took some more elective courses in political science, but it was too late to change my major. So I decided I would see if I could get into a graduate school in political science to do graduate work."
And he did. After completing his Penn State degree, Cimbala earned master's and doctorate degrees in political science from the University of Wisconsin­–Madison.
After eight years as Brandywine's chief academic officer, Cimbala returned to the classroom where he remains today, save for an additional year he later served as interim academic officer.
"I was learning a lot as a university administrator, but the problem was I couldn't get any research done and I was becoming out of touch with my field," he said. "And after eight years in the same administrative position, you get to a point where you say, 'All right, you pretty much have got out of this what you can get out of it.'"
Beyond some significant personal achievements — earning tenure and being recognized as a distinguished professor, among them — the people he's encountered stand out most for Cimbala as he reflects on his time at Brandywine.
"I'm a people person and you remember the people that you worked with over the years," he said. "As time goes on and you meet more people, you begin to have a different perspective and you see the continuity in the institution. I would call it the 'Penn State idea' or the 'Penn State ethos.' There is something different about Penn State. It isn't just fill-in-the-blank state university. Part of it is, I think, the strong alumni that we have. If you run into Penn State alumni all over the world, they're just sort of a permanent body of enthusiastic Penn State people. There's something unique about Penn State, and I think you feel it when you're here as long as I have been."
"I would summarize it all this way. I've been blessed to work for so many years with so many wonderful people, and you couldn't ask, I think, for better colleagues, friends and compatriots than I've experienced."

—Stephen Cimbala , distinguished professor of political science
A half century doesn't pass without change, and Cimbala has seen his share — from growth in academic programs to a more diverse campus to Brandywine's first residence hall, which opened in 2017. And, of course, the students.
"Today's students are much more mature than I was as a student," he said. "And I think it's probably because the information revolution has really given them so many more tools for learning and self-learning than I had when I was in, say, high school. On the one hand, they come in empowered with smartphones and all the tools of the information age. But on the other hand, the downside of that is they tend to think that that's the answer. 'If I can't get it out of my iPad or my smartphone, I don't want to bother digging deeper. I want the quick, easy answer.'
"And that's where context matters. So, it's harder to get them to appreciate context, especially if you're teaching history and political science because that's all about context. They're ready to go 'boom, boom, boom — there's the answer.' Well, wait a minute."
Cimbala remains a prolific writer. He estimates he's authored at least 30 books and edited or contributed to another 25 or more, in addition to numerous articles. He's currently working on his own "academic bucket list" of projects that interest him — "It's really a lot of fun," he said — including co-authoring with colleagues who are retired or with other institutions or those he always wanted to work with but didn't have time.
He's also working on the sixth edition of a textbook he authored on U.S. national security, as well as working on issues related to nuclear arms control, nuclear weapons policies, war and military history. And he's preparing to teach a class this fall on U.S. military history that hasn't previously been offered at Brandywine.
Cimbala has had a notable academic career. He received Penn State's Eisenhower Award for Distinguished Teaching, as well as other campus and college awards for teaching, research and service. He has lectured, presented papers and/or participated in seminars and conferences at the U.S. Army, Naval and Air war colleges; the Marine Corps University at Quantico, Virginia; the United States Military Academy at West Point, New York; the U.S. Special Operations Command in Tampa, Florida; and in numerous other academic- and policy-related institutions. He is a senior fellow at the National Institute for Deterrence Studies.
During his time as a student at the University Park campus, Cimbala benefited from service with ROTC, which was still required of all male students — although he didn't realize it at the time.
"Of course, since it was required, we all resented it," he said. "But looking in the rearview mirror, and in light of my chosen career, the experience proved to be invaluable. We learned a lot of military history, as well as instruction in operations and tactics. Years later, I was better able to appreciate what our military men and women who serve their country sacrifice for the rest of us."
What has kept Cimbala engaged at Brandywine for five decades?
"It's the students and their energy, No. 1," he said. "When we were out of the classroom for a year due to COVID, that was terrible. I just felt empty that I didn't have that engagement with students. For me, the variety keeps it interesting. Every class is a little bit different. Every group of students is a little bit different. Every class has a different, what I would call, 'ambient temperature,' right? Every class is another learning experience for them and for me.
"And then what else keeps you going is your research. In my case, you're hoping not only to do research for its own sake but also that it might have some impact. If not immediately, then down the road."
Cimbala also noted the support of his wife, Elizabeth (Betsy), and his sons, David and Christopher, the latter of whom is a colleague at Brandywine.
"I would summarize it all this way," he said. "I've been blessed to work for so many years with so many wonderful people, and you couldn't ask, I think, for better colleagues, friends and compatriots than I've experienced."