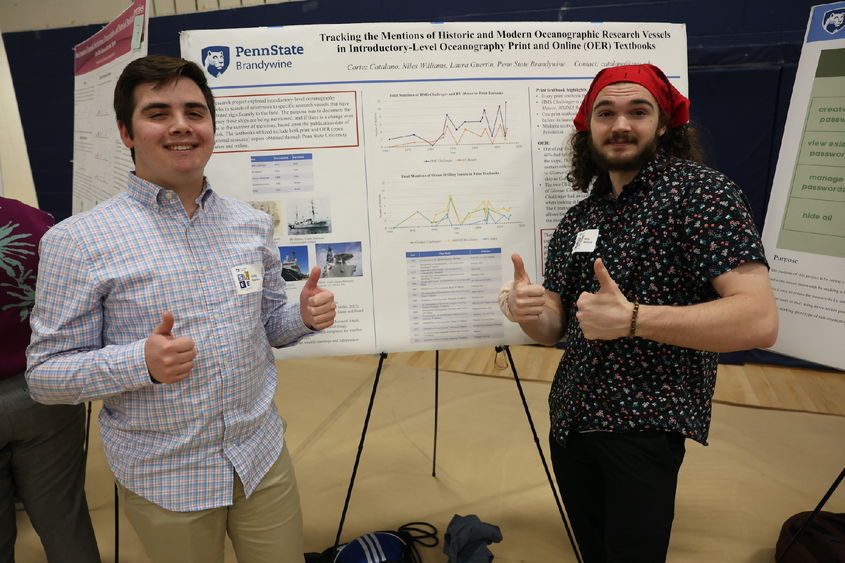 MEDIA, Pa. – Penn State Brandywine student Niles Williams received national recognition from the Council on Undergraduate Research Geoscience Division for Excellence in Student Research.
Williams, a second-year student with a geoscience major, received recognition for participating in a project this academic year that quantifies the mentions of oceanographic research vessels that contributed to our past and present knowledge of the hydrosphere and lithosphere. He is one of seven students recognized around the United States and only the sixth student in Brandywine history to receive the award.
"This project was an incredible experience for me," Williams said. "This research will help me immensely down the line. It built a better foundation for future college courses, and it not only prepared me for graduate school but also made me a more desirable candidate."
As part of his research, Williams participated in virtual tours of a scientific research vessel and the U.S. Gulf Coast Repository. He worked on the project with Cortez Catalano, a first-year biology major, and was advised by Distinguished Professor of Earth Sciences Laura Guertin.
"The best part about this project was being able to work with Guertin and Cortez on something we were all excited about," Williams recalled. "For me, the research was something I only had a mild interest in at first. It was originally an experience I should gain or something to do while at Brandywine. It quickly turned into something I enjoyed more than I ever expected. I loved the entire process and the topics of our study."
As Williams' adviser, Guertin was thrilled to find out that Niles was part of a select group of students around the country to be recognized for his research.
"I've been fortunate to serve as the academic adviser for Niles since he started at Penn State Brandywine in fall 2021, and in fall 2022 he expressed interest in gaining experience in undergraduate research," said Guertin. "I couldn't have asked for a more talented, passionate and dedicated student."
"I'm thrilled that Niles is part of a select group of students from around the nation to receive this recognition. He has really embraced the entire undergraduate research process, from collecting the data to dissemination with presentations and publications," Guertin said.
The Excellence in Student Research Award was established in 2014 to recognize the outstanding work of undergraduate students in advancing their research and contributing to the geoscience discipline.