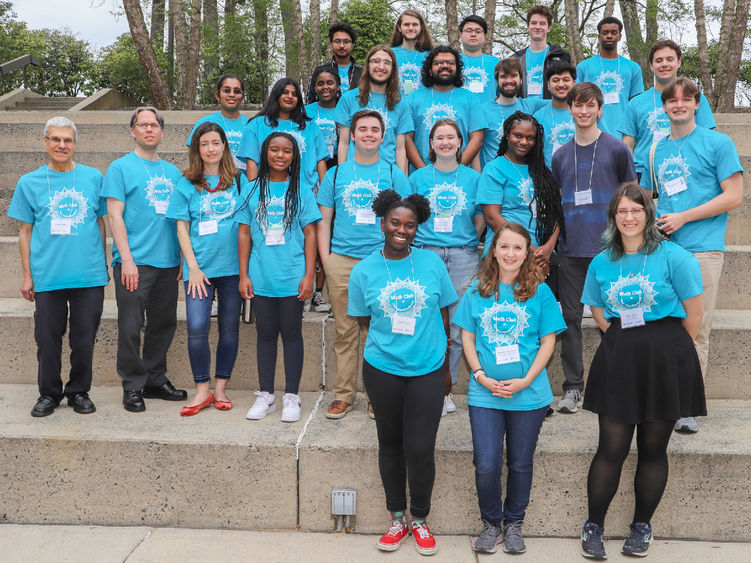 Penn State Brandywine recently hosted the spring meeting of the Mathematical Association of America's (MMA) Eastern Pennsylvania/Delaware section. The April 15 conference included about 125 college and university faculty members, graduate students and undergraduates in mathematics and related fields.
Samantha Pezzimenti, assistant teaching professor of mathematics, said the event was a great success.
"I have been involved in the EPaDel section of the MAA for several years now, but this was my first time acting as the local coordinator for one of our conferences," Pezzimenti said. "I was really excited to take this on and I could not be happier with how it went! It was great to see our campus so alive on a Saturday, filled with the local math community and our distinguished speakers. Everyone I've talked to has spoken very highly of our campus and students, who really stepped up and helped to make the whole day run smoothly."
Brandywine Chancellor Marilyn J. Wells gave welcoming remarks highlighting the importance of mathematics.
Additional speakers included Doug Ensley, emeritus professor of mathematics at Shippensburg University, who spoke about finding one's mathematical identity; Talea Mayo, assistant professor of mathematics at Emory University, who spoke about applying computational models to understand climate change impacts to storm surge risk; and Edray Goins, professor of mathematics and statistics at Pomona College, who spoke about monodromy — a mathematical concept relating calculus, linear algebra, and group theory.
The conference also featured faculty and graduate student talks, undergraduate student talks, and a student activity. At the student activity, participants enjoyed a wide array of mathematically based board games and puzzles.
Seven of the 20 student presentations were given by Penn State Brandywine students: Collin Barber, John Bazaar, Dennis Bromley, Ben Crawford, Kenneth Huang, Adam LaFountain, Trevor Meintel and Aaron Shabon.
Twenty Brandywine students volunteered to help at the event and in the days leading up to it. They helped with registration, check-in, guiding/welcoming participants, setup, cleanup and more. At the end of the event, the games were given to the Brandywine Math Club as a thank-you gift for hosting the conference.
Many campus departments worked to support the event, including the math department, student affairs, catering, IT, facilities and more.