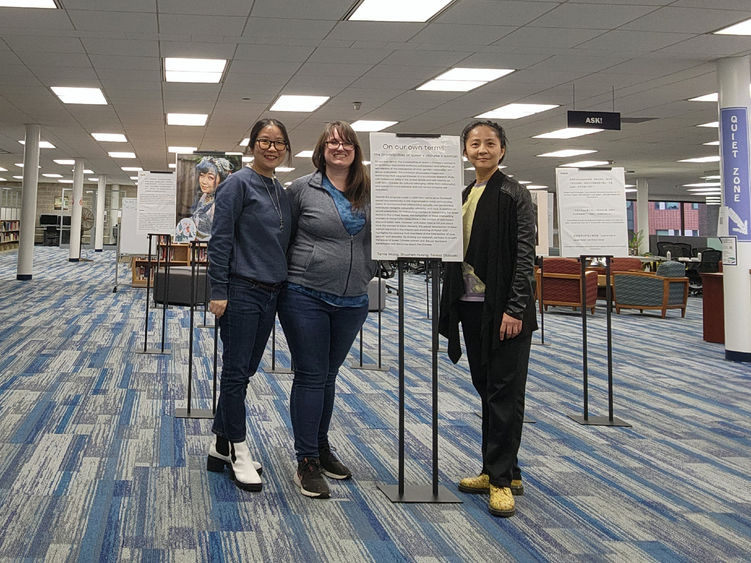 MEDIA, Pa. — On April 11, Penn State Brandywine's Vairo Library hosted an opening for a collaborative exhibit titled "On our own terms: The (in)visibilities of queer x chinese x woman." The exhibit showcases images and quotes from interviews with individuals living in the United States who identify as LGBTQIA+, Chinese and woman (transgender and non-binary inclusive).
The exhibit highlights the findings of a research project led by Terrie Wong, assistant professor of communication arts and sciences at Brandywine, in collaboration with Shuzhen Huang, associate professor of communication studies at Commonwealth University of Pennsylvania (Bloomsburg campus). Teresa Slobuski, Brandywine's head librarian, assisted in creating the exhibit.
Wong said she and Huang were inspired to put together this exhibit to push back against the narrative of "weak, silent, docile, heterosexual Asian woman" in the United States in a scholarly and personal way.
"Strangers from our community who received our call for interviewees stepped forward to support this project; they contributed their time, personal images and stories," Wong said. "Working with Head Librarian Slobuski to share these interviewee contributions with the public in the form of a physical, visual exhibition is our way of honoring their revelations and courage."
Wong went on to add that the interview study is still ongoing and she hopes more individuals will be inspired to contribute. Wong also said she wanted to share the exhibit with the Brandywine community because she wants to bring her scholarship to her everyday life.
"My everyday life is here with the Brandywine community," Wong said. "Since the exhibition started, I've heard multiple responses from the Brandywine community along the lines of 'I feel this way too, even though I'm not Asian/woman/LGBTQIA+.'"
"I've been asked by students, faculty and staff where else we are showing this work. I hope to show the exhibit in many places, and I celebrate the fact that the first sharing of this work is here, with my Brandywine community."
The exhibition is open to the public in the Vairo Library through the end of the Spring 2023 semester.
The research was supported by a grant from Villanova University's Waterhouse Family Institute for the Study of Communication and Society (WFI), as well as Penn State Brandywine's Priscilla Clement Faculty Development Fund Award, and the Commonwealth University of Pennsylvania Research and Scholarship Grant.  
Villanova University's Waterhouse Family Institute for the Study of Communication and Society (WFI)was founded on the principle that the study and practice of communication requires attention to values, ethics and social justice, and that properly understood, communication is central to the creation of positive social change. WFI explores the ethical dimensions of communication and its role in creating social change through cutting-edge research and student programs, as well as the hands-on involvement of communication scholars and professionals from around the globe.