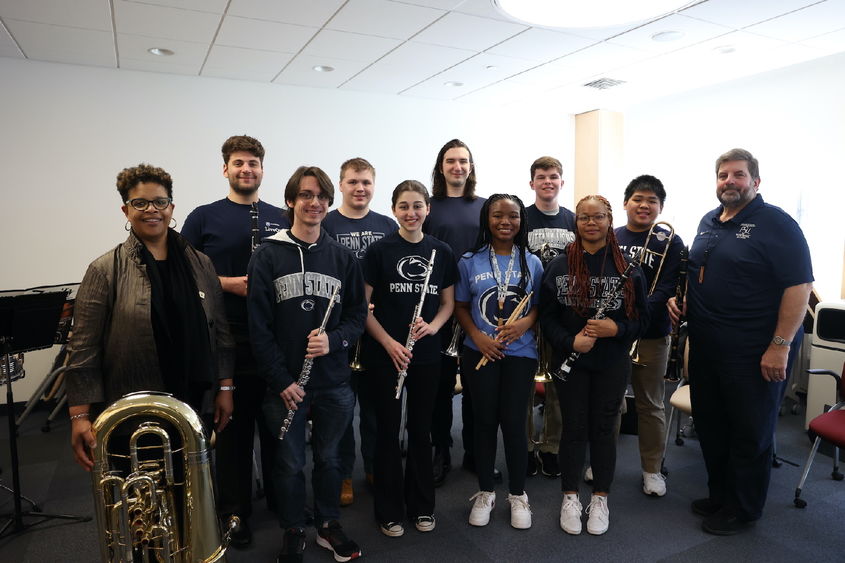 MEDIA, Pa. — As the academic year during which the Brandywine Music Association (BMA) came back from its hiatus comes to a close, members of the club reflect on all their accomplishments from the months gone by.
BMA was founded in the spring semester of 2020 by Danny Eldabbas, a fourth-year student and vocalist. He founded the club because he wanted a space for people interested in music to be able to express themselves.
"I actually founded BMA as an a capella group as a second-year student," he said. "At the time, there weren't any music clubs on campus. As someone who really enjoyed singing in high school, I wanted to create that space for other students at Brandywine who wanted to express themselves musically."
Once the COVID-19 pandemic hit, BMA took a hiatus. It wasn't until the fall semester of 2021 that the club started to come back. Jonathan "JonJon" Asiddao was one of a few students who helped BMA make its comeback to campus.
"I remember going into my first BMA meeting in August 2021, and there were only three students there: me, McKenna (Loney) and Alan (Farrow)," he recalled. "We basically had to recreate the club from the ground up after our club adviser let us know that the club hadn't been active since the pandemic hit."
As Asiddao was just in his first semester of college, he wasn't sure what he was getting himself into becoming vice president of BMA.
"I was playing baseball at the time, so I wasn't even sure if I had time to have a role in BMA. I was also in my first semester of my first year of college, and I had no clue what I was doing or getting myself into," Asiddao said. "Since there were only three of us at this meeting, we decided to give each other roles. Alan became treasurer, McKenna became president and I became vice president. I left the baseball team a few days later, so I was all in on BMA."
Over time, BMA gained more members, and it grew into what it is today. It's now the third largest club at Brandywine, and it has three groups within it: a vocalist group, a pep band and a jam sessions group.
Ava Wise — a second-year student, a flutist and a dancer — became president of BMA in January 2023. As president, Wise said she is excited to bring more structure to the club and make it more inclusive to students, regardless of their musical abilities.
"BMA has been growing really big really quickly, so I wanted to make sure we didn't get too ahead of ourselves with events and meetings," she said. "In the end, we really just wanted to increase our engagement and participation in BMA. We wanted to get people involved and have a spot somewhere in the club, and I feel like creating our three groups really helped with that."
"We wanted to get people involved and have a spot somewhere in the club, and I feel like creating our three groups really helped with that."

—Ava Wise , Brandywine Music Association president
One of BMA's most popular events this year was "Brandywine's Got Talent," a show open to all students to showcase their talents, including singing, dancing, playing an instrument, comedy and more. For the organization's first large event since its comeback and first-ever talent show, it was a great success.
"I think 'Brandywine's Got Talent' is the event we're all looking forward to holding again, especially since that was our first one and it got a lot of engagement," Wise said. "It'll probably end up being even bigger than this year's talent show. We're using this year's show as a baseline so we can do even better in years to come."
The group also performed before an audience of 200 business and community leaders in September at the Main Line Chamber of Commerce's annual Red Carpet dinner, which featured Penn State President Neeli Bendapudi as keynote speaker.
Next academic year, BMA will be adding a fourth group to cater to a wider audience.
"We're actually adding an orchestra group next year. I'm really excited about it," Wise said. "I feel like that's the one group we were missing. I'm really looking forward to more people showcasing their musical abilities."
She also noted that she wants to expand BMA to include various learning opportunities for students.
"We've realized that there are people in our club who either want to learn how to play an instrument or want to learn how to sing, so we want to provide those resources for them," Wise said. "We want to be able to provide those workshops for students, so they don't need to have prior experience when joining BMA."