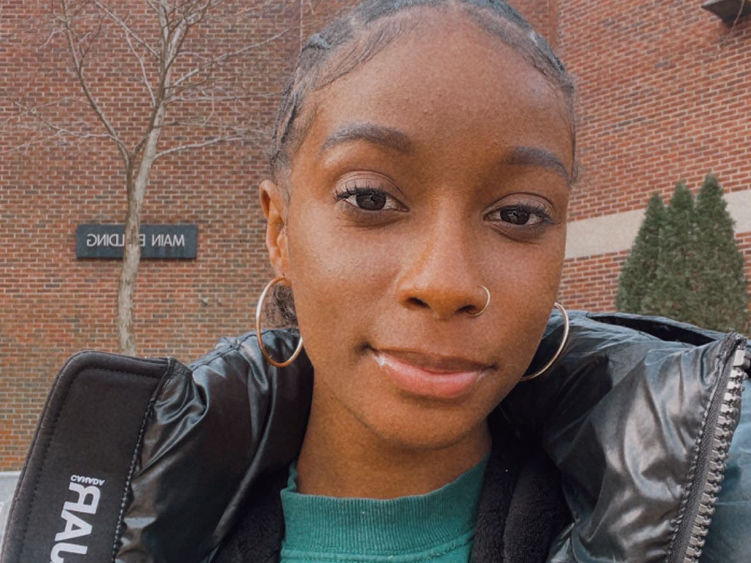 Major: Psychology
Year: Third
Involvement: President of Lion Pride; member of Black Student Union; student employee for the Chancellor's Suite
Brandywine: Why did you choose Penn State Brandywine?
Brooks: I chose to come to Penn State Brandywine because I wanted to start at a smaller campus before I went to a big one, but then I ended up falling in love with Brandywine, so I ended up staying here. I knew that Penn State had a really good psychology program that I wanted to attend, and that's what made me stay here.
Brandywine: How did you pick your major?
Brooks: So originally when I came in, I didn't know whether I wanted to do biology, vet medicine. I went into biology, and I wasn't feeling it. Then, I tried vet medicine, and I wasn't feeling it. I knew I want to do something in the medical field, but I didn't want to do anything that was going to discourage me, so I chose psychology. It's a very flexible field – I can go into anything from psychology to nursing, or I can even become a psychiatrist.
Brandywine: What challenges have you faced at Brandywine, if any?
Brooks: I think fitting in was, I guess, my biggest challenge. When I first got here, it was during COVID, so I didn't really know anyone or have my group of friends. I also didn't get to see anyone, so I also didn't know how diverse this campus was.
Brandywine: How has Penn State Brandywine supported you, and who at Brandywine supported you the most?
Brooks: I can say Penn State has been the biggest support through a lot of my issues. When I first came to school, I had a lot of family issues and a lot of financial issues. I would definitely say the counseling service has been amazing. The staff makes me feel like family and makes me feel like this can also be my second home. My friends on campus have always been there for me, and former workers were huge supporters as well. Specifically, Kimeta Straker (former coordinator of student success) was very supportive when she was here.
The staff makes me feel like family and makes me feel like this can also be my second home.

—Zhane Brooks , third-year psychology major, Penn State Brandywine
Brandywine: What made you interested in becoming president of Lion Pride? What drew you to the organization as a whole?
Brooks: I wanted to be involved on campus, but I also noticed there wasn't a club that I really found an interest in. And then we were having one of those involvement fairs and Don Brennan, associate director of student affairs, had a signup sheet for Rainbow Alliance, but he told me that it was no longer active and he's trying to bring it back up and I was like, "This is my chance." I wanted to bring that club back to life because we didn't have a lot of LGBTQ+ representation club-wise on campus, and I wanted to bring that back to life and be a part of it as well.
Brandywine: What have been some of your favorite events that Lion Pride has held? What event are you most looking forward to?
Brooks: My favorite event we've held so far has to be the drag shows. They've been super fun and very interactive for the entire Brandywine community. I always see so many students, faculty and staff attending the drag shows. I'm really looking forward to our Rainbow Glow Party coming up in April, as part of Brandywine's Pride Days.
Brandywine: With all your involvement at Brandywine, how has that impacted your time on campus?
Brooks: They've made campus so much better. I get to interact with more people, have a lot more fun, and just feel a part of the Brandywine community.
Brandywine: What has been the most valuable lesson you've learned at Brandywine?
Brooks: I'd say the most valuable lesson I've learned is to do you and just be yourself. Don't be afraid to get out there, and don't think about what everybody else is doing. Stay at your own pace because you are your own person.