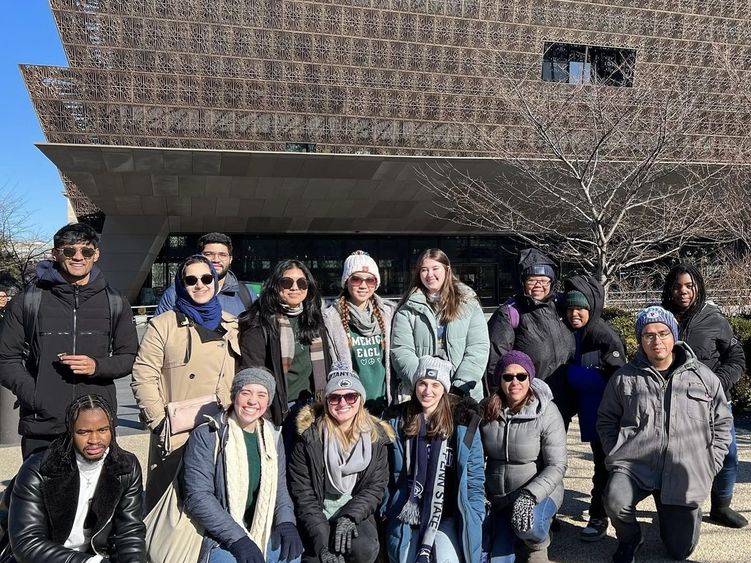 MEDIA, Pa. — Penn State Brandywine celebrated Black History Month 2023 throughout the month of February with a variety of activities sponsored by Student Engagement. The month consisted of many events that celebrated and taught about Black culture and history.
Students, faculty and staff had the opportunity to attend movie screenings, musical performances, speaker sessions and more featuring Black educators and performers throughout the month. Movies featured included "Black Panther: Wakanda Forever," "Devotion," "The Woman King" and a documentary about the MOVE Nine in Philadelphia.
Spoken word artists Carina Paulino and Odd Rod performed slam poetry about their experiences being Black, motivational speaker Freddy Shegog spoke about his journey to becoming sober and receiving education, and historian Sam Lemon spoke about Media's Black history, including segregation and the Underground Railroad. 
McKenna Loney, a second-year student, attended many events throughout the month. The event that stood out the most to her was Freddy Shegog's motivational speaking session.
"Freddy made me look at mental health from a whole different angle," she said. "It's so important for him to be able to let others know that it's okay to talk about mental health. It's okay to talk about being on medication. It made me reflect on my mental health."
Loney noted that she really enjoyed Brandywine's Black History Month events because it's an opportunity to shed light on a history that people don't really discuss.
"This month has been an opportunity to become comfortable with having uncomfortable conversations," Loney said. "The events this month have been great, especially for people who don't identify as Black. Being a white person who grew up in a predominantly white community, it's great to hear different perspectives."
This month has been an opportunity to become comfortable with having uncomfortable conversations.

—McKenna Loney , second-year student, Penn State Brandywine
Students were invited on a trip to Washington, D.C., to visit the National Museum of African American History and Culture, sponsored by the Brandywine Event and Activities Student Team.
The Brandywine community was also given the opportunity to indulge in a soul food lunch at the end of Black History Month, featuring black-eyed peas, collard greens, chicken and waffles, catfish, macaroni and cheese, banana pudding and more.
Eliel Acosta-Solalinde, assistant director of student equity and inclusion programming at Brandywine, helped put together numerous Black History Month events throughout February. He mentioned how crucial it is to recognize the importance of Black history and teach it to the campus community.
"This month meant to me a time to celebrate, learn and recognize the history of Black people in the United States. It's a history that is important for the entire campus to learn and involve themselves in, as it plays a critical role of this country," Acosta-Solalinde said.
"Being part of programing, these events allowed me to get to know a lot of our students here on campus. It is my hope that we continue recognizing the importance of Black history not just in February, but in all months of the year."
It is my hope that we continue recognizing the importance of Black history not just in February, but in all months of the year.

—Eliel Acosta-Solalinde , assistant director of student equity and inclusion programming