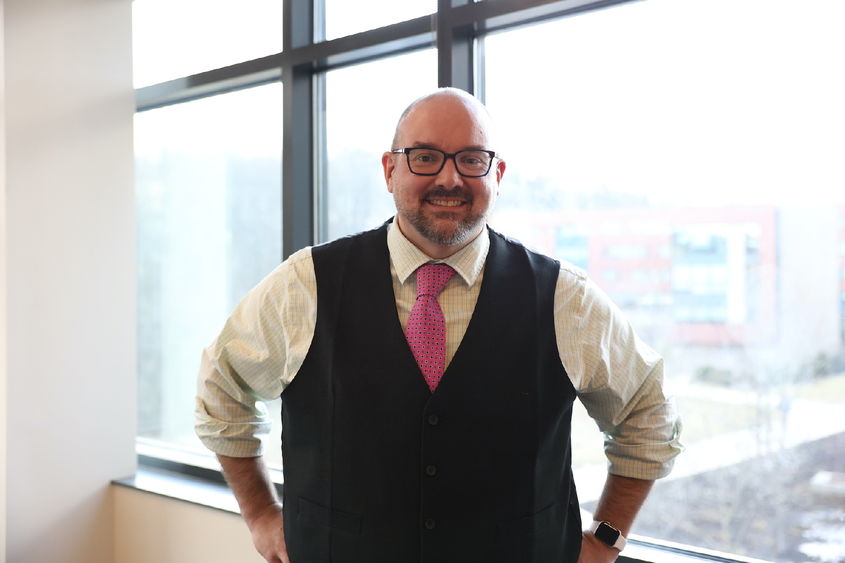 New Staff Spotlight
Name: Dan Murphy
Title: Interim Director of Student Affairs
Department: Student Affairs
Dan Murphy joined Penn State Brandywine as the interim director of student affairs in January 2023. He received his bachelor's degree in music and organizational communication from Western Michigan University and his master's degree in counseling psychology and college student personnel administration from James Madison University. He also received a graduate certificate in management consulting from Penn State in 2022. In addition to supporting Brandywine, Murphy serves as the director of Commonwealth Campus support in Student Affairs at University Park.
Brandywine: What is your background? What is your previous experience?
Murphy: My entire career has been dedicated to working in orientation, transition and retention. I've been working with new student orientation programs, welcome weeks, first-year experience programs throughout my professional career at institutions such as James Madison University, Indiana University Bloomington, and most recently at Penn State.
Brandywine: What was your deciding factor to come to Penn State Brandywine?
Murphy: It's an incredible opportunity to be here. I've worked closely with Brandywine student leaders in several capacities through the Commonwealth Campuses, so I had an awareness of student leadership and student advocacy on the campus. That naturally makes it an attractive destination to help work with and support students who are contributing to their campus community in that way. I know that I had a lot of respect for Brad Kovaleski (former director of student affairs) and the work that he did in the role. Having some familiarity with the work that was happening at the campus, I thought there was a natural opportunity for me to help to continue to support some of that work and to help build that bridge for the next director.
My full-time responsibilities at University Park are supporting directors of student affairs around the commonwealth, and this really presents as a wonderful opportunity to understand the role that I'm supporting in other capacities. In addition to being able to contribute some of my own knowledge of the University to the interim role, I'll also get to bring some of the interim experience back to my full-time responsibility supporting the campuses, and I think enhance the student experience across the commonwealth.
Brandywine: What are you most looking forward to during your time at Penn State Brandywine?
Murphy: I've really enjoyed meeting the people. I knew of the student affairs team through my work closely with the campus prior to this, but the opportunity to meet them and to work more closely and support them in the ongoing work that they're doing is incredible. I think being able to develop relationships at the campus is probably the thing that I'm most looking forward to during my time here.
"I think being able to develop relationships at the campus is probably the thing that I'm most looking forward to during my time here."

—Dan Murphy , interim director of student affairs, Penn State Brandywine
Brandywine: What is your vision for student affairs during your time here at Brandywine?
Murphy: My vision is to continue to support the good work that's already happening within student affairs, and make sure that the team feels like they have someone who supports them as an advocate of their work and kind of supports them in the ongoing support of students at the campus.
Brandywine: As you know, diversity, equity and inclusion (DEI) are very important values to Brandywine. How will you build onto these efforts in your role?
Murphy: In my time here, it's been clear to me that for students, faculty and staff, DEI is an important and central topic to the Brandywine experience. I'm thrilled to be able to join the team that has placed such a focus on creating welcoming and inclusive spaces and is thinking about how we create equitable and just spaces. In each of the roles I've served, I've had both the opportunity to reinforce the importance of DEI, but then also to implement practices and policies that kind of demonstrate that commitment through my time training orientation leaders, or in my work in the community when I served on State College Borough Council for several years and led many equity and justice initiatives within the local State College community.
I'm committed to the vision for creating equitable and inclusive spaces, but I also like to find opportunities to look at the policies and the processes that reinforce our commitment, then address those when they're found to present a barrier to our achieving that mission or that vision.
Brandywine: What are some of your interests?
Murphy: I regularly go to Orange Theory Fitness, so that's how I spend some of my time. I also enjoy running. Since the pandemic, I have really spent a lot of time reading nonfiction books, and just in the last three years, I read and watched the entire Harry Potter series.
Brandywine: Is there anything else you would like to add? Anything you would like people to know about you?
Murphy: I've been positively overwhelmed by how welcoming the Brandywine community has been. I'm generally someone who likes to make myself available when there is interest in having a conversation about something related to student affairs and the student experience. I encourage people who are interested or eager in learning more about student affairs or have questions about student affairs, or I just want to talk through something that they've observed or experienced on campus, to reach out. Please feel free to reach out to me through my email, [email protected].
"I've been positively overwhelmed by how welcoming the Brandywine community has been."

—Dan Murphy , interim director of student affairs